I went to Target tonite to pick up a couple of Preston's prescriptions, and brought along my coupon book. Didn't really need groceries but figured I'd make use of some good coupons, including several for completely FREE products, before they expired. I had to pay for the prescriptions, but was able to get a $10 Target gift card because one of them was new (to get filled there anyway). So, yeah I had to spend money on the prescriptions, but I made up for it using that gift card and my coupons...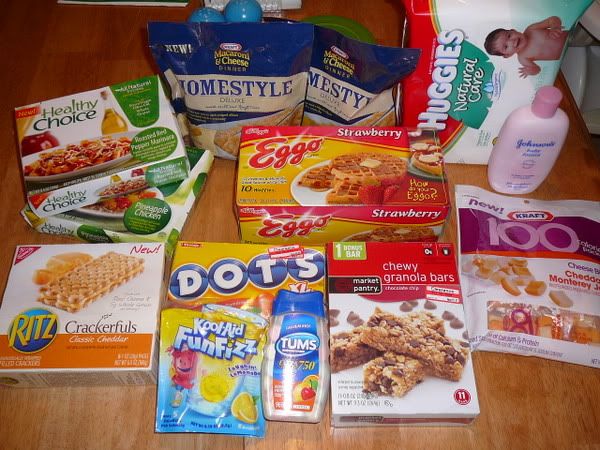 216-count of Huggies Wipes
Johnson's Baby Lotion
2 packs of new Kraft Homestyle Macaroni & Cheese
Eggo Frozen Strawberry Waffles
2 Healthy Choice Meals
Ritz Crackerfuls
Dots Candy (was on clearance, couldn't help it!)
Kool-Aid Fun Fizz
Tums
Target Brand Granola Bars
Kraft 100 Calorie Cheese Snacks
Total before coupons: $36.60
Coupon Savings: $24.10
Target Gift Card applied: $10
Total spent out of pocket: $2.50
Nice score! Everything I bought I had a coupon for (except the DOTS and the Target Granola Brands - they were on clearance for crazy cheap though), and on almost all the items I used a Target coupon and a manufacturers coupon making the deal even better. I wish I could do this ALL the time. Couponing is hard work though, takes lots of planning, going to different stores for this and that. I'm doing what I can, 'cause, dude... coupons are like free money! Why wouldn't you use them?