In my life this week...
It was another busy week for us. I guess I should probably just stop saying that, 'cause life is just busy for everyone in general, right? I had several
Usborne
things and random appointments. Preston had a dentist check up and everything looked great, praise the Lord!
Places we're going and people we're seeing...
Last Saturday, we participated in the Walk for a Cure JRDF benefit. It was so fun, and a lot easier than I expected. Lol! I've never done one of those things and I couldn't quite wrap my head around 5K... now I can, and I'd love to do it again some time! Wednesday evening we spent with some friends, one from out of town, and got to meet her precious baby! He is 6-months old and weighs the same as Callen, who's 18 months old! I really do need to get my baby on Pedia-sure!!! Haha. It was nice to catch up with them! Then on Thursday, I did an Usborne party at another friends' house and I had a great time getting to show them our books. Preston had a blast playing with their 4-yr-old. And today we've got a playdate with our homeschool group and we're having some people over for an Usborne/Scentsy party. Pretty excited about getting to see so many people lately... I've been missing people like crazy!
Praying for...
Guidance. In many forms.
Also, it's kinda silly, but I really want to meet my Success Bound goal for
Usborne
by my cut-off at 10am on Monday. It means a lot to me and will greatly help our team - and I'm close, but I need a few more retail sales to get me there. Praying that some of the people who said they'd purchase books, really will, and soon!!! I had three parties scheduled for this week, one cancelled and another had no guests, so.... yeah. Definitely praying God moves some people! Lol.
In our homeschool this week...
Tot school: Haha, yeah, right.

Bible:
Talked about how the Bible is made up of 66 little books in one Big Book. We also read more stories from our
Hands-On Bible
. Memorized Proverbs 23:12: "Apply your heart to instruction and your ears to words of knowledge." Really proud of Preston, he is doing so great with the memorizing... he can tell me this one along with the previous two with only a little prompting!
Reading/Writing:
Worked on more short vowel sounds: e, i, o and u.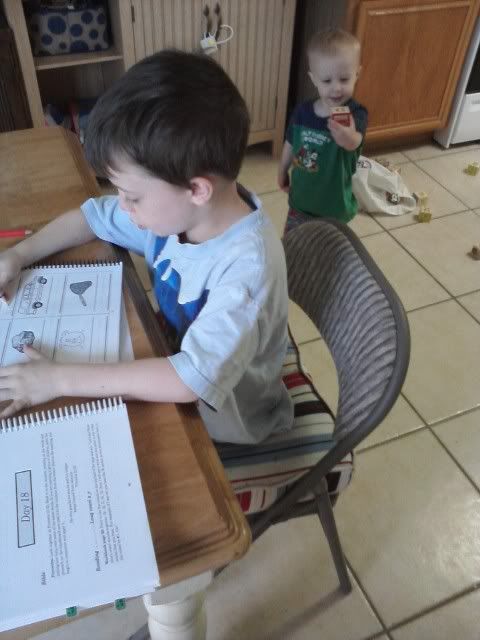 MFW workbook & blocks!
Math:
This week's theme was counting. Something Preston rolled his eyes at me about, of course. Lol. But the books we read were fun (see widget below) and the pages from
Complete Book of Math
were super easy for him, so we breezed right through it.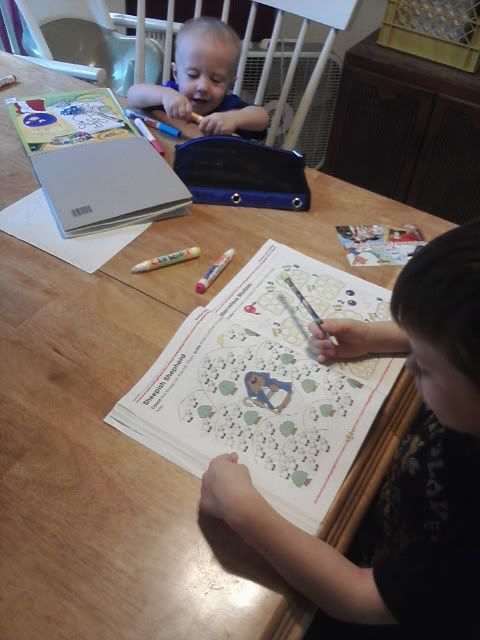 Working together!
Science:
We talked about how flowers grow. We started an avocado seed on Sunday. So far all it's done is start splitting in two, and I think we can see the beginnings of a root growing out. We'll definitely be keeping an eye on it for a while. We attempted the flower dye experiment (went out and gathered petals from a bright pink bush, added some water and kneaded it to try to get a pinkish dye... kind of a bust). Read some more fun flower and plant books, including one of our new Usborne books,
How Flowers Grow
.
Art/Music: We practiced using the 5 elements of drawing and drew some random lines, circles, dots, etc. I also showed Preston a portrait by Goya and we talked about what the little boy in the painting was thinking, why it was so dark, etc. We talked about piccolos and flutes and I showed Preston some youtube videos of people playing some popular tunes on these instruments. We were highly impressed with this one:
Spanish:
Still working on numbers 1-20. He's growing tired of it, so we're moving on next week instead of spending another week on it.
The book
moves up to counting in 10's to 100, but I think we'll stick with 1-20 for now and move on to the Spanish Alphabet next week.
Books we used this week in addition to our curriculum:
We are using My Father's World First Grade. See our curriculum
here
.
Blog Hoppin' with: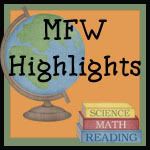 Happy to say I was featured on the
"Friendly Friday" link-up
from Thanks, Mail Carrier!