In my life this week...

My goodness, life is busy. I hear you saying "Amen!" to that. Geez. Anyway, this week flew by, as usual. I got a last minute call to sub in for Mother's Day Out at our church, so on Thursday we spent the day with some 4 and 5-year-olds. I was really nervous about spending 6 hours with a classroom full of kids. Turned out to only be 4 plus my two and we had a lot of fun (minus the part where Preston stepped on a nasty, jagged piece of glass while we were outside having "splash time" and cut his foot quite badly! I swear, that kid!). I was nervous because despite being a "homeschool teacher" I know I'm not cut out for teaching a bunch of kids at once... I just ... yeah, not my thing. Lol. I do Wednesday nights at church with the 3-5 year olds and they are too much for me most of the time, haha. Anyway, thankfully, it went well.
After all day doing that, Michael and I went on a "date night" to eat and then to the FreedomWorks (FreePAC) event at the AAC in Dallas. We heard some fantastic speakers, and even though that's really not my "scene" I had a good time.
Today I had another booth event, here in Grand Prairie... it was a Health Fair and I got to share information promoting literacy and
Usborne Books & More
. Met lots of nice people... and animals(?).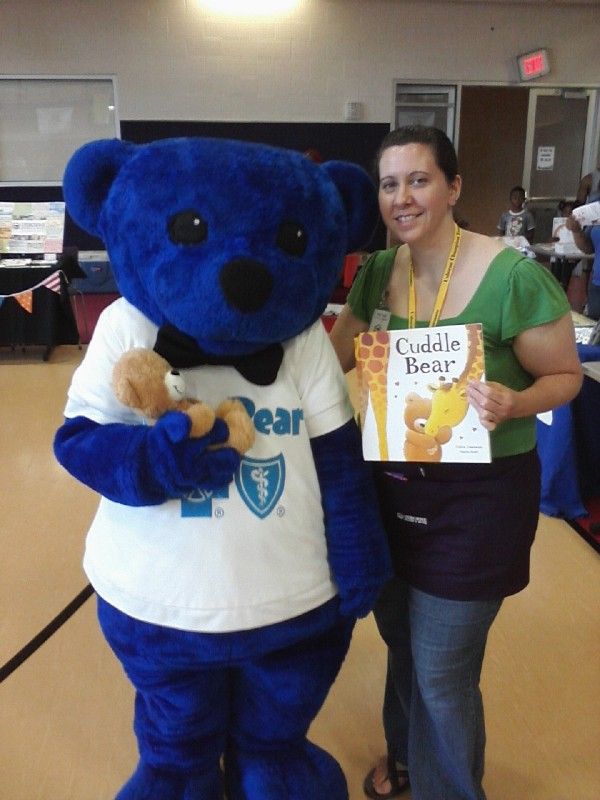 Blue Cross/Blue Shield Bear w/Cuddle Bear!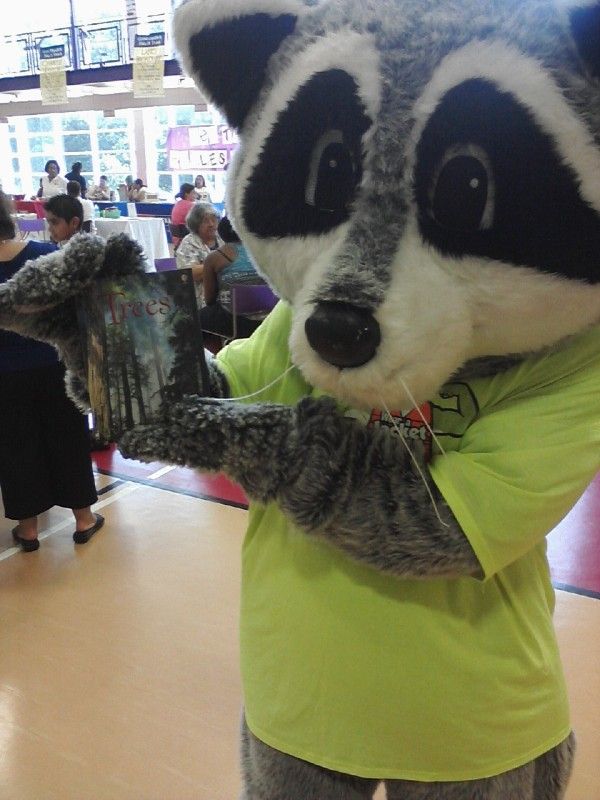 Rascal the Raccoon w/ a book about Trees!
In our Homeschool this week...
We had to reschedule Thursday completely because of Mother's Day Out so we ended up squeezing in a lot of school on Friday. But, since it was still relatively cool on Friday morning, I started the day off by taking the boys to a park we don't usually go to. They had a blast.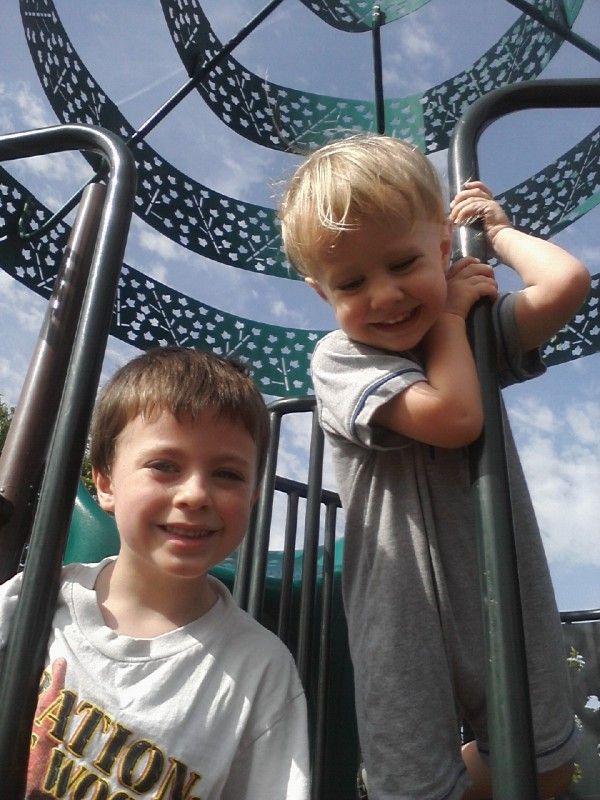 My new favorite picture of them!
Thankfully, we still got to do some of the Olympic activities I had planned even though Friday was so busy. I am not much of a sports fan, really, but I LOVE the Olympics. Have been counting down the days till Opening Ceremonies. I wanted to get my kids pumped about it too, so I made use of some great resources. We read
Story of the Oympics
, which covered the origin of the Games and then how they were resurrected and turned into the modern games they are. I had Callen create a little book of Colored Rings and he did an Olympic Rings puzzle (well, he kind of did it, I did most of it, but he liked looking at it!). Preston did a color-by-numbers Olympic Ring page and we talked about the meaning of the Rings. And the boys both did an "O is for Olympics" craft using Cheerios. We were gonna use Froot Loops, but Daddy ate them all before I could tell him I wanted to save 'em, haha! Most of the printables we used came from
3 Dinosaurs
and
I Can Teach My Child!
.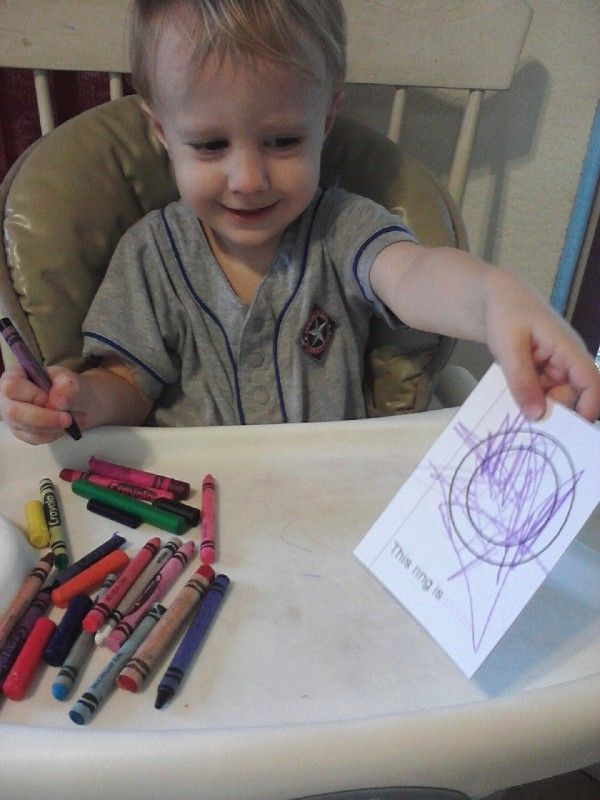 This ring is Purple.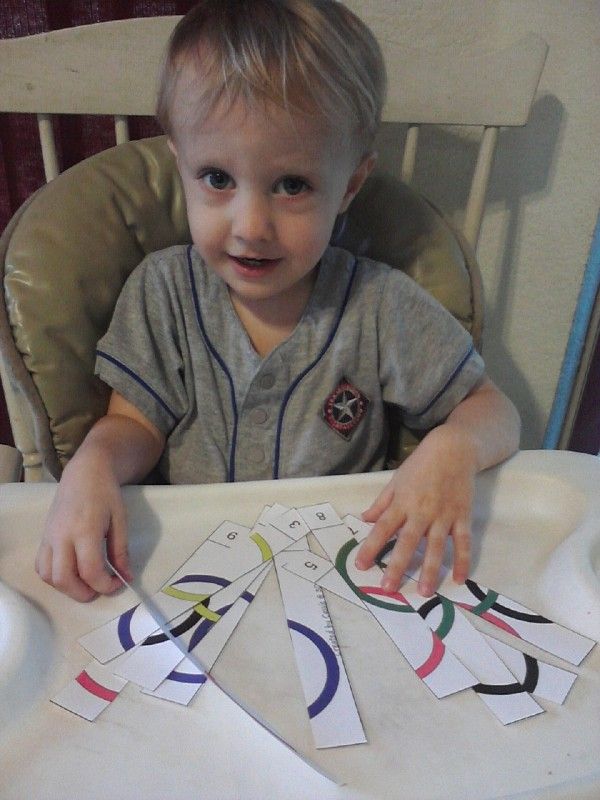 Mama, you do it!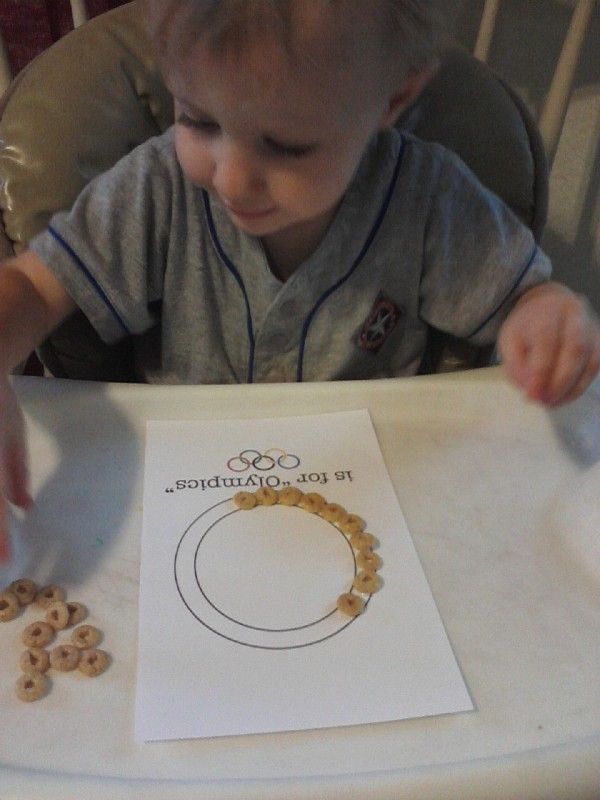 O is for Olympics!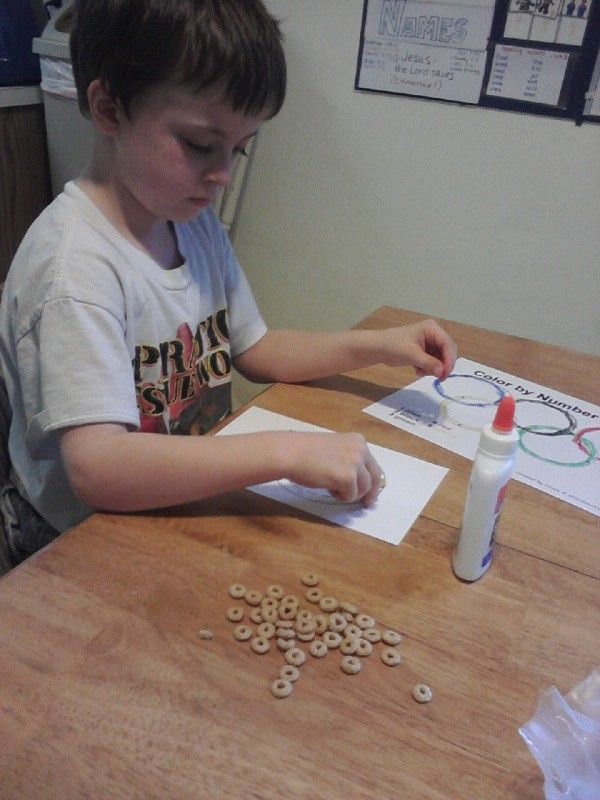 Taking it very seriously, haha.
Tot School:
This week involved lots of running around and coloring, of course. We also continued using the
Mama Jenn Education Cubes
Alphabet Movements. Callen has these memorized now... so that when it lands on one, he'll say "It says... hop on one foot." Love it! We read several books suggested for Callen's age in
Honey for a Child's Heart
, like
Fix-It Duck
by Alborough and
Little Fur Family
by Brown. Oh, and last weekend we taught Callen how to play the card game Uno. He can easily match numbers and colors, this is the perfect game for him as long as he's in a cooperative mood! Ha!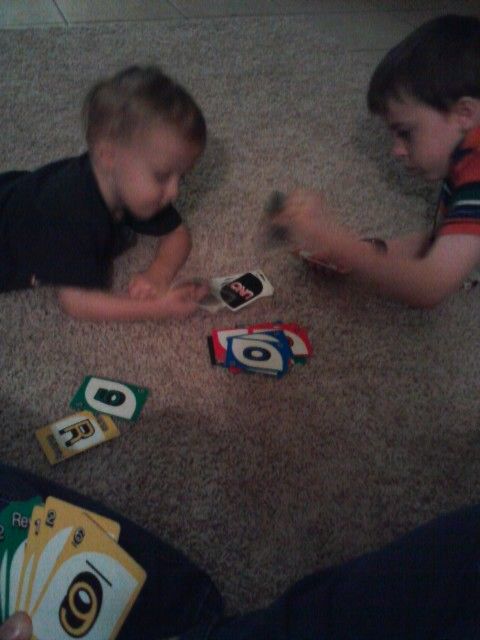 Uno!
Bible:
We continued our first Name of Jesus this week: "Jesus - The Lord Saves." and looked up some Old Testament verses in
The Discoverer's Bible
that spoke on the name "Jesus" and how he came to "save" us.
Reading/Writing:
We continued
Spelling by Sound & Structure
. Continued handwriting practice with the letters Kk through Rr. Preston read aloud to his little brother. Sweet boys.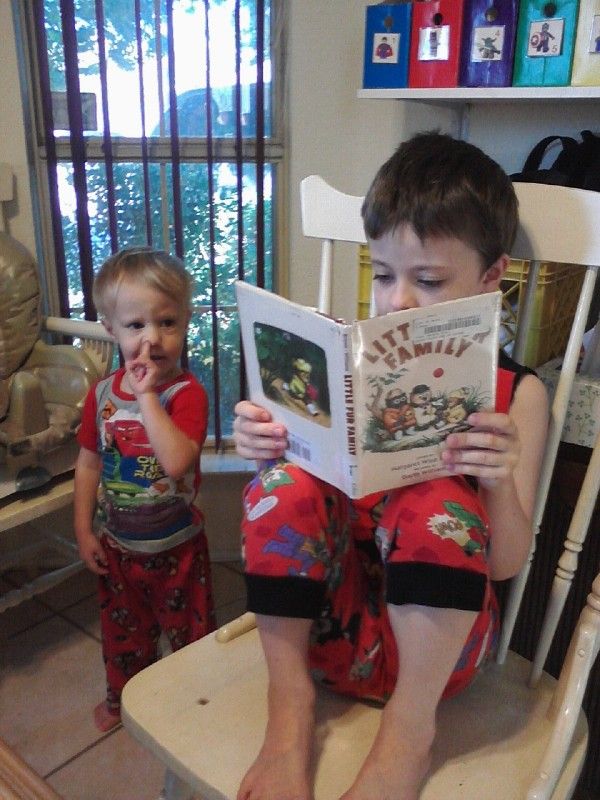 Well, not overly sweet... sigh.
History:
This week we discussed Jamestown and Pocahontas! Added to our History Notebook and Timeline. We read from
Story of America
and
American Pioneers and Patriots
that come with MFW. We also read
Pocahontas
by Raatma,
Pocahontas: Princess of the New World
by Krull,
Jamestown, Virginia
by Fradin and
Who's Saying What in Jamestown, Thomas Savage?
by Fritz.
Math:
Preston had his Chapter One test and completely aced it! So proud. I just handed him the one-page test and left the room, he read the instructions and filled it out on his own, and got every answer correct! Woo hoo! We then moved on to a review of telling time, including minutes and past/till.
Science:
Did a few pages of
Science with Air
this week, talking about how air puts pressure on things. Did the 'ole hold a glass of water upside down and the cardboard keeps it sealed trick. Ha!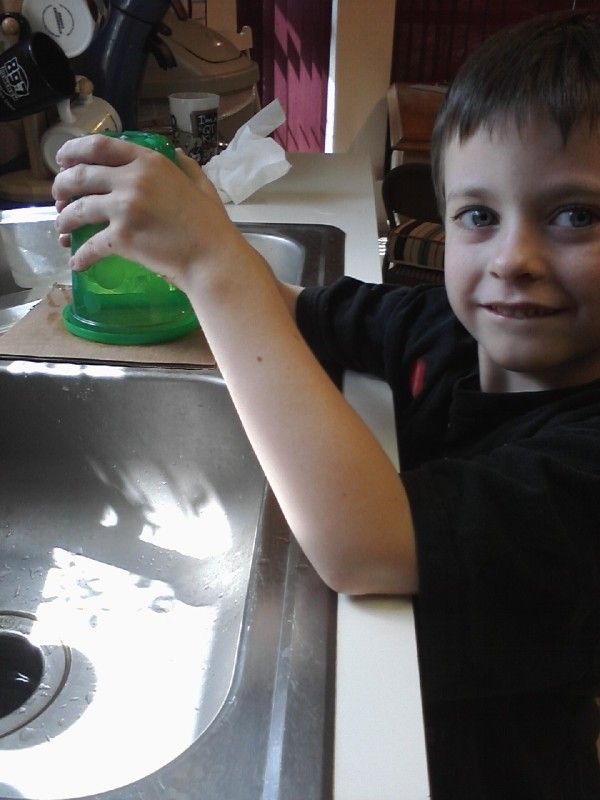 The cardboard stays stuck to the cup!
Music/Art:
We continued the
My Very First Art Book
, this time the focus was "coloring in." Preston doesn't enjoy coloring all that much, especially coloring things in... but he did great, his creations were quite nice! We also did a page in the
My Very First Art Coloring Book
where he used different colors on the same picture to create different moods.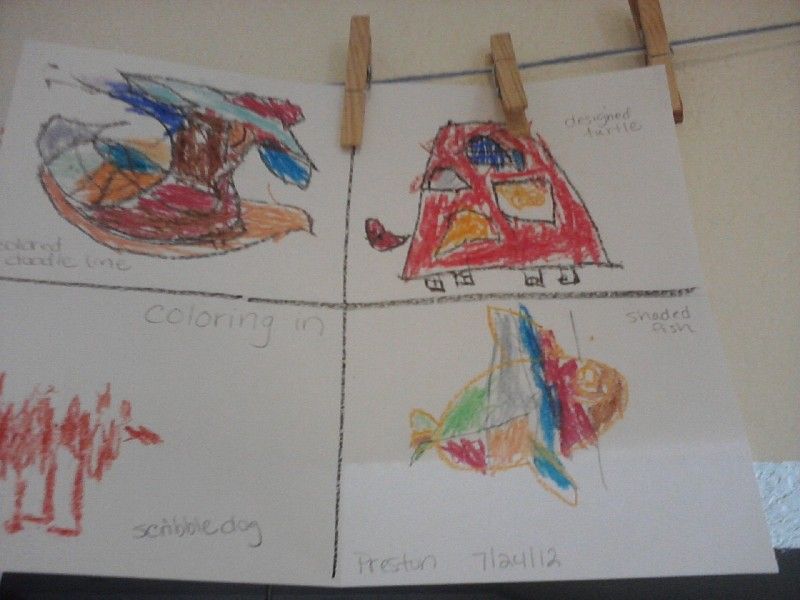 Coloring in.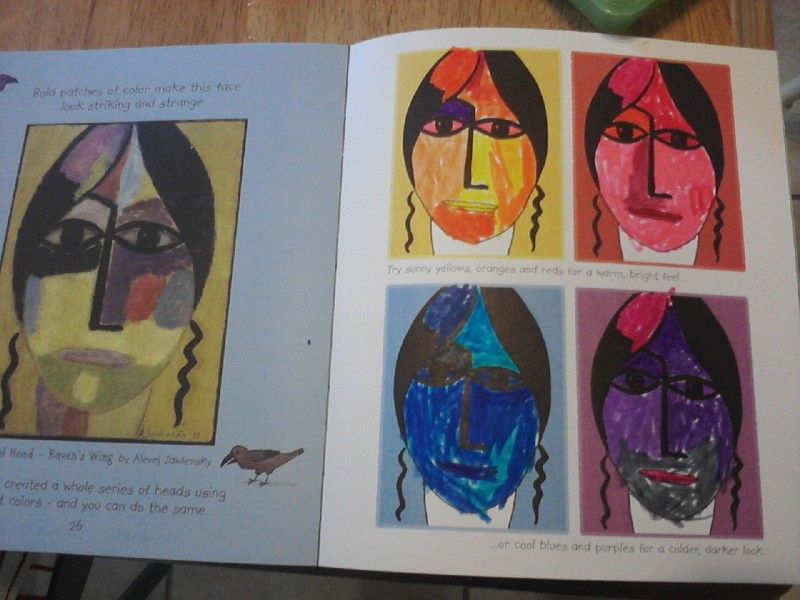 Different moods, same picture.
Spanish:
Preston and Callen both enjoyed the next two episodes of
Salsa
, which continues the story of Goldilocks & The Three Bears, but has moved way beyond the typical story... emphasizing colors, numbers and describing words. We reviewed words having to do with "El Jardin" in our
First Thousand Words in Spanish
. And we started the first lesson of
La Clase Divertida!
. After watching the DVD once and listening to the CD once, both Preston and Callen walked around with the "Los Vocales" song stuck in there. Pretty cute to hear a 2-year-old singing A-E-I-O-UUUUU! Haha. Love it.
We are using Adventures in My Father's World. See our curriculum
here
.
[
This post contains affiliate links for Usborne Books & More and Amazon.com. By clicking on those links and purchasing items, you are helping me continue to be a SAHM so that I can focus on homeschooling my children! Thank you!]