During the Advent Season, the days leading up to Christmas, Preston, Callen and I did something I found on
Spell Out Loud
. It was a
Names of Jesus Chain
, which helped us not only countdown the days to Christmas, but also learn more about Jesus - the Reason for the Season!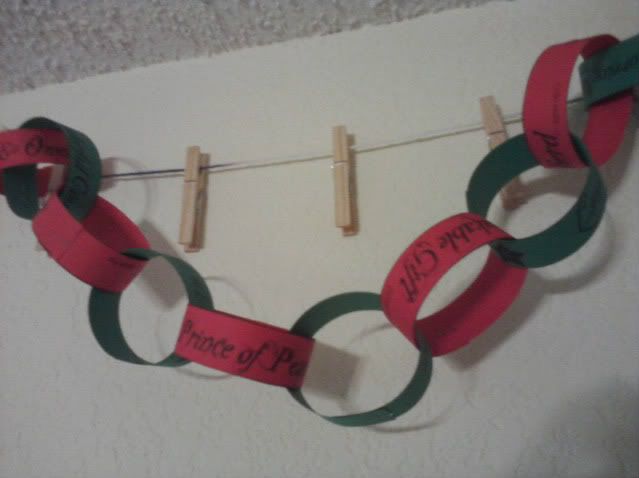 Our Names of Jesus Chain!
The boys enjoyed pulling a chain link off every day, and watching it go from long to short! We also learned some new ways to refer to Jesus, like Rose of Sharon, Bright & Morning Star and Friend. =)
Along with that, we colored an ornament for each name, which we found
here
. Most of the time Preston did the coloring, but occasionally Callen or I did one. The final product on our tree branch is quite lovely!
Very colorful, indeed!
And we also filled in the Usborne Advent Calendar to Color. There was a door or window scene to open and color for each day December 1st through 24th. This was Callen's favorite part... he LOVED coloring on this book.
Working together (Callen coloring my table!)
Final product! Definitely one-of-a-kind!
I enjoyed doing something this season that helped us focus on the real meaning, Jesus!