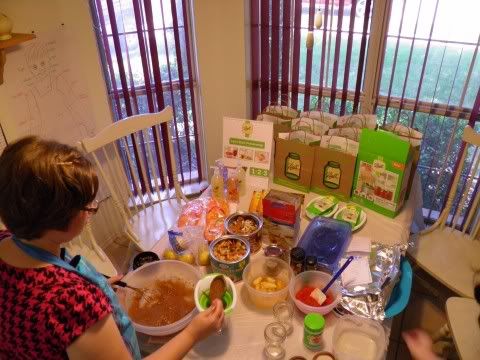 Candi making Apple Butter!
This past Saturday, I had a wonderful group of ladies over for a "Yes You CAN!" HouseParty, featuring Ball/Kerr Canning Jars and products. I have to admit, I was nervous about making jam and showing how to can... when I had never done either of those things before! I actually did a trial run a few nights before and made a few jars of blackberry jam. I tried to make 1/3 of the recipe, and I ended up putting too much sugar, so it was quite sweet, but tasty anyway! Whew, at least I had a good idea how it would work!
It was such a neat group of ladies that showed up to the party: My mom, Darlene, and her best friend since 6th grade, Melissa. My mother-in-law, Jill. Two fellow homeschool moms and dear friends, Candi and Liz. And two friends from highschool, Kenzi and Shanta! I think it was a great mix of women (including two from out of state!) all thrown into the kitchen, getting our hands dirty and trying to figure out what the heck we were doing with all that fruit!
We canned a few jars of sliced peaches, and ended up making five different kinds of jam! All that was going on at the same time, so you can imagine the kitchen chaos. But, everyone had a great time, got along really well and I believe we all quite enjoyed the process and learning more about making our own jams!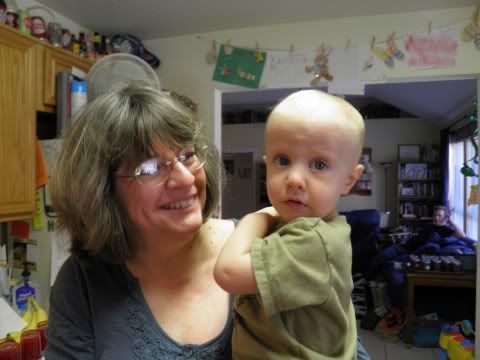 "Grandma Jill" wranglin' Callen!
We used the
Ball Canning Discovery Kit
to can the sliced peaches in light syrup.
We used the
Instant Pectin
in all of our jams. We made Quick Apple Butter, Blackberry Freezer Jam, Strawberry-Banana-Blueberry Jam, Raspberry Jam and then a neat hybrid of Strawberry-Raspberry-Peach with the extra fruit we had!