In my life this week...
I blinked and the week was over. Um, let's see. The weather was soooo not Wintery, but very, very lovely and warm. The boys played outside a lot this week, which was nice. Yay fresh air! On Thursday, the boys and I went to our friend Candi's house for a playdate... there were a total of 11 kids! It was so crazy, but everyone had a great time. I did a story-time with my
Usborne books
, and the kids loved it. So fun! Then, today we had two boys over to play with my boys, while I had a nice time chatting with Lizz.
The tax refund that was supposed to deposit on Feb 21st never did. So all plans of getting a van this week fell through. Now the IRS website says it should deposit Feb 28th, so we'll see. I've given up on making plans, forget it. Lol.
A picture to share...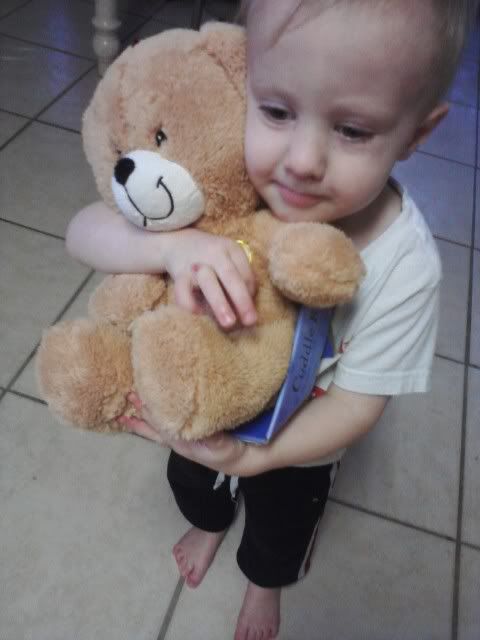 Cuddle Bear is for cuddling!
I got some inventory in, including the new
Cuddle Bear
, and Callen fell in love. Lol. It was the most difficult thing prying this sweet bear from his grip, haha. He really is soft and cuddly - very hard to resist! And a portion of the proceeds goes to fight pediatric cancer, you can't help but love that!
In our Homeschool this week...Well, I went ahead and placed an order for Adventures in My Father's World, which is the 2nd grade curriculum. It's going to go up in price soon, and they were offering super cheap shipping... and since our tax return will be in soon, I went for it! Excited to not be mulling over that anymore. But, I will have to make a decision on our math. I'm probably going to go with Math Mammoth, and it's supposed to go on sale with the Homeschool Co-Op in March, so we'll see!


Tot School:
Callen spoke some new words this week... I can't remember them all, but "mess" and "morning" spring to mind. Here's a video of him "reading" my Bible from last nite:
Bible:
Proverbs 14:14, "
The faithless will be fully repaid for their ways, and the good man rewarded for his." Went through more New Testament books of the Bible. We talked about Samson and King Saul a bit.
Reading/Writing:
Going through grammar, phonics, etc. Nothing exciting to report here. Lol!
Math:
Worked on adding and subtraction, and reviewed place value in the Complete Book of Math.
Science:
This week was mixing! We did some mixing experiments with water and all kinds of things, like sand, shampoo, salt, orange juice and such.
What happens if you mix THIS in water?
Music/Art:
This week we started the hymn, "Take My Life, and Let It Be." We talked about the trombone and mellophone, listened to those instruments. We looked at a Georgia O'Keefe painting. And we skipped Drawing with Children this week... just weren't into it.
Callen likes to help Bubba color.
Spanish:
We started on school/classroom type words this week. Preston exclaimed, "I'm casa escuela-ed!" Lol! Love it.
We are using My Father's World First Grade. See our curriculum
here
.
Blog Hoppin' with: