Congratulations to Vasha! Thanks to everyone for entering, and watch for another PC-ROM review and game giveaway next week!
-----
Left Behind Games
sent me their PC CD-ROM game entitled
Praise Champion: Karaoke World Tour
. This game touts 40 Christian songs, including stuff from Kari Jobe, Lincoln Brewster, Paul Baloche and more. It also includes 20 Christmas songs. You have the ability to take part in singing lessons, sing along to the track, record your performances, unlock new venues and outfits to wear and more. A microphone is included in the box, along with an adapter to fit it to your computer. The gist of the game is much like Rock Band (minus the instruments), in that you must at least try to hit the notes, though you don't have to get the words correct. There are mini-games that help you learn pitch and tone, and practice singing to the tracks. You start out performing in your garage, and as you improve, you get to move up into bigger venues and become more of a star! We... couldn't get past the garage... and we constantly made the dogs next door (on the game) howl. Personally, I thought that was a hilarious extra in the game.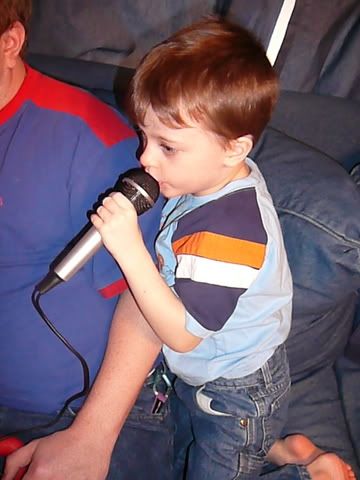 I thought my family and I would enjoy this game together, especially since it came right before Christmas and included 20 Christmas songs! My husband spent a great deal of time attempting to get it to install on our PC, with no luck. It did, however, install just fine on our laptop. Then, the adapter was broken so we couldn't plug the microphone into the laptop...we had to find another one. So, once we were finally ready to sing, we were already a bit worn out. We loaded up the Christmas songs and got ready! My 5-year-old learned a lot of Christmas carols this year and was ready to belt them out, however the words flew by much too quickly for him to be able to read or follow along and he found it a bit overwhelming. Also, having worked in the Christian Rock music industry for nearly 9 years, I thought for sure I'd be familiar with most of the songs on this game. I wasn't. I only knew a handful of the songs and had never heard of most of the artists. Overall, I was pretty disappointed with the selections and lack of adjusting you could do to the tracks. It would be nice to be able to slow them down or add in a background voice to assist you in getting the melody correct.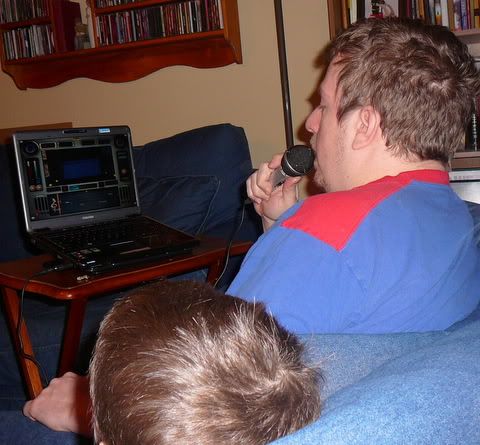 If you are a better singer than anyone in my family is, or you are more familiar with praise and worship music, then you might enjoy this game a little more. The graphics aren't bad, and I'm sure it's a lot more fun if you can actually advance in levels and do more with it. We didn't have the talent or patience for it, unfortunately. You can purchase extra microphones so that you sing along with other people as well! This PC game retails for $29.99 and be found
here
or in stores like Family Christian, Lifeway, Walmart and more. This game is rated E for "Everyone."
I am giving away a copy of Praise Champion: Karaoke World Tour right here on my blog! It includes the CD ROM, microphone and (working) adapter. To enter the giveaway, all you have to do is leave a comment telling me which worship song or Christmas carol is your favorite (it doesn't have to be on this game, just any will do!). Please also include your email address so I can contact you if you win! Comments will be accepted through Friday, January 7th, at 9pm (central). Prize will be mailed, unless I see you on a regular basis... then you'll get it in person!

I was provided with two games, one for my own use for review purposes and one to give away. The review stated above is my own, honest opinion.

P.S. Next week, I will be reviewing and giving away Charlie Church Mouse Super Pak (a 3 game set for ages 2-8)! Stay tuned for that!