In my life this week...
We got up early on Monday and took Michael to work so that we could make use of the car. And boy did we - I crammed so many errands into one day it made our heads spin, but we got it all done! Callen had his 18-month check up: Healthy, but underweight (4th percentile - that's where Preston was most of the time too, so I'm not too worried). He's 32.5" tall and just 21.5 lbs.
Places we're going and people we're seeing...
On Monday, we also stopped by Gorbella's so the boys could play a little. And on Thursday, I had a few friends over with their kids for a playdate. The kids had so much fun. The ages ranged from 4-months to nearly 6 years old, but they all did well together. I had a nice time getting to hang out with a couple of ladies I didn't previously know very well. I can't wait to do that again soon! We also spent some time at our park this week... so glad it's within walking distance!
I'm grateful for...
the fact that Fall is officially here. I love Fall. It is my FAVORITE! And this morning even FELT like Fall out there. Makes me all giddy!!!

A quote to share...
This morning I told the boys I was going potty and would be right back. Callen started fussing because I had left him in the playpen and he was tired of it. This is what I heard...
Preston: Don't cry, baby. Mommy isn't going to a party you're not invited to. She's going to to the potty, not a party. And I wasn't invited either."
In our homeschool this week...
Tot School:
Ehh, not going as planned as far as having specific things scheduled to do with the baby. But, I am able to find things to occupy Callen for little bits of time so Preston and I can work together, or at least so Preston can work on something independently while I play with Callen. And I leave anything that needs a lot of concentration for when Callen is taking a nap, that way Preston gets complete quite and attention from me.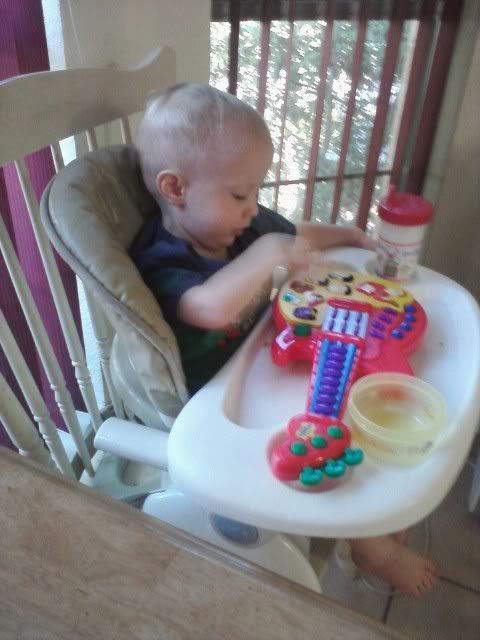 Making sweet music!
Bible: We learned and memorized Proverbs 10:5 "He who gathers crops in the summer is a wise son, but he who sleeps during harvest is a disgraceful son." And he still remembers last week's verse, woo hoo! We also read from our Hands-On Bible.
Reading/Writing:
Finished up practicing letters and created our Alphabet Scroll. Started on short vowel 'a.'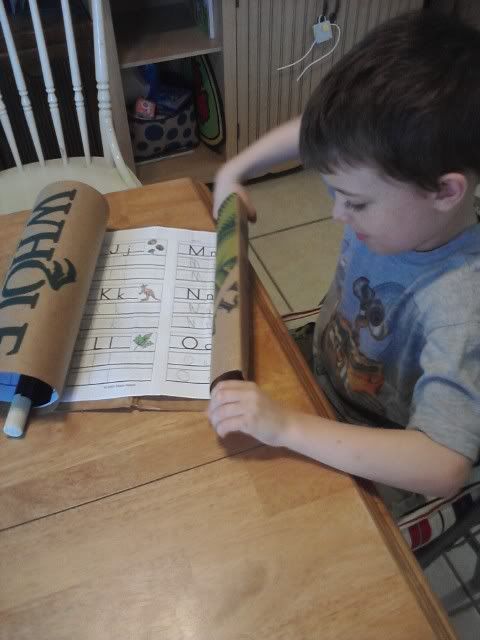 Our ABC Scroll is finished!
Math:
This week's theme was sorting and classifying. We read some fun books about sorting, like
The Button Box
and
Dave's Down-to-Earth Rock Shop
. Preston sorted his pattern blocks, lots of buttons, his bag of animals and all kinds of other things.
Little Brother "helping" to sort animals
Science:
We discussed Seasons, which was pretty timely considering today is the First Day of Fall! We read a book every day (see below) about the seasons. Preston illustrated what a tree looks like in each season. One of the books we read was
Autumn: An Alphabet Acrostic
. A very cool, beautifully illustrated book using each letter of the alphabet to make little poems about the specific words using those letters. Preston thought this was so neat, and spent most of the day trying to come up with his own. He hasn't figured one out just yet. =)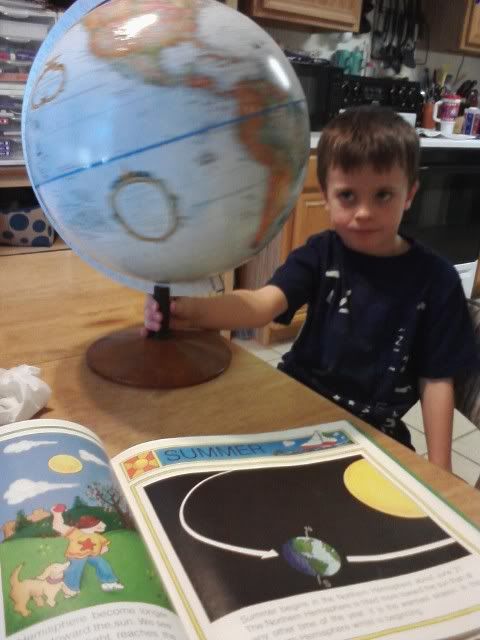 Seeing the earth rotate!
Art/Music: We talked about and listened to music played by a soprano recorder and bagpipes! We also looked at a landscape painting from our book and talked about the basic elements of drawing (circle, dot, straight line, curved line and angles).
Spanish: Working with numbers, but moved up into 11-20.