In my life this week...
This week flew by. Um... yeah. My brain is completely scattered lately and I feel like I am forgetting everything! Like, if it's not written down, forget about it! Wow. Callen has been a wreck lately... terrible two's already?!?! He wants it his way, or no way. And has mastered the art of complete temper tantrum. Yikes! He's 19 months old, gimme a break! We also finally busted out some Fall decor. I'm usually eager to get my Fall stuff out on the very first day of Fall, but we have been so busy and it's still been so warm, I haven't been in mood. Now, we're good to go!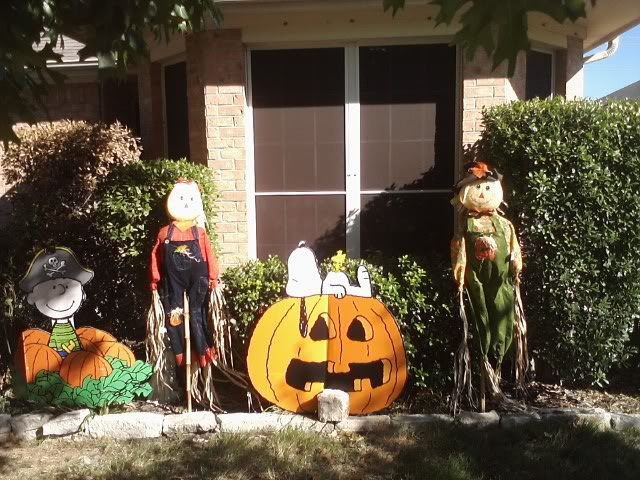 Places we're going and people we're seeing...
We have been running errands and just rather enjoying the privilege of having the Chevy Traverse this week. I love going to the grocery store when I want, instead of having to strictly plot out the timing alongside Michael's work schedule. "Hey kids, get in the car, let's go!" Oh, it's nice! I know it's a very first-world complaint, but having only one car that is gone almost all the time... it sucks! Preston got to spend the nite with my mom and dad, on my mom's birthday... and we had lunch with her and my Aunt Leah. That was a nice treat. Oh, and we watched the Rangers game at our friends' house on Monday evening - Preston had a great time playing with their daughter. And... um... dressing up in the costume she used when she was a baby: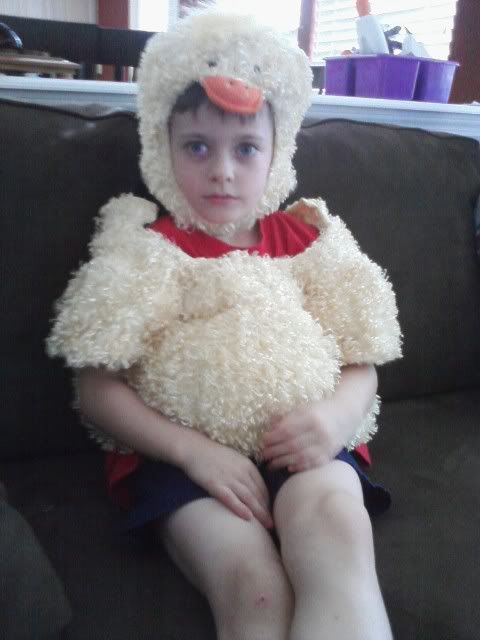 Quack! Quack!
Praying for...
My brain to come back? I seriously feel completely unfocussed and so very scattered. I think it's just because I've been so busy. I've gotten un-used to being active, apparently. Sad really! On a serious note, though, a dear friend lost her baby in the womb a few nights ago. Such a heart breaking tragedy to experience loss like that. Praying for her and her husband through their grieving period, and for comfort and peace about it. It's so very difficult to understand.
In our homeschool this week...
Oh goodness, we had a couple of complete meltdowns this week. I guess we had been doing TOO well, and were due our turn. Yeesh. The novelty of being in "first grade" and having new curriculum has worn off on Preston, it seems. I am still enjoying it and am really pleased with it.

Tot school: Basically just keeping Callen off of the table. Sigh.


Bible:
Read everyday from the
Hands-On Bible
. This week's scripture was Proverbs 16:24, "Pleasant words are a honeycomb, sweet to the soul and healing to the bones." We also created a "Bible times costume" from an old purple sheet we had. Lol.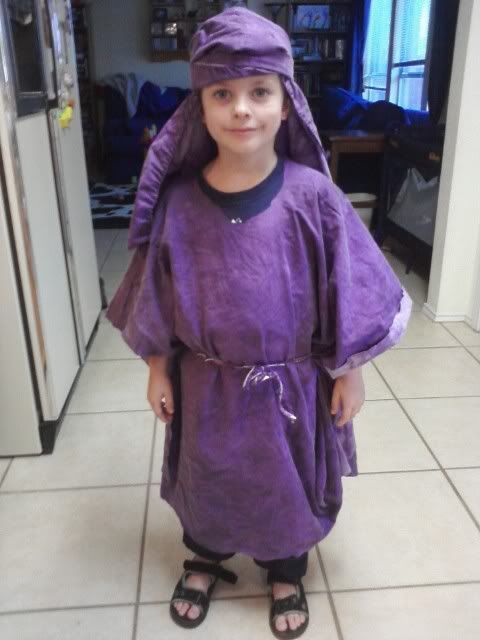 Reading/Writing:
Finished up Animals Tales booklet. Talked more about short and long vowel rules. This part is incredibly boring to the boy.
Math:
We worked on comparisons this week. Like "big, bigger, biggest" and also "greater than" and "less than." I used some printables from
Homeschool Creations
and
Confessions of a Homeschooler
so Preston (and Callen!) could size sort. And
this fun printable
that uses a dinosaur mouth for the symbol of greater than/less than. Love that! And, as usual, read several books on comparing - mostly with animals. I absolutely LOVED this book called
"Big, Bigger, Biggest!"
by Nancy Coffelt. So fun!
Science:
Rain! It actually rained some during this week so that was good timing, woo hoo! We had a good time talking about rain, and did an "experiment" to create a rain cloud! We ready many books on rain this week, and used a new-to-us Usborne book called
Starting Point Science
. Preston illustrated the rain cycle and made a fun umbrella and raindrops craft!
Art/Music:
Continued learning about the hymn "Holy! Holy! Holy!" in
Hymns for a Kid's Heart
! We looked at a portrait in
Come Look with Me
. Talked about and listened to music made by a bassoon. We took advantage of having the XM Pops station while in the car. The boys really enjoyed listening to the classical music! Also did a fun abstract art warm-up exercise. I gave Preston a set of instructions, but he got to decide how to execute them and came up with a neat abstract drawing.
Spanish:
We went over colors. This is something we've talked about before, but definitely needed review!
Some of the books we used this week in addition to our curriculum:
We are using My Father's World First Grade. See our curriculum
here
.
Blog Hoppin' with:
After Callen woke up from his nap, he saw Preston's costume and kept messing with it. So... we had to make one for him too! Lol! He wore it all of 1 minute, just long enough for me to get a picture.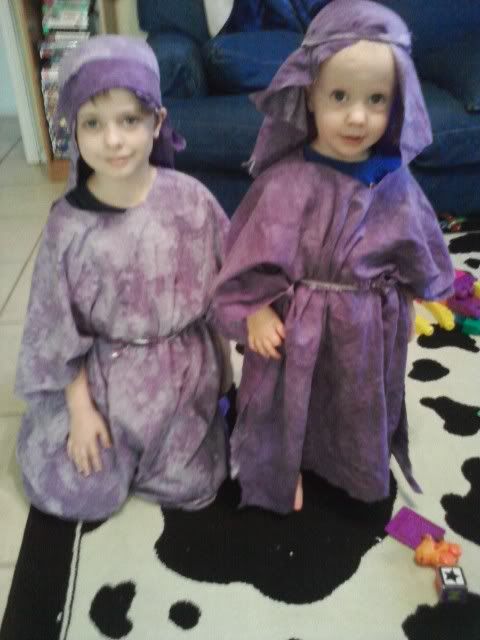 Tooooo cute!