I know, right? You're probably saying, "But, Jade... I KNOW how your husband feels about putting Christmas decor up this early!" Well, yes, you're correct... he isn't a big fan (and don't even THINK about putting it up BEFORE Thanksgiving!). We always wait until after Preston's birthday, which is December 4th. Down come the birthday party decorations and up go the Christmas decor! But, this year I was sent an awesome Holy Night Nativity Set from
OutdoorNativitySets.com
for review. So I convinced him that putting up this one thing a week early would not kill him.
I had an idea of what the nativity scene would look like, but I thought it was going to be made of wood. The box arrived, and it was light and very compact, so I was quite surprised. It's made of "marine grade plastic."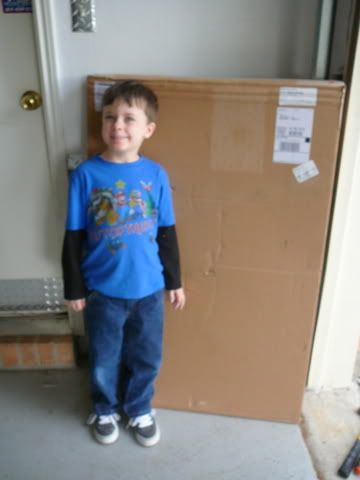 The box can be used to store it for next year!
There was a brochure and letter attached that explained about the company. I found it really neat that this particular company in Florida spends the rest of the year building parts for the marine industry, but since that business dies down in the Fall they are able to keep their workers busy building nativity sets for Christmas! Yay, small business!
Once I opened the box, it literally took 10 minutes to build the entire nativity set. It is soooooo easy, and it doesn't even require tools!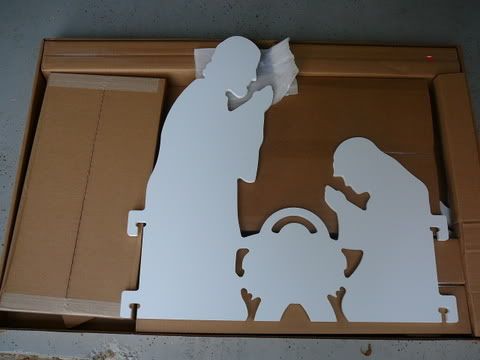 Well packaged, ready to assemble!
Just because I wanted to be extra sure the nativity would stay in place and not get blown away, I did the extra mounting for the large stakes so it did require a screwdriver, but not really much extra effort (and had I not done the extra mounts, it would have taken even less time!)! I did it all by myself while Preston and Michael stood nearby watching. You can view just how simple it is to assemble in
this video
. The part that took the longest of the entire thing, was trying to figure out exactly where in the yard we should put it! Once we figured that out and got it in place, we staked it down, put the lighting in front of it. And boom... we had a lovely, white nativity scene!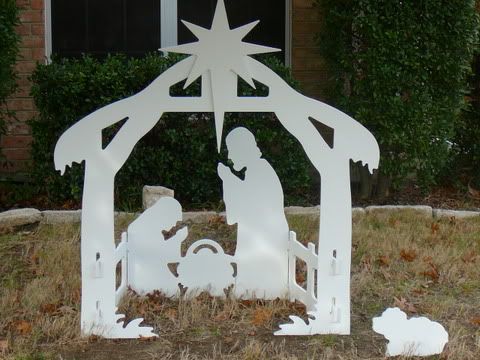 Looks wonderful in the day time!
I love that it's so simple, and elegant really. Preston asked if we could paint it, but I like that it's just white... just a pure, clean silhouette of Mary, Joseph, Baby Jesus, the stable and two sweet, little sheep. It looks great in the daytime and lit up at night. I was a little worried that since it's such light weight material, it'd easily fall over or get blown down. However, with the extra long poles included for staking, the entire set up is very sturdy. We had quite a windy day today, and it is still standing strong!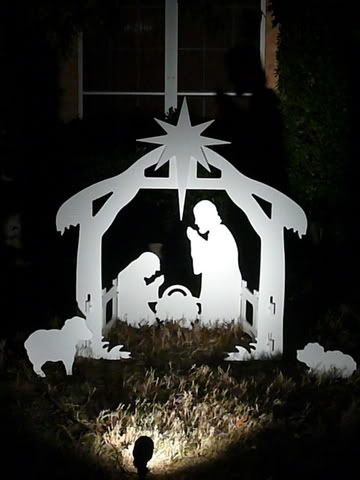 Looks wonderful lit up at night too!
The company also offers add-ons, if you'd like a large scene. They have a 2-piece Angel set, Three Wise Men, Shepherd with Sheep, a donkey, camel and calf available. You can buy them separately or as a complete add-on set.
OutdoorNativitySets.com
has some other indoor and outdoor decorations available as well! You can find them at Facebook, at
www.facebook.com/OutdoorNativitySets
.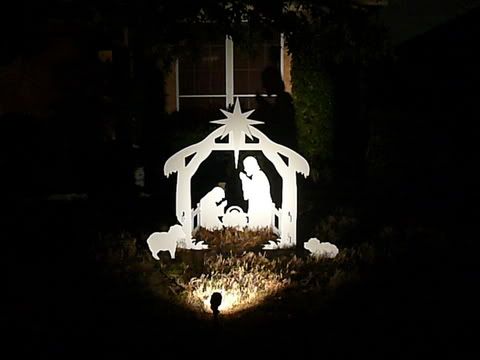 Perfect size for our small front yard!
There is still plenty of time left to order your
Holy Night Nativity Set
, and show off the real reason for the season this year!
[Disclaimer: I was provided a free Holy Night Nativity Set from OutdoorNativitySets.com through Buzz Plant in exchange for my honest opinion, stated here.]