In my life this week...
Things settled down once we got our car back, completely fixed! Woo, again, Praise God for that miracle! We threw a Going Away party for my in-laws on Sunday, it was a success, I'd say! They officially closed on their house this morning and have to be OUT by Sunday, wowzers! It's also my Mother-In-Law's birthday today... crazy times, for sure! Michael had two meetings with his new school just this week, he's so pumped about being a professor. We're excited about the opportunity!
My favorite thing this week...
After all the craziness lately, it was fun to get out and be with other homeschool moms on Thursday evening (sans kids!). It was our monthly homeschool group meeting, and we ended up spending the time chatting, laughing and playing Book Bingo. Oh, you know how I love books!
I'm dieting...
Michael and I have been doing pretty well on our diets for nearly two weeks now. I have lost 6 pounds as of this morning, even though we've slipped a few days (um, a going away party with food everywhere - not exactly perfect dieting conditions!). But I'm feeling good about it, and still certainly motivated to keep at it. Super proud of my hubby... I was wondering if he'd be able to stand it, and he's doing so great at it so far! Go guy!
I'm praying for...
My in-laws as they have to tie everything up, get the house cleared and get going to Michigan by Sunday morning! It's a lot of work, and they're pretty stressed, but I think it'll all come together. Also praying for Michael as he starts his new professor job next week and doesn't really have a solid plan (eep!). We thought they were going to give him the outline and have most things ready to go, but now it's not looking that way. He has just a few days to prepare before class starts on Tuesday! Wow!


A photo to share:

Tot School:
Callen has been being a monkey about napping. A few times this week, he just played in his room for HOURS when he should have been laying in his bed. I'm hoping the novelty of being in a big-boy bed (which means he can get OUT of it anytime he wants) wears off, and he realizes how important naps are. Wishful thinking, ok?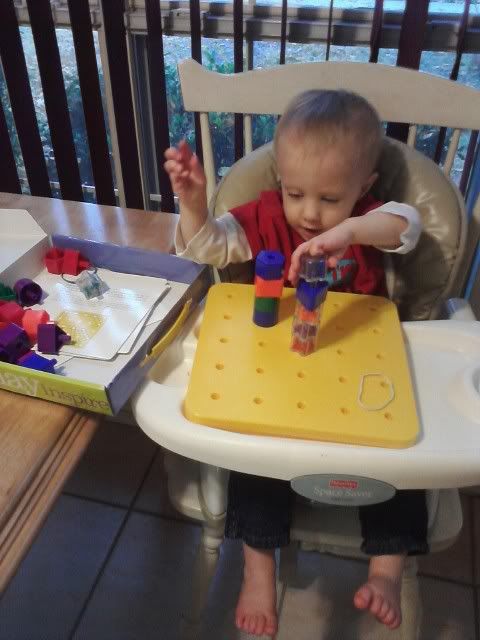 Peg Board Time!
Bible:
Proverbs 15:3, "The eyes of the Lord are everywhere; watching over the wicked and the good." We also talked about Jacob and Joseph. Planning to watch the Dreamworks movie,
Joseph: King of Dreams
, later today. I've never seen it, but we own it. Weird.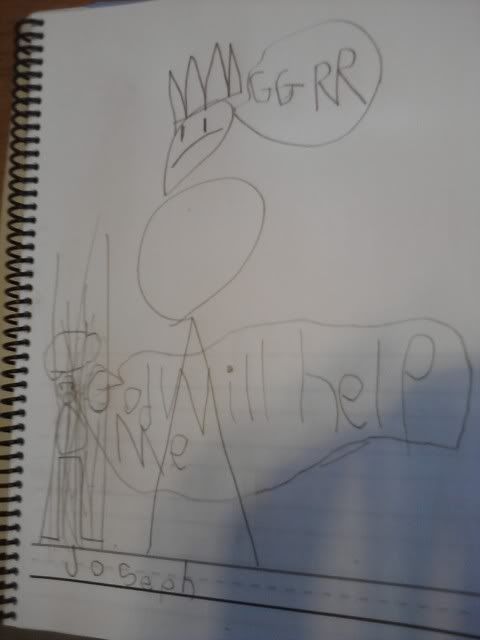 Joseph was thrown in jail.
Reading/Writing:
Preston is getting better and better at writing, as long as he is interested in what he's writing, of course. And reading is steadily improving as well!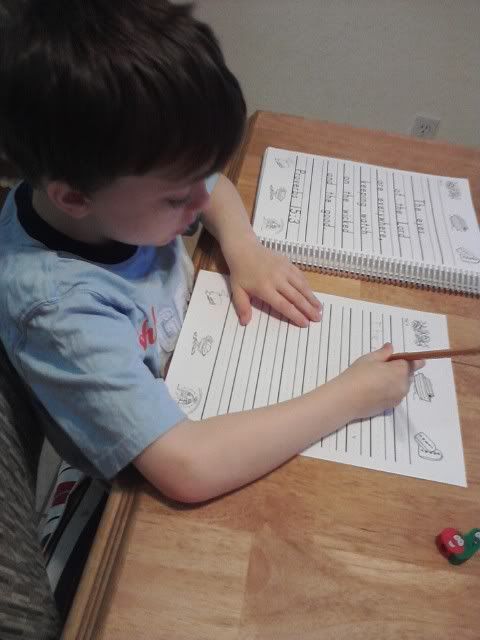 Writing the scripture verse.
Math:
We talked about money this week. Read several money books and did the
Complete Book of Math
sheets on the subject.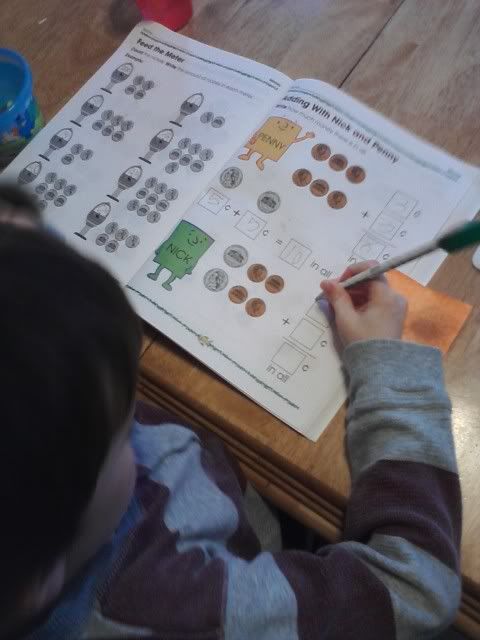 Money Math!
Science:
We skipped most of the science this week as I just got lazy and it was more of a review about measuring than anything else. We read the pages in
Things Outdoors
, and measured the kitchen table in standard and non-standard ways.
Music/Art:
This week's hymn was "Amazing Grace!" Preston really enjoys listening to the
Hymns CD
we have when he's resting, and usually falls asleep to it. But I like it when he ASKS me to listen to it! We also talked about maracas and cabacas. For art we looked at some modern symmetrical wood prints, and worked on shades of gray in positive and negative spaces from
Drawing with Children
.
Spanish: This week we continued with the face and some emotions.
We are using My Father's World First Grade. See our curriculum
here
.
Blog Hoppin' with: