In my life this week...
I have another van! It's a 2000 Honda Odyssey (yes, another Odyssey). It's so much better than the last one... looks nicer, runs better, just overall so much better! Praise God for His blessings and His timing. Hoping to keep this one longer than a week, of course!
Honda Odyssey, you are the van for me!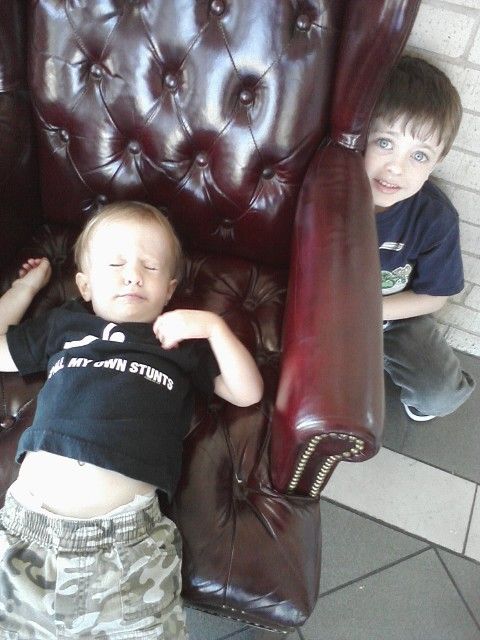 Playing while getting the van detailed.
On Friday, I watched a friends 2.5 year old daughter. That was an interesting experiment. I don't think Callen ever really adjusted to her being there (he swung at her a few times and she shoved him a few times, so... yeah). At first, they just stared at each other, giggled every once in a while and stood there. Then they warmed up a bit, Callen "showed her around" the house, pointing out things and babbling. I had a play-date
Usborne
book party so I took the kiddos with me and all three had a blast playing with all the kids and toys at our friend's house. On the way home, both littles fell asleep and stayed asleep for a good, long while. Overall, it was a good day with an extra toddler... definitely went better than I had worried about, haha!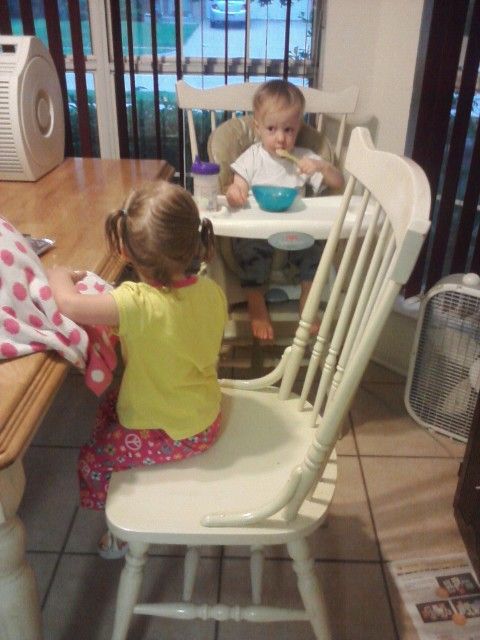 Getting used to each other.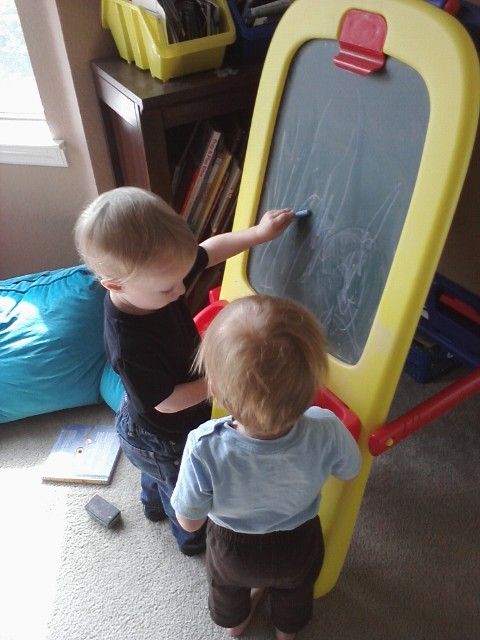 Chalking w/a friend at the party.
In our Homeschool this week...
Tot School:
Callen had a complete breakdown on Saturday morning. He dropped his bowl of dry cereal in the kitchen floor and Michael told him to pick it up. He said, "no." Michael tried to get him to pick it up and it turned into an hour long ordeal (I'm not even kidding, an hour) where Callen refused to pick up the cereal, was screaming, crying, resisting. We sat in the floor with him, tried to "reason" with him, took away toys, tried to bribe him, gave him a spanking and more... he just absolutely refused to pick up the pieces of cereal and put them back in his bowl or the trash can. It was CRAZY. He is very strong-willed, but I had never experienced anything like this before. We finally just left him alone because we had stuff to do... Preston came along and picked up most of the cereal, then Callen picked up the last few and poured the bowl into the trash. Geez. He is definitely in a defiant phase. I pray it passes QUICKLY!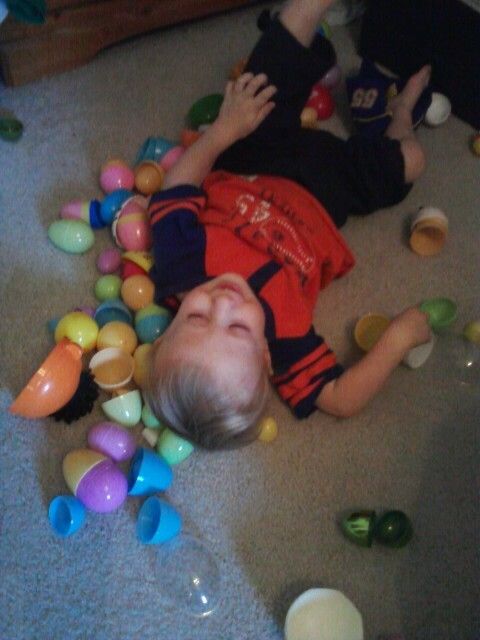 Rolling around in the plastic Easter eggs.
Bible:
Preston and I went over Proverbs 15:16, "Better is a little with the fear of the Lord than great wealth with turmoil." We also learned more about the calling of Matthew, Jesus choosing his 12 disciples, the parable of the farmer and the seeds and the stormy sea that Jesus calmed.
Reading/Writing:
Preston's writing is certainly improving when he is in the right mood to do well. When he isn't, it's a mess.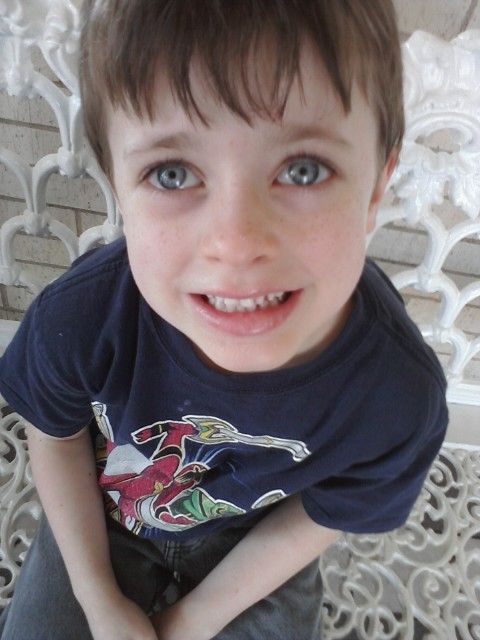 We took school to the car wash, lol.
Math:
Worked on money... recognizing, adding and subtracting coins. He did really well with this, like adding a bunch of coins to see if you have enough to purchase something. We also finished up the last page about fractions and did some two-digit adding that required regrouping. Preston is getting it down. And we are getting close to being done with the
Complete Book of Math
!
Science:
This week's science from book
Science with Plants
was about growing plants. We kept watching our bean seeds, and boy, have they sprouted. I actually just replanted them in some soil and a pot because they were so tall! Our snapdragons are starting to sprout a bit too.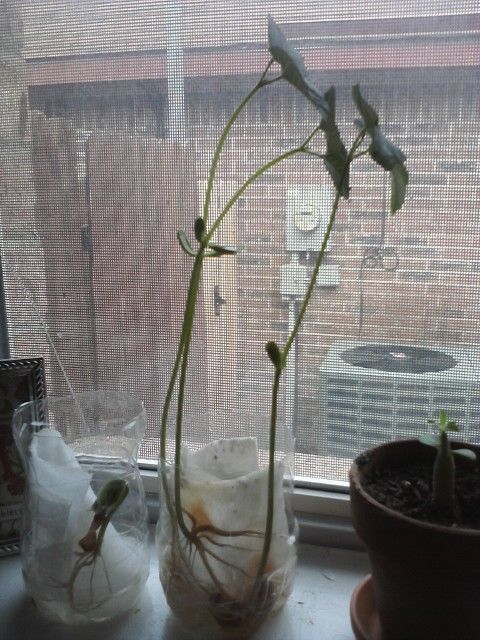 Our growing bean stalks!
Music/Art: Our hymn this week was "Our God, Our Help in Ages Past." And we talked about the accordion. I also picked up Drawing with Children again, and we did an exercise that had us drawing an object without looking at our pencil/paper. That brought upon quite a bit of giggling between Preston and me... it was pretty funny! I think he rather enjoyed it, as did I.
Spanish:
This week we learned some action words. Preston isn't picking up on these (remember them) as well as he has been with words in the past... so I'm trying to take it a bit slower. He's also just not really giving his best effort either, so ... he might be a bit burned out. But hey, only 23 days of school left! Wow!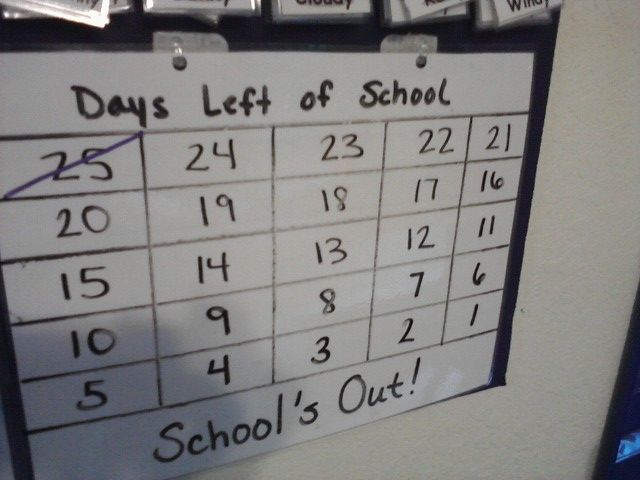 The countdown has begun!
We are using My Father's World First Grade. See our curriculum
here
.
Blog Hoppin' with: