In my life this week...
I think, for the most part, our sicknesses have ended. There is still a lot of sniffling going around, and Michael's ears are not healed yet... but we are tons better than we have been. This week flew by, once again. We had our ups and downs, as usual. Michael started his class, teaching several nights a week. He's got a big class this time, compared to last semester's FOUR students. Praying it goes smoothly for him this time around. The boys seemed to be having a pretty rough go of it in the behavior department the early part of the week, which made me one tired mama. The weather warmed up a bit so they've been able to play outside some the last few days and for HOURS today, so I think that helps.
Places we're going...
Last Sunday we spent time with Michael's parents at their rental place in Dallas... we went to the park down the street and out to dinner to celebrate Jill's birthday.
Family Shadow Photo at the park.
Our homeschool group took a field trip to one of the fire stations in our town that we've never been to before. It was neat because they have a fireboat!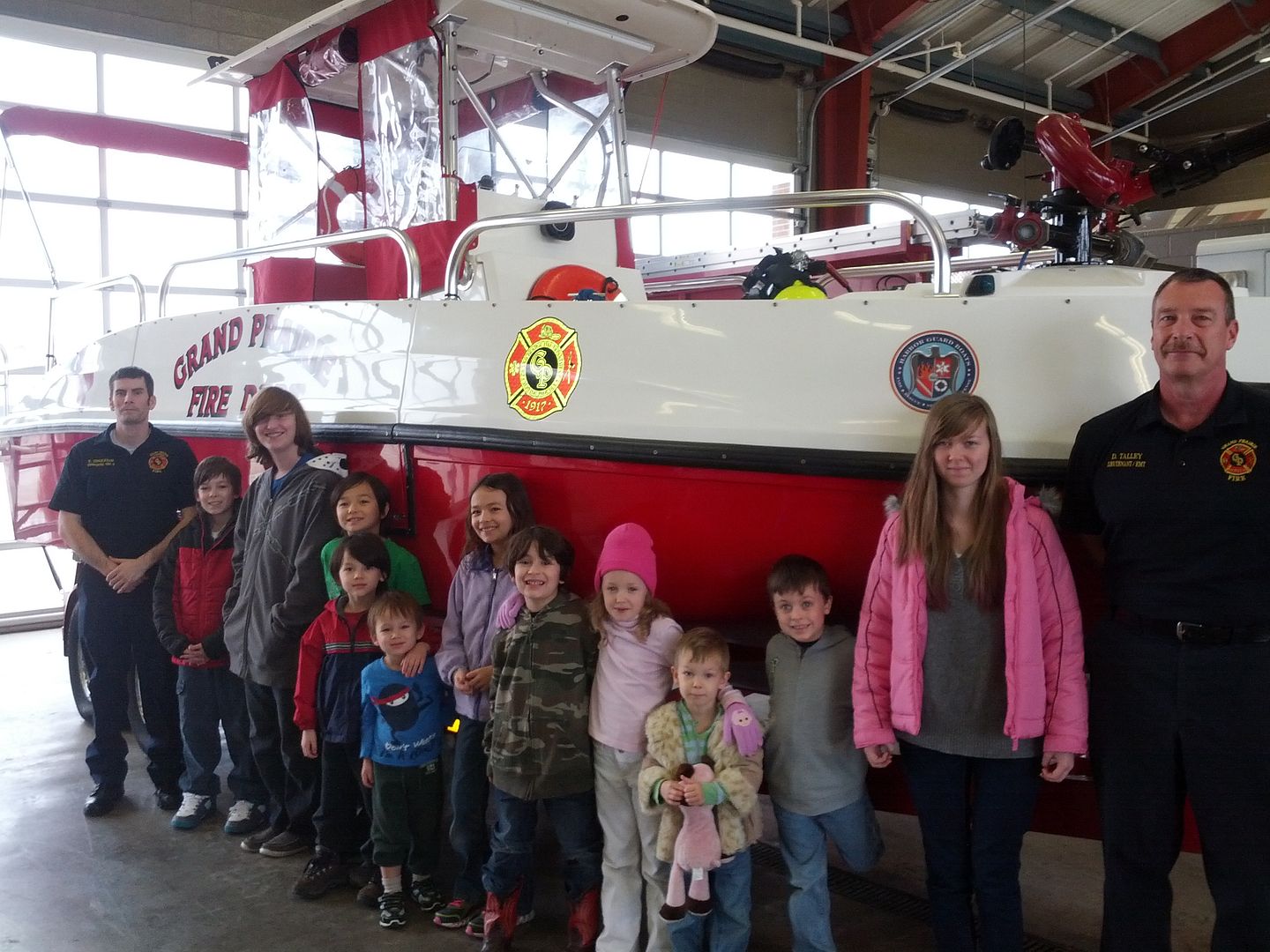 Fire Boat!
Things I'm cooking...
Since the beginning of the year I've been trying hard to make a dinner menu plan for two weeks at a time.. and so far it's working well. It helps me not have to suddenly think up something, or worse... run and get something... at the last minute. Trying to keep from having to go to the store every time I want to cook something, too. Doing my best to stick to the plan. Though, I admit, Monday night the boys didn't want what I had on the list and I didn't much want to cook it, so we had Brinner... but we are back on track now, lol. Made some yummy roast last night. The boys only liked the potatoes, but I thought the whole thing was tasty.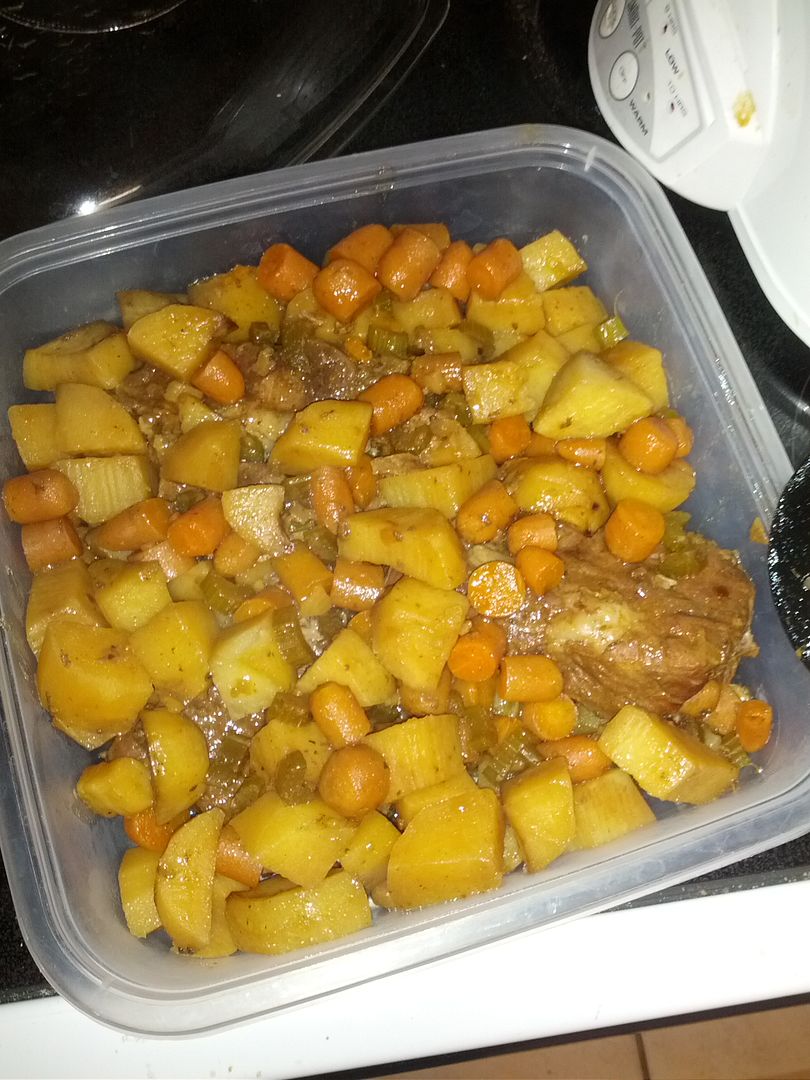 Yummy pot roast!
What I'm watching...
Well, our Netflix Streaming trial is about up... I finished Freaks & Geeks and Season 1 of Downton Abbey. Had to find a place online that offers Season 2, lol. I still have a few movies in my queue to try to squeeze in if I can, but pretty much watched everything I wanted to. The boys haven't quite watched all 99 episodes of Phineas & Ferb yet. I'm caught up on Once Upon a Time, Nashville, Parenthood and Bunheads... so, I'm good. Haha.
In our Homeschool this week...
Tot School:
We continued the
1plus1plus1equals1.net
"Tot School" printables
this week with letter "P" for Pencil and other school supplies! We read a lot of books featuring other writing utensils:
The Pencil
,
The Little Red Pen
,
The Good-Luck Pencil
and
Art's Supplies
. Callen is really progressing in his coloring... he seems to really enjoy it, though only in short spurts, of course. He still throws crayons and unwraps them, sigh. He is also enjoying is
Crayola Dry Erase Activity Center Zany Play
a lot. Oh, and he loves "writing" along in his "America book" while Preston is working on his states and history lessons. It's really just a $1 Store workbook that has info on all 50 states with dot-to-dots, little puzzles and a place to copy the names of the states. He scribbles in it, does the puzzles if he can and such... I love it.
Bible:
This week's name of Jesus was The Vine. Preston's memory verse is John 15:5 and we looked up verses in
The Discoverer's Bible
that talked Jesus being the vine and God the gardener.
Reading/Writing:
We continued
Spelling by Sound & Structure
. Continued with lesson 46-48 in
Primary Language Lessons
. We continued our read-aloud,
On the Banks of Plum Creek
, by Laura Ingalls Wilder. I think Preston is enjoying this one a bit more because there's more action happening in every chapter... Laura gets into a lot of mischief and he can relate, lol!
History:
This week Preston learned about James Watt, who re-engineered the steam engine, and Robert Fulton, who created the paddle/steamboat, reading
Watt Got You Started, Mr. Fulton?
We also learned about Indiana and Mississippi, reading
A Fourth of July on the Plains
,
A Placed Called Freedom
,
Granddaddy's Gift
and
Freedom School, Yes!
Math:
Preston continued Part B of Math Mammoth, Second Grade. Started Chapter 7 on measuring all different kinds of ways.
Science:
This week's theme was floating and juice from fruit. We read two pages of
First Encyclopedia of Science
on why things float. Then we read through two pages of
Science in the Kitchen
and talked about how and why there is juice in fruit, and how some fruit juice can be used to dye cloth
Music/Art:
Continued practicing "The Star-Spangled Banner." We also continued our
World's Greatest Artists, Vol 1
unit study, with our second artist: Michelangelo. We read a
biography by Stanley
. We looked at more his paintings and sculptures, and Preston colored in a printout of The Holy Family. We are also listening to and learning more about Tchaikovsky's Swan Lake. The boys decided to put on "pretty dresses" one day when we were listening. Haha!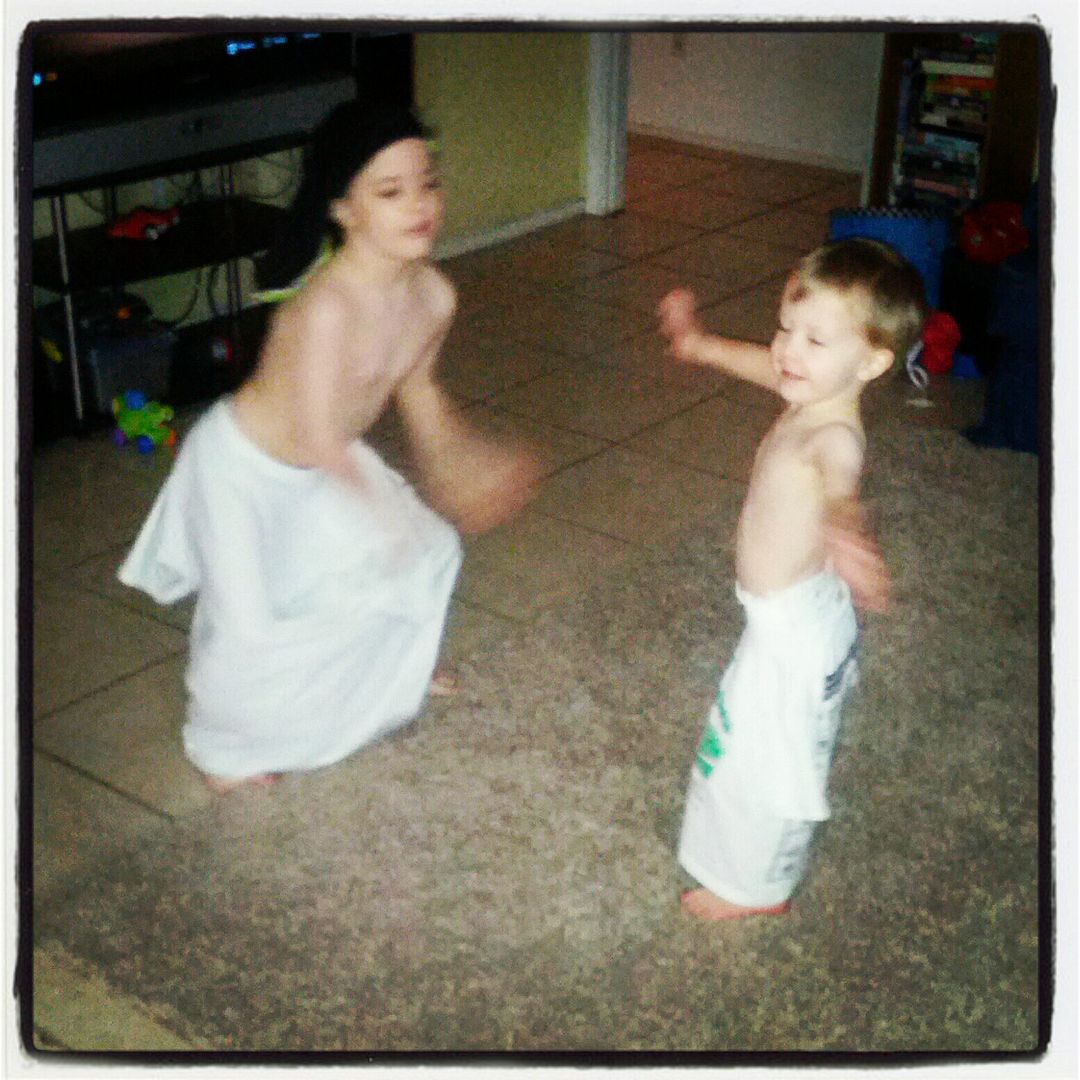 Dancing the Swan Dance.
Spanish:
Continued with the next episode of
Salsa
. Reviewed some of the things we have previously practiced with La Clase Divertida, like A-W, 1-20 and animals. We reviewed words having to do with "Opposites" in our
First Thousand Words in Spanish
and went through some review using the
Spanish Words & Phrases Flashcards
.
We are using Adventures in My Father's World. See our curriculum
here
.
[
This post contains affiliate links for Usborne Books & More and Amazon.com. By clicking on those links and purchasing items, you are helping me continue to be a SAHM so that I can focus on homeschooling my children! Thank you!]