So, we are officially done with school for this 'year.' Preston finished 3rd Grade and Callen did a few preschooler type stuff, but mostly he just played and tagged along with brother's stuff. This school year did not go at all as I wanted it to, but we tried to make the best of it. And all in all, we accomplished what we needed to.
It was off to a rocky start because I didn't start us when I normally would have since our house was on the market. We hoped it would be a quick sale, so I kept hoping we would be able to start when we were moved and settled. But it wasn't, and we didn't. And then, since we got a later start than I wanted, I felt like the rest of the year was rushed. I didn't HAVE to do it this way, but I did. Because I wanted to get back on track with the next 'school year.' Anyway, we survived, and truthfully, that's what matters, right? Lol.
Starting with Callen... I intended to do Before Five In A Row with him for the whole year. But, we really only ever got through about three books (
Yellow Ball, My Blue Boat and Jessie Bear What Will You Wear?
), and he just wasn't ready to sit and have his own projects. His 'school' became coloring and sticker books and watching PBS Kids most of the time. He did learn about the continents a bit since he was around while I was teaching Preston, and he really enjoyed working on the big felt world map, moving the animals around and such. He recognizes all of his letters and numbers, he knows what most of the letters sound like, can spell his name or recognize it when it's written on something, he has a great vocabulary and uses big words in sentences correctly. And he finally learned how to pronounce his c's and g's, that was a major breakthrough right after his 4th birthday in March!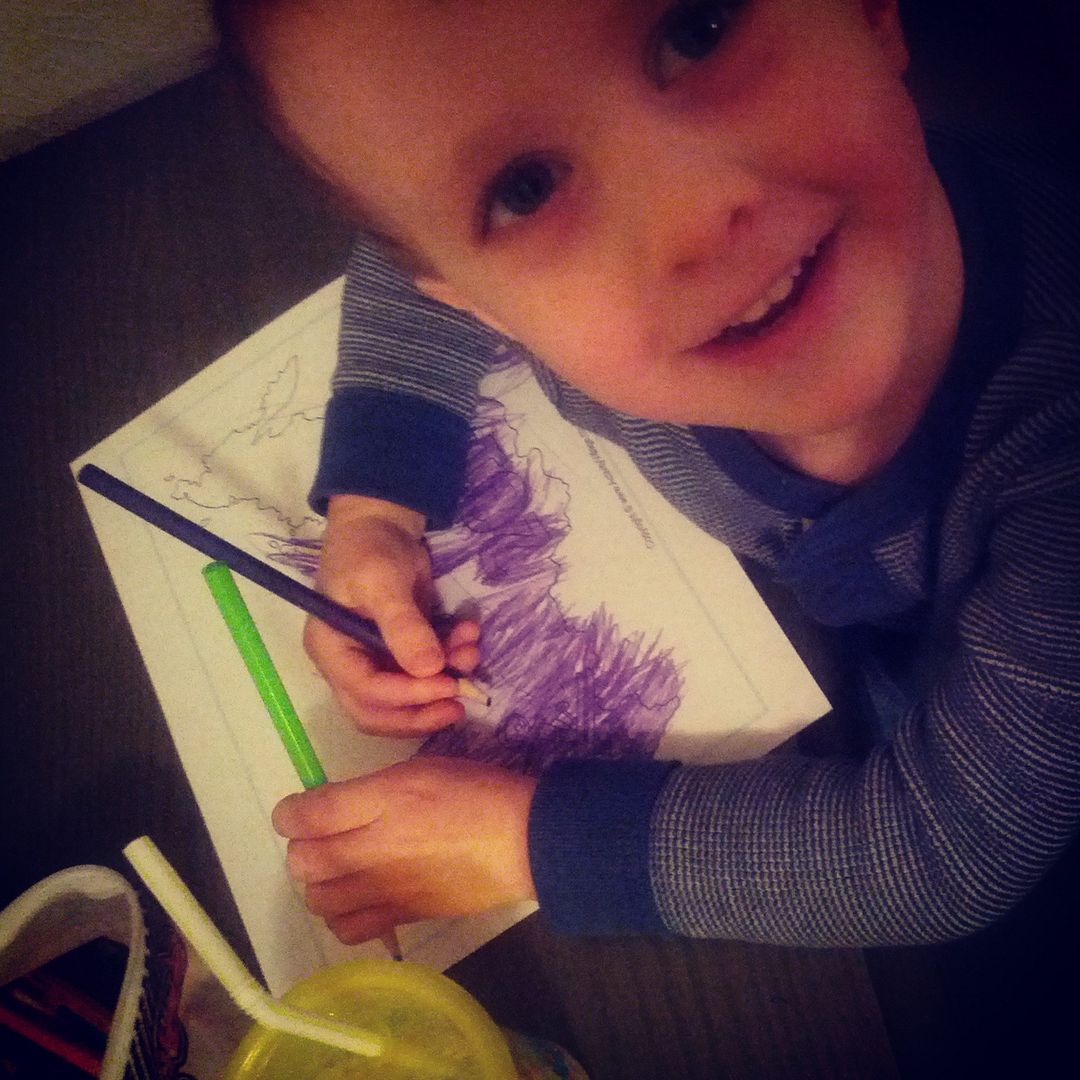 Coloring a continent!
On to Preston... we used My Father's World Exploring Countries and Cultures and we (I say we because I was learning geography right along with him!) learned about a lot of countries in the world. While I don't expect him to have them all memorized and tons of details about each one, he got pretty good with the Geography Game, so I call that a win! He got good grades in math was we went over multiplication, division, fractions, decimals, and more. He learned how to form letters in cursive and they look great (while often his print is horrendous!). We read a bunch of missionary stories and learned that so many other places and people in this world need prayer! We also learned about animals from different countries and ecosystems in various part of the world, too.
All done with 3rd Grade!
Even though we're done with school, in June we are doing a lapbook as we read through the easy version of Treasure Island. And we will start up our new school year in July! We will be doing My Father's World Creation to Greeks, and I will once again try out Before Five In a Row with Callen. Looking forward to getting back on our year-round schedule so we can take plenty of breaks during the year and not get burnt out!