I have been scouring the daily deal, coupon and freebie blogs lately for fabulous deals on things. They do all the work for you when it comes to couponing and finding the right sale to get the best deal! Plus, there are so many ways to get free stuff... they lay it all out for you! Some of my faves:
HeyItsFree.net
- I love this one the best because of Goob's hilarious commentary that goes along with the posts. His freebies are actually free too, he doesn't post 'em if there are strings attached (unless they're within reason kind of strings).
Freebies4mom.com
and
MoneySavingMom.com
are two other really good ones. There are soooo many out there, and they all tend to post a lot of the same stuff... but it's still fun to check 'em all and see who's coming up with the best deals/freebies at the time.
Some of the Deal Blogs recently posted a couple of awesome coupon codes for
MedcoHealthStore.com
, which has all kinds of health and beauty items for sale cheaper than other stores. So, using some advice from the blog sites (and their readers), I was able to score...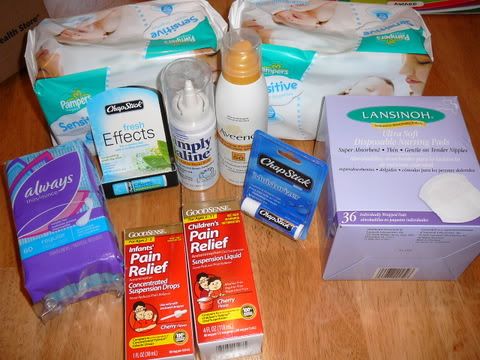 2 packs of Pampers Sensitive Wipes (128 count each)
2 Chap Sticks
Lansinoh Nursing Pads
Always Pantyliners
Goodsense Infant Tylenol
Goodsense Children's Tylenol
Aveeno Sunscreen
Simply Saline Nose Spray
Total for all items: $1.94
Shipping: $3.96 (four shipments at 99 cents each)
Grand total: $5.90
(Had I paid full price from the website, it would have been $42.93!)
I feel bad, though, 'cause by the time I told some other people about these deals, the codes didn't work anymore. That's the thing about the deal sites, there are soooo many of them and soooo many people following 'em, the deals, coupons, freebies, whatever, tend to go quickly! Act fast!