My sweet husband wanted to shave his head the day before my event, so we went out on the back deck and got out the shears. And Preston wanted in on the action, so he went bald too!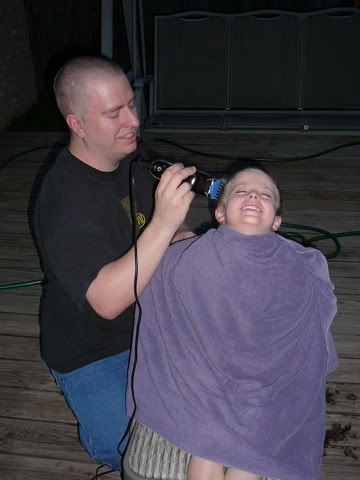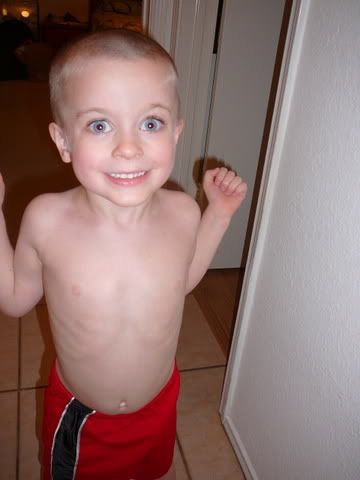 Yesterday's
Shear Hope
event was great. We didn't have the crowd we were hoping for, but it was a blast nonetheless. We raised nearly $300 at the event alone between the two of us (me and Candi) and that plus what's come in via paypal and handed to us individually... we raised a good chunk of change for Shear Hope again! Hooray for 'repeat offenders'! Haha.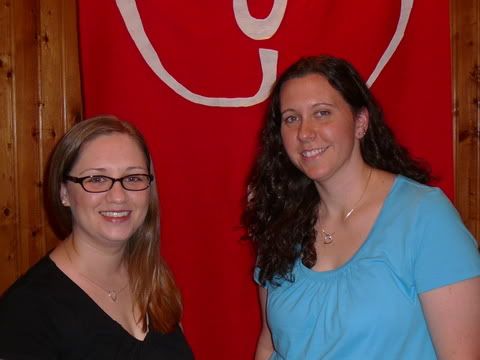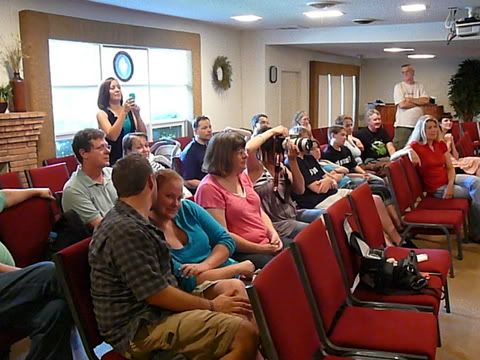 The event was held at Chapel In The Woods in Dallas, and unfortunately one of their A/C units went out that day, so it was a bit warm in there! But we grinned and bared it, and it all went smoothly. We were surrounded by loving family and friends who came out to see us go bald! Jeffrey discussed what Shear Hope was all about and how it worked, we watched the video (the one I've seen a million times and STILL cry at!) and Molly got up and spoke about when she did and what SH meant to her, then it was my turn. I had my 'speech' all planned out in my head, but when I got up there (following the video and Molly, eek!) I got all chocked up, especially when I mentioned my mom's fight with Cancer last year. I didn't say anything I really wanted to, and I hardly got out anything at all. Then we got to shaving! My hair was 20" long this time around!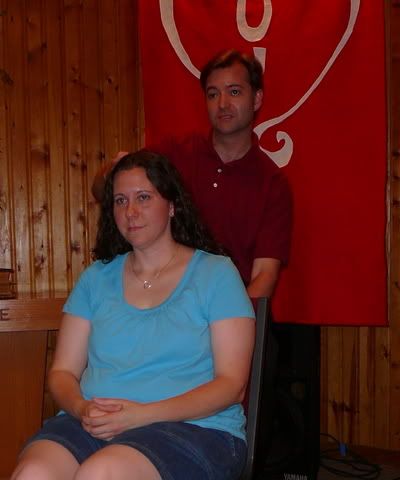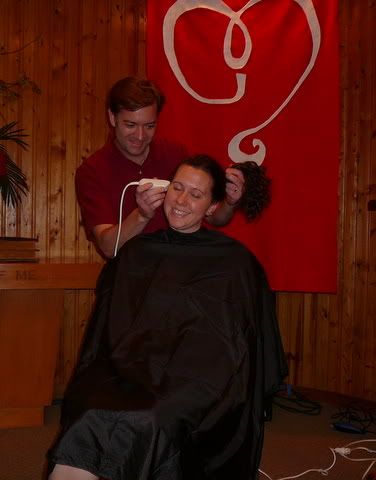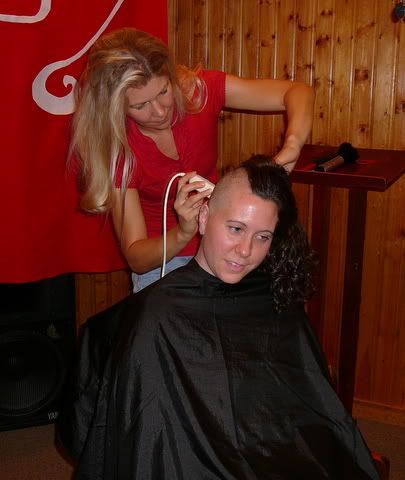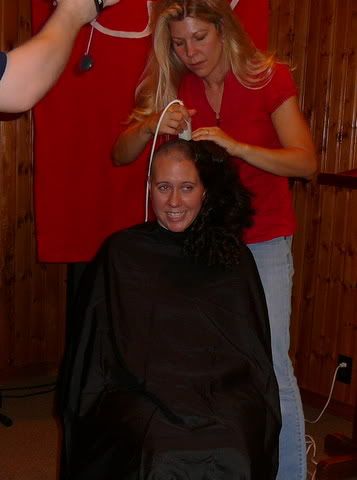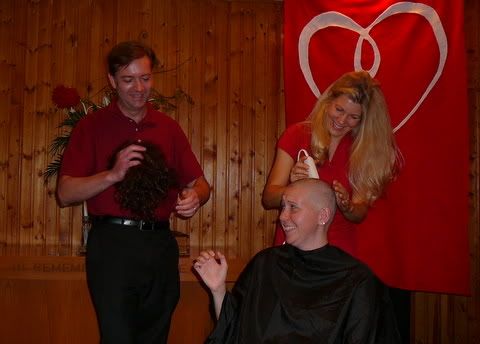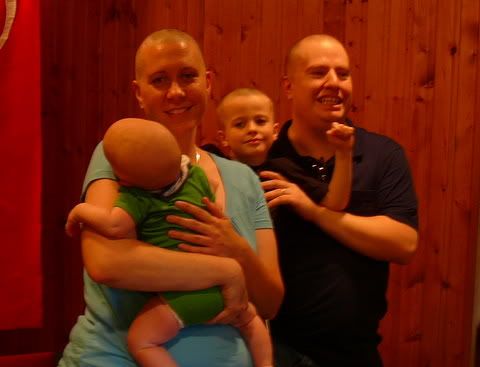 I was a little nervous of how Callen would react to my bald head, but he didn't mind one bit! We all match now!
Then, it was Candi's turn!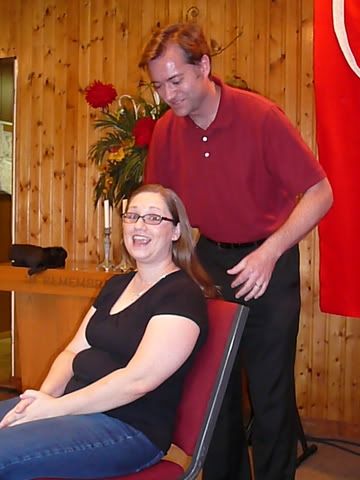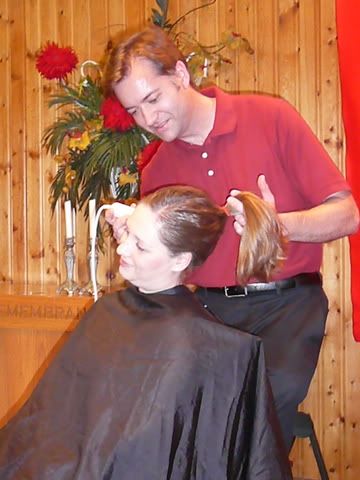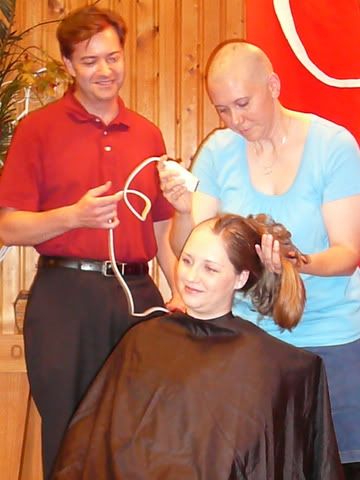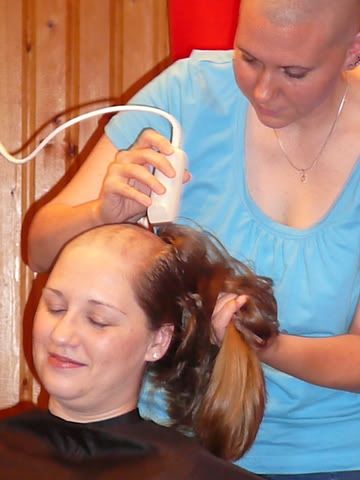 I got to shave some of her hair off, hahah!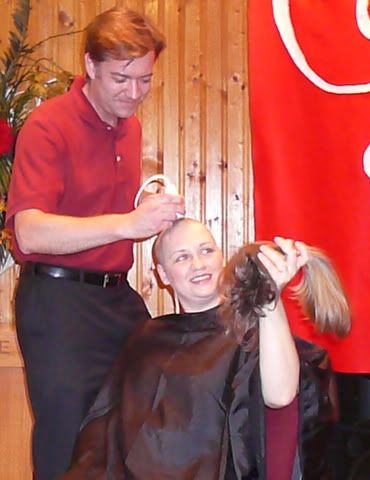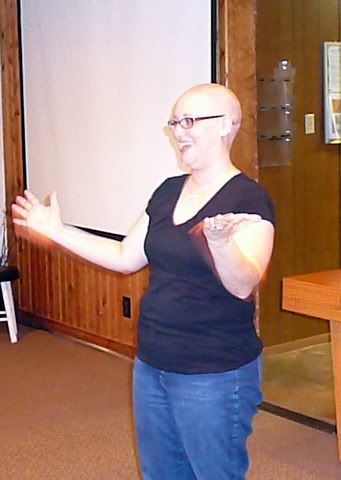 It's such a blessing to be part of this organization and to have been able to do this twice!!!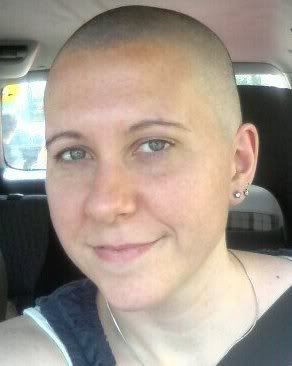 Here are the lyrics to the song I played while my head was being shaved... (
Hope
, by Remedy Drive, of course)
What a beautiful sight for the worn and weary eye
The glimmering light in the corner of a broken sky
Hope sweet hope like a star burning bright
When the sun goes down and the fears begin to fly
Hope's not giving up
Hope's not giving up
In a cold dark night she's not giving
Not giving up
Hold on tight this city's about to break
In the middle of the night lying there wide awake
Hope sweet hope how much more can she take
Being our strength when our hearts are out of faith
Bridge:
Hope is with me in my time of trouble
When it all comes crashing down she will stay
By my side digging through the rubble
She's not giving up - not giving up - not giving up