I have wanted some adorable
Baby Legs
, but definitely can't make myself pony up $12 a pair for 'em. Plus, there aren't a lot of really good ones for boys. So, I started looking around for advice on how to make them and got inspired. How hard could they be, right? Um... I have sewed two blankets, a pillow case and a
crazy lookin' shopping cart cover
in my life. I haven't touched my sewing machine in four years (and never before that!). I found a few different places that had info on how to make these baby leg warmers and made an attempt on an old sock... got the basic idea down but wasn't exactly what I was going for. THEN, I found a blog WITH PICTURES that made it all make perfect sense! And.... I did it. So, thanks to
Everything Your Mama Made
, here's what I did: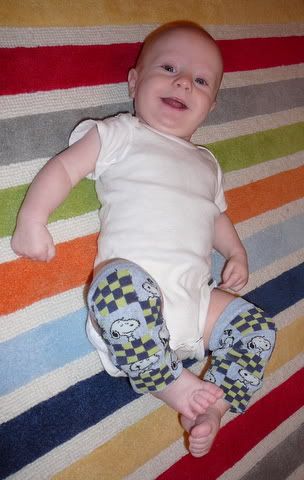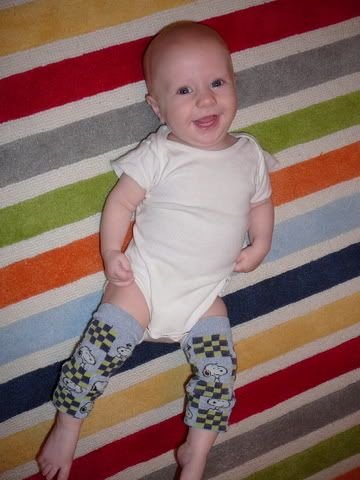 Granted, I need some more practice to get 'em better, but not too shabby on my first attempt (and in only 20 minutes!). As you can see, they're Callen-approved! I have a bunch of old character socks (mostly Snoopy) and they make great designs for these things... super cute! Totally excited to make some more. They're gonna be wonderful when he starts crawling! I'm also looking forward to making these for friends' babies!!!
Who knew I could sew?!? I think my SAHM status is going to my head! =)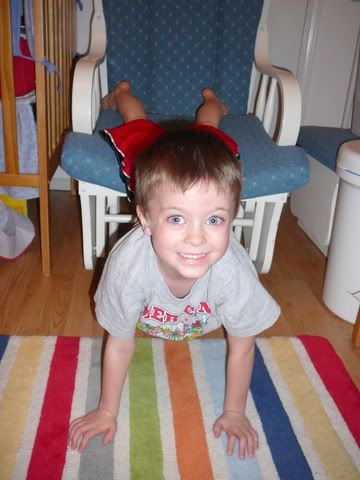 Oh, and Preston says hi!