I'm married to a 32-year-old man!!! Michael's birthday was yesterday. Preston and I made him a Mint Chocolate Chip & Vanilla Icecream Cake. It was a lot of work, lots of layers involved - freezing and waiting and whatnot - and then it pretty much tasted like Mint Chocolate Chip icecream. Coulda saved myself a lot of trouble just serving him the icecream straight up. Oh well, the thought counts, right? And it looked nice!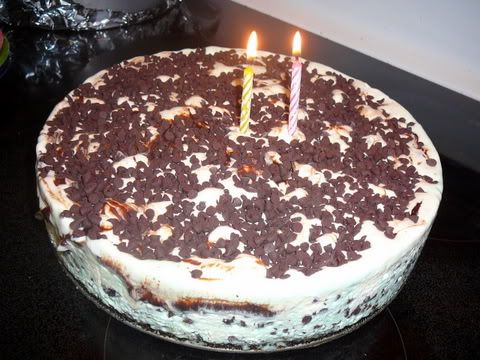 And my attempt at getting a nice photo of my boys all together, resulted in this: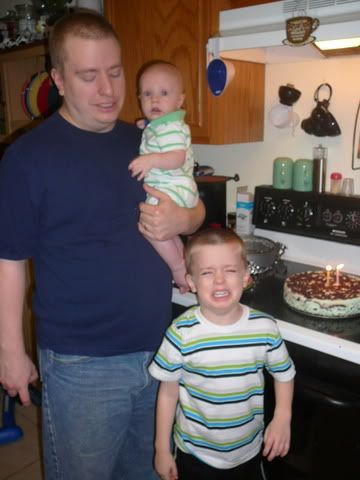 LOL! Seriously, wow. Preston would not just look at me without making mean faces, so he got scolded and this is the picture I got. Yep.
We ended up dropping Preston off with Grandma & Grandpa Clark to spend the nite, then Michael, Callen and I went to Celebration Restaurant for dinner (yay birthday coupons!) It was kinda weird being there with just a baby, reminded us a lot of when we went there right after Preston was born. The food was yummy as usual, LOVE that place! After dinner we had to go clean the church... did that till 2am, then home for bed (at least for me). Not too much of an exciting birthday, but I guess that's what happens when you get old. Haha!
We got Michael a book he said he would like to read (y'know, if he ever got around to reading), the Memoirs of Ulysses S. Grant. I also happened to win him Texas Rangers tickets for all of the remaining home games this season! I sign up for all kinds of things all the time and never win, so when the email came in saying I had won... I really didn't believe it, and was very suspicious of the whole thing. But turns out it's true! Woo hoo!