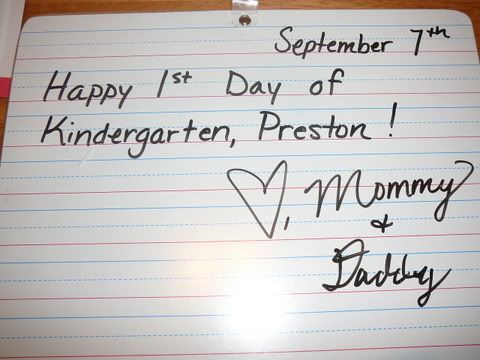 Well, it's official... I have a kindergartner! Preston is only 4 (and 3/4's!), but ya'll know the boy is a genius, so I have no reason to explain. Haha! Since he picked up reading so quickly this summer, and he has known most of the pre-k stuff, like letters, numbers, shapes, colors and whatnot, since he was two, I decided to go ahead and start him out in K this year. I wanted to wait until the day after Labor Day to start 'cause... well, it's homeschool, and I got to choose! He was so excited as we've been counting down the days. Yesterday morning as he was eating breakfast, and saw that it was only one day till school started, he exlaimed "I wish it was nighttime so I could go to bed, then wake up and DO SCHOOL!"
This morning Callen woke me about 8:30, so I got up and fed him and he fell back asleep. I woke up Preston, who suddenly wasn't quite as interested in getting up for school... but he got up and had breakfast with me.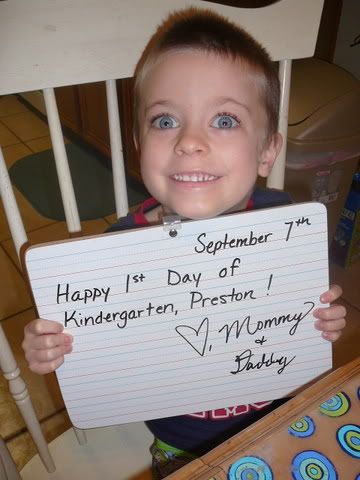 As he ate, I showed him the homeschool area of our kitchen which now houses the work boxes, books and supplies. I also explained how it was going to work, and what we were going to do. He quickly got excited about school again as I talked about it and showed him the stuff I had previously kept secret from him.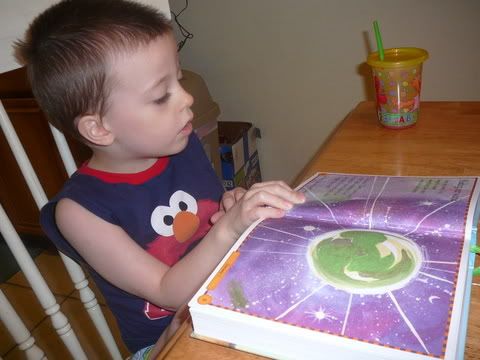 Our first subject is Bible. He read the first page of his little Bible and I read the first part of a 10 Commandment book for children.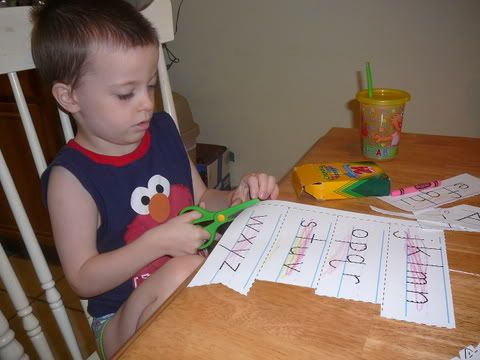 Next we did a little art project where he colored, cut out and put together an Alphabet plane that has capital and lower case letters. That went up on the wall so that as he's practicing writing, he can refer to it if he gets stuck on a letter. Plus, it's just cute. (Yep, if you're homeschooled it's ok to do schoolwork in your underwear... hahaha!)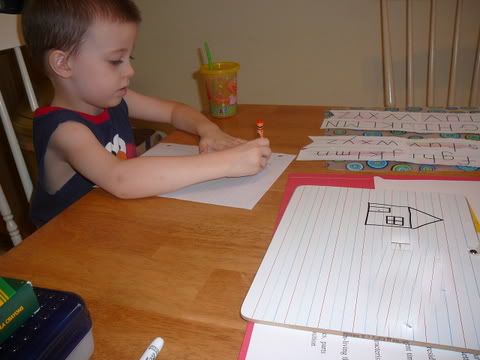 The third subject was Social Studies were we talked about how we live on Earth, in America, in the USA, in Texas, in Grand Prairie and at our address. He drew a picture of our house and wrote out our address.
Callen woke up at this point, so I had to feed him again and while I was doing that, Preston joined us on the couch and read a book to us. It was a Dora The Expolorer phonics book focusing on silent letters.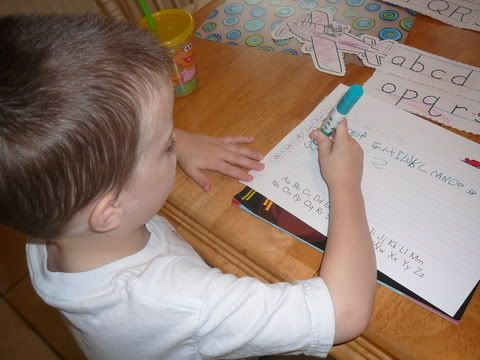 Fifth subject was writing, so I had him write out his capital and lower case letters. He's a little rusty on those. He doesn't like just sitting there writing them out, so we'll do some other stuff that's hopefully more exciting to him in the future. But I did this to kind of see where we were at as far as writing them all out. Definitely need work!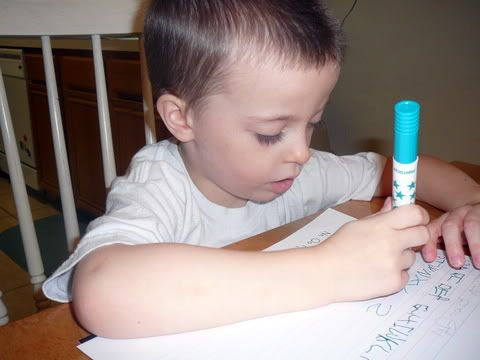 After that, we went out for a few errands - the Post Office and to Mardel to get some of his school stuff laminated (this week at Mardel, you can get 25-feet of stuff laminated for FREE!). We got back and had lunch, then finished up with our last subject: Math! I really just had him write out his numbers. I figured that was a good place to start, and he had already had a pretty full day for a first day. Thankfully Callen played nicely in his walker next to us in the kitchen while we focused.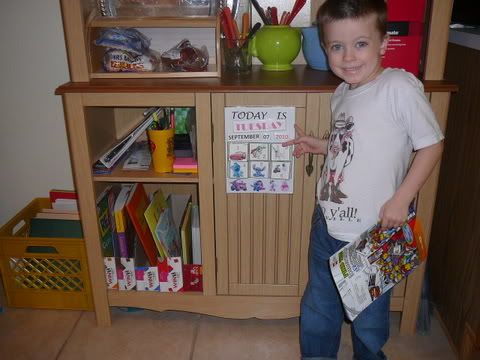 This is our 'homeschool' corner of the kitchen. It's got his work boxes (one for each subject - Bible, Reading, Writing, Math, Social Studies/Science & Other, which is art/music/Spanish/sign language) and the extra books and supplies. He's pointing to his chart, he gets to fill in the chart as he finished each subject and when it's full, he's done for the day! Each subject/activity really takes no more than 10 minutes or so (sometimes less, rarely more - he doesn't really need more than that at this point).

I'm thankful that I learned about the 'work box system' (just last week, thanks MRHSG!) because it finally gave me some direction on how to go about this whole thing. Up until then I wasn't really sure what kind of structure we would have or how I would go about planning what we would do each day. I'm not using any particular curriculum right now, just some work books and lessons I've found online and random stuff I'm coming up with, along with a couple of books I got recently on 'what your Kindergartner should know' to make sure I'm covering the basics. But the work boxes have given me motivation and I think they'll help to keep Preston focused on what we're doing each day. I know he won't always wake up super excited about school, but hopefully this system will help to keep us going and not fizzle out or get too lazy.