We had pumpkins coming out of our ears last week... with three pumpkin patch visits and using pumpkin-y things for school lessons and what not. And now Halloween has come and gone! And yes, I quickly put away the Halloween decor and left out the Fall stuff! Bring on Thanksgiving!!!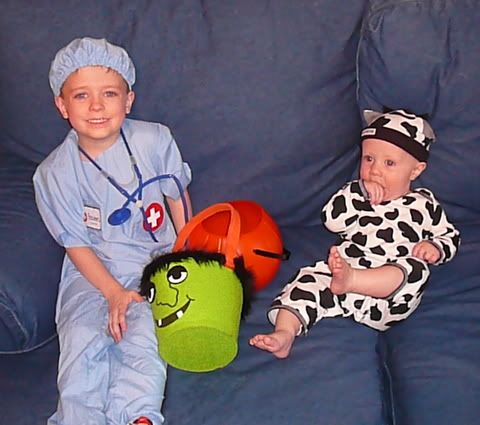 Ready to head to the TrunkOrTreats!
This year we had a doctor and a cow. Though Preston kept saying Callen was a "cow nurse" so that his costume went along with the doctor stuff. Whatever, they were both darn cute!
Hey there, Little Red Riding Hood

And scored lots of candy! And Preston bobbed for apples! That's something I don't think I've ever done (or wanted to do). Haha!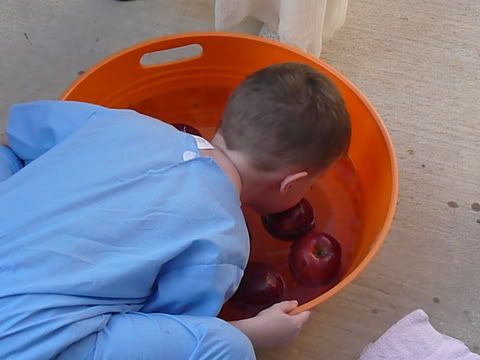 He almost got one, but not quite.
My favorite part was when I took Callen up to the people, they'd look through their buckets trying to find something he could have. Umm, he's 7 months old... he can't have ANY candy, people! But Mommy likes chocolate, so hand it over!
Michael got to go to the first two churches with us, then my mom and dad came over so we could go to Grace Fellowship for their TrunkOrTreat. It was bigger and better than last year, way to go team!
This afternoon I took the boys out for Halloween clearance shopping, hitting up Target and Walmart. Everything was picked through already, but I was able to get the two Great Pumpkin stand-up decorations for the yard (Charlie Brown and Snoopy), so I was pretty excited about that! Woo hoo! I guess this means next year we'll have to give out candy. I did make a point of saying that if you decorate your yard for Halloween, you better be giving out candy... so... we'll see. And of course, the stores were quickly throwing up the Christmas stuff... yep, it's here!
On an unrelated note, Rangers blew it this evening. They had a great season and made it to the World Freakin' Series, which is absolutely amazing so they have nothing to be ashamed of, that's for sure. However, it looked like a totally rigged game out there tonite. The guys were not playing their best, and so it was disappointing to say the least. But you know what? We've been there once, we can do it again! Let's go Rangers!!