I love Thanksgiving! And I am having such a great time doing Thanksgiving lessons with Preston right now. I don't know if he's liking it, but I'm having fun! Haha. My Mother-In-Law gave me a neat book a few years ago and we've taken up reading it every year... and this year is cool 'cause I've worked it into our schooling (and I think this is the first year Preston is actually understanding some of it).
The story of the English puritans who made their way across a giant, stormy sea to reach a "New World" in which to practice their form of Christianity (having a relationship with Jesus!) is so inspiring! The hardships they faced in getting to that first feast of Thanksgiving (a year after they arrived!), losing about half of their peers in the first month to "the sickness," making peace with the Indians in the area despite the hostility... it's just a neat, exciting part of our American history!
Anyway, I've been reading through the story with Preston, as well as doing all kinds of Fall/Thanksgiving activities. We made a paper basket and went outside to collect things that remind us of Fall. We ended up with acorns and leaves, which we are using to work on counting by 2's, plus some addition and subtraction (and it makes a lovely center piece as well!
We're also making little Pilgrims and Indian guys, discussing the food associated with this holiday, talking and praying about what we're thankful for, going over the Fruits of the Spirit and doing all kinds of fun crafts! We even created our first lapbook (though a miniature version, and only of some Thanksgiving games... but hey, it's a start!). Today we watched a really neat live video broadcast from
Plimoth Plantation
, where they have actors portraying real people from 1620... Preston and I enjoyed that a lot! Oh, and we're going next week to hear a real Indian story-teller! I'm only sad this unit couldn't last longer! Thanksgiving is 7 days away!!! But... then we get to go into Advent and Christmas! Woo, love me some holidays! Haha! It gives me great inspiration when I'm trying to plan what we'll learn about next!
Oh, and the fact that I found a simple template for planning pages that I like helps a lot too. I've been writing it all out by hand on notebook paper, trying to keep it in order (according to the workboxes)... it was getting frustrating to try to plan ahead. I dunno why it didn't dawn on me before to either search for a good weekly planner sheet or just make one up on my own. Duh, Jade! But now that I have those printed off and ready to fill in, I feel like I'm once again on a roll. Yay!
x
[Edit: Added 3:40pm]
We made the little pilgrim and Indian guy this morning, or as Preston called them "Toilet Paper Roll Penguin... I mean Pilgrim" and "Dr Pepper Indian Guy" (That's what they were made of... a toilet paper roll and rolled up cardboard from a Dr Pepper box).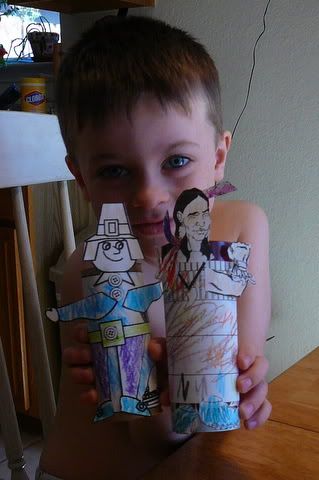 Proud of his creations
He had great fun coloring the template... he wanted them to be brightly colored, because even though the Pilgrims and Indians didn't necessarily wear bright colors, "they wish they could!" Then later we read that the early settlers DID wear bright colored clothing on their Sabbath days as a sign of praise... so, awesome, Preston knew it before I did! He had a great time using the guys to act out some funny situations.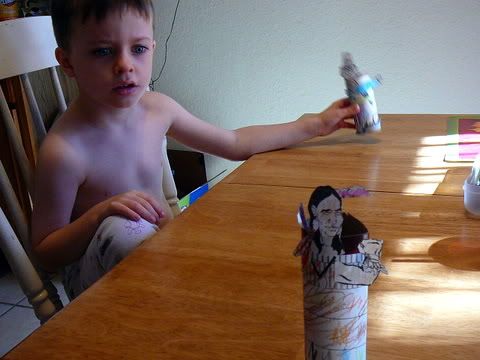 Looking very serious about things
I asked Preston to recount the Thanksgiving story, or at least what he remembered of it, but... he didn't exactly cooperate. Made for a funny little video, though. He's very intent on them being traitors, even though I tried to explain the difference between being a traitor and a trader (like food for furs and whatnot), but he decided that they were both.