Michael and I took Preston to see
ICE! at the Gaylord Texan
... because it was Snoop-ified! I love me some Snoopy. In case you didn't know, the decorations in front of our house... yep, Snoopy! =) Anyway, it was really neat to see all the Peanuts characters there made out of ice. It was also VERY cold. My fingers started going numb (I didn't take gloves and had my hands outside of the jacket 'cause I was taking pictures)! Preston loved it, he was pretty excited about the whole thing (except getting his picture taken a few times, sigh).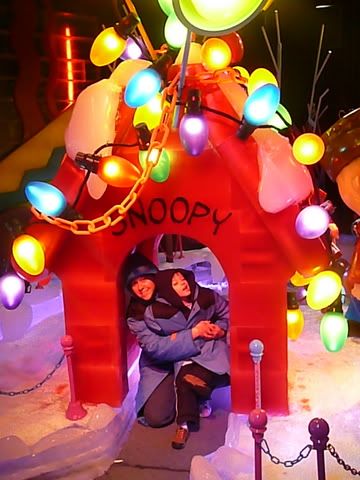 It wasn't pretty busy, but I imagine it's much more crowded on weekends. I found a nice $5 off code to buy the tickets online (
click here if interested
), so luckily we didn't have to pay full price. When we were coming out of the garage, the lady told us "That'll be $12 for parking." Uh... what? Thankfully since I had my online receipt from the ICE! tickets with me, it didn't cost anything... but gave us a little scare (I only had $7 cash on me!). So, FYI, if you're going, make sure you have a receipt to show them so you don't have to pay for using their parking garage. Geez! I know I'm a cheapskate and all already, but every little thing there cost wayyy too much, and then to park for less than two hours for $12, that's really just ridiculous. Ok, sorry, rant over.
We really did have a good time, though! Preston kept saying he wished Callen could have gone. I just thought it'd be too cold for him, plus it was fun to have a special outing just with P. We went to dinner with just C the nite before because P spent the nite with Grandma Darlene. So... it was an interesting experience in just having one kid again... haha. I love going out and doing things around town this time of year... love driving down the streets that have pretty light displays, love listening to the Christmas music in the car. It's just so special! Oh, and by the way, City of Grapevine, I commend you on your Main Street being completely decked out... it was a very lovely sight!
Alrite, on to the rest of the pictures...