On Sunday, for the first time in a while, we got a decent photo of all four of us at the Canton Christmas Tree Farm. Ok, granted, Preston is making a funny face... but that's Preston for ya, I'm willing to look past that. I thought this would make a cute Christmas card photo... something different than just posed on the couch or in front of the tree. Michael, however, didn't agree. He said it wasn't really Christmasy enough and the poor pony got cut off anyway. Ok... he's got me there. But I had already made up a few samples to see which card I liked best. This is an example of one of my faves from
Shutterfly.com
's holiday collection.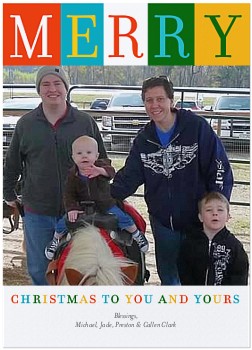 Color Me Merry Christmas Card

They have so many different styles and designs to choose from, though, it's difficult to decide. if I want a folded greeting card, or a flat photo card... or the stationery cards are raelly nice! Plus, now I have to get a new photo - and do I attempt to do a full family shot or just the kiddos? Oh man, Christmas cards are too complicated! I think I'll just keep looking at all the different options on the site for inspiration...
Love these:
I guess I better get my Christmas tree up and my camera ready, 'cause I wanna get some Christmas card action going! Maybe the photo I get will help me make a final decision on the style and design. Hopefully!
P.S. If you're a blogger, you can get 50 free holiday cards by doing just what I did!
Click here
for more info!