Ok, so at some point in October I heard that there were Pumpkin Pie Poptarts on the market. I'm sure if you read any of my Fall posts, you know how much I love me some pumpkin! And we, of course, love Poptarts around here as well. I went in search of these sure-to-be-amazing treats... and to my disappointment, they were no where to be found! Every time I entered a store that carried Poptarts, I would check to see if they had them. I did this all through October, November and December... I searched all over DFW, all different kinds of stores, all the various sections they could possibly be in. Once Christmas came, I pretty much gave up hope of ever finding them.
But, this evening...we went to Cici's for dinner, then went next door to Kroger to pick up a few things (and to walk off our pizza a little). I wasn't even planning to check the Poptart section... likes I said, I pretty much gave up. But we were walking down that aisle and I happen to glance over, and lo and behold, there sat one lone box of Pumpkin Pie Poptarts. I think I shrieked, 'cause I startled Michael and the kids. I raced over and snatched the box. Is it real? Are you serious? I FOUND THEM!!!!! Preston was excited too, because he had been on the mad Pumpkin Pie Poptart quest with me all this time and he been disappointed we couldn't find them as well. The bottom of the box was taped shut, but I figured the packages inside were probably fine since it was back out on the shelf. Plus, I just couldn't pass up the opportunity to the try them even if some were missing or whatever.
So here it is... my beautiful box of Pumpkin Pie Poptarts: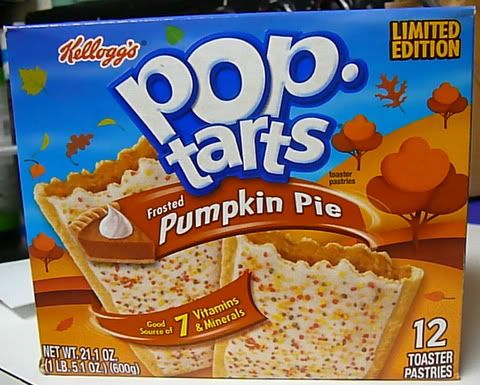 And here they are, perfectly toasted: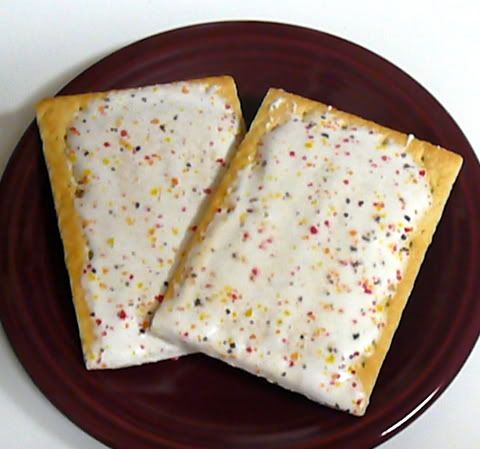 Let me tell you, they DO taste like Pumpkin Pie. They are delicious! I wouldn't pay the $12 on
Amazon
or even the $6 plus shipping from the Poptarts website... but $2.99... most definitely. Yum!!! My quest is now complete... the Great Pumpkin Pie Poptart Search of 2010 is over. Victory!!!