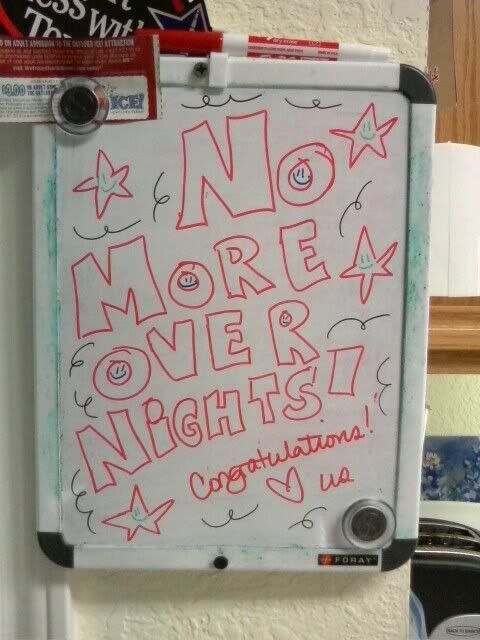 Yep, you read my whiteboard correctly... gone are the days of a husband who works all nite and sleeps all day. I don't think I can even express to you how happy this makes us! We have been praying, hoping, searching, praying, hoping, searching (and so on and so on) for two and a half years. Yeah, two and a half years! Back in early 2008 Michael was laid off, and the only thing we were able to find was an overnite position. He took it because we needed medical insurance for our family and it was still in his field. We hoped it would be a stepping stone, or at least something to tide us over for just a little while. It lasted two.and.a.half.years.
Michael and I quickly became passing ships. He would leave for work as we got ready for bed. I'd be climbing out of bed as he was climbing in. Once I quit my job and became a SAHM, Preston, Callen and I would pretty much sit around all day waiting for him to wake up, trying our best to be as quiet as possible. Even on his days off, the sleep schedule was the same... we couldn't do much. The few vacations or trips we took were difficult because we wanted to do stuff, he had to sleep late. The lack of sleep/reversal of sleep patterns are likely the cause of his chronic migraines and health problems. After having all kinds of tests, procedures, exams... the doctors' only conclusions have been linked to his being on overnite shift.
Several ideal job opportunities popped up over the years, we got excited, then we got let down when they didn't turn up. So we continued to pray, reach out, job hunt, pray, pray, pray some more. I was losing my mind... beginning to feel hopeless, knowing that something had to give or else. Finally, finally, finally, we received word that there was a chance Michael would be moved to days at his current job. It came out of the blue, really. We were cautious, not wanting to get our hopes up and then crushed again. And things started falling into place. It looked more and more hopeful, until.... he received word that things were set. Monday, come in at 10am.
Praise Jesus, our prayers have been answered!
No more sleeping alone at nite or feeling scared that I have to be the sole protector of the house and boys. No more sneaking around all day long, trying to be as quiet as possible, having to shush my children 1000 times a day. No more losing entire weekends because Daddy has to sleep. And mostly, I pray that Michael's headaches disappear and he is HEALED once he gets his sleep pattern back in order! I just want my husband back!
Thank you to everyone that has been praying alongside us over the past few years... you all know what a major issue this has been in our lives. And how badly we needed this breakthrough. God is amazing, this is the best Christmas gift we could get right now! It's certainly going to be an interesting weekend, trying to get Michael's schedule switched... but dang worth it! I don't think I've ever looked forward to a Monday morning so much in my entire life! Praise be to God!!!