Monday:
- A couple of pages having to do with Nursery Rhymes and finding hidden pictures in his
Learning Every Day
workbook. Most of these activities are too easy for Preston, but I like to use them to help him understand how important it is to follow directions. He may know the answer, but I want to make sure he underlines it if it says underline instead of just circling it. I also used these pages to see how well he had the nursery rhymes memorized.
- Continued work on addition problems for our math lessons.
- Studied North America (where I learned that Greenland is physically part of our continent - never really donned on me before! Haha!). I had Preston read to me from the
North America book
on our way to my Mom's house, and was impressed with the way he was able to figure out words and their meanings ("culture" for example), and how he doesn't bat an eye at words like "Mississippi." His reading skills are definitely continuing to impress me!
- We started a Weather Chart for this week because I knew it was gonna be all over the place! Thought it would be fun to see it on a chart. He wrote in the temperature (at 10am), wrote descriptive words (cloudy, windy, cold, etc) and drew a picture of what it looked like out our front window (the sky, tree and ground). He worked on this every day this week.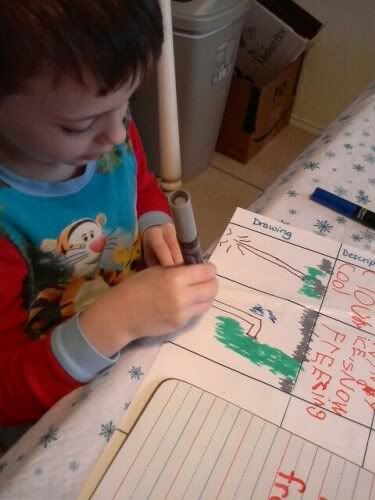 Drawing a tree on the chart
Tuesday:
- same type stuff as Monday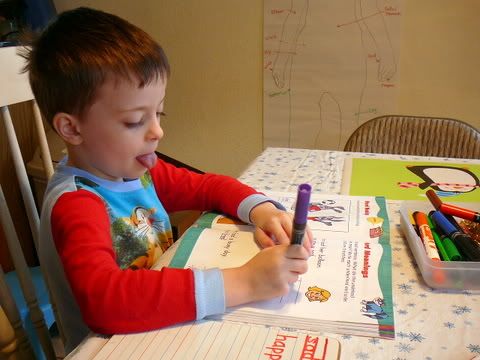 Ha! Look at that tongue!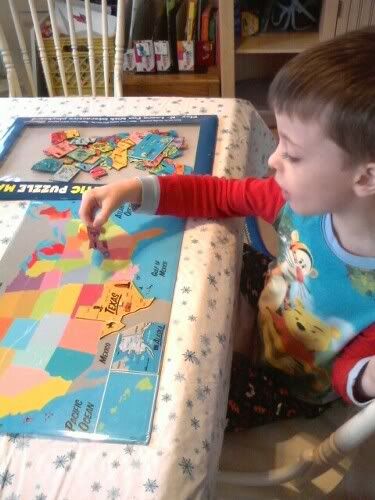 USA puzzle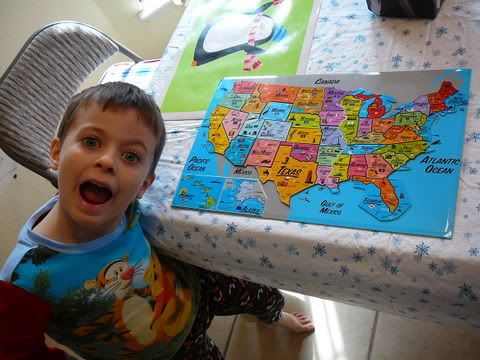 Finished it all by himself!
Wednesday:
- We did several lessons on Groundhog Day! It actually started on Tuesday nite, by watching the movie
Groundhog Day
! Haha.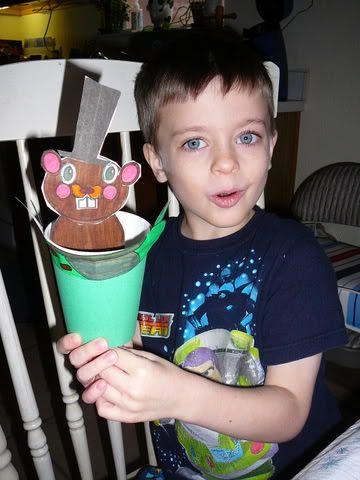 Hello, Phil!
- We spent some time in the dark bathroom using a flashlight to talk about shadows, why they occur and how they change.
- He colored a cute worksheet of a groundhog with a poem. And did a
maze
(which was much too difficult for him, turns out!).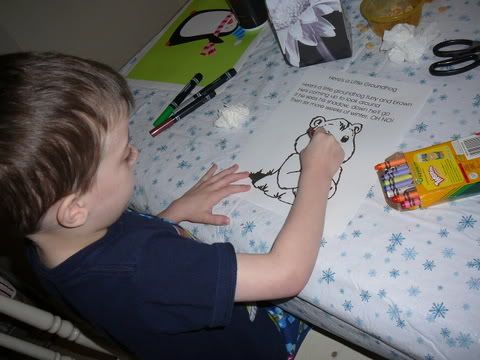 Coloring a groundhog
- We also read the book
Groundhog Stays Up Late
and looked at the calendar to see how many weeks till the official start of Winter.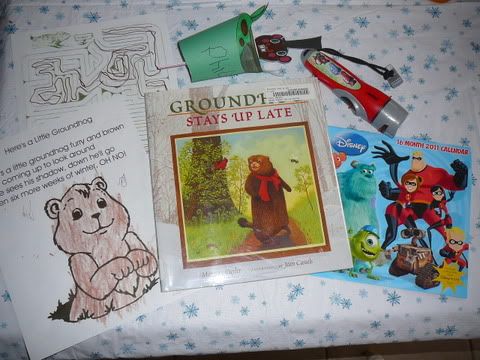 Thursday:
- More from the Reader Rabbit workbook, "words on signs"... he colored a lot with these activities.
- Finished up our study of Continents by reading
The Seven Continents
.
- Since we can't get outside to play, we've been playing
Just Dance Kids
a lot for some exercise!
Friday:
- Discussed this week's devotionals and had Preston draw a picture for the theme we talked about.
Most kids in our area were out of school on 'snow days' Tuesday through Friday of this week. Poor Preston had to do school anyway. Aww, the drawback of homeschool I guess. Lol!