Preston requested to have Valentine's Day off from schoolwork, so I agreed. Kind of. For one, he didn't get any snow/ice days like the other kids did over the past few weeks. And two, he wanted it as a Valentine's Day present because we told him it would be a candy-less holiday. Candy-less... because he has to go to the dentist this afternoon to have a tooth extracted and a crown put on (appointment one of at least two, poor guy). He is excited to go to the dentist, because his first visit last week was "fun." He has no idea what he's in store for! I really don't think this time is going to be "fun" for him at all, but he should be ok. I'm glad Michael is taking him and not me! We actually ended up doing a little school work, only he didn't realize it. More on that coming in this week's Homeschool Recap, though (posted on Sunday).
I snapped a few cute pictures of the boys earlier with Preston's big teddy bear.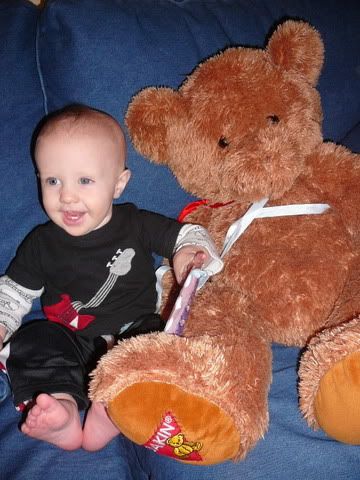 Laughing at Preston.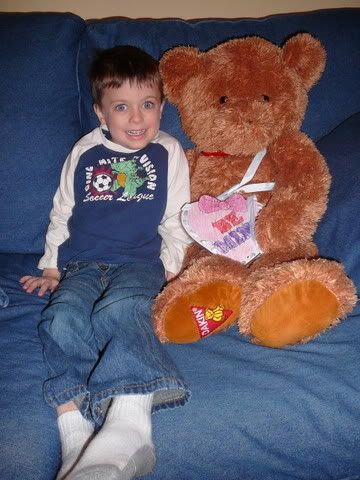 Being a goon.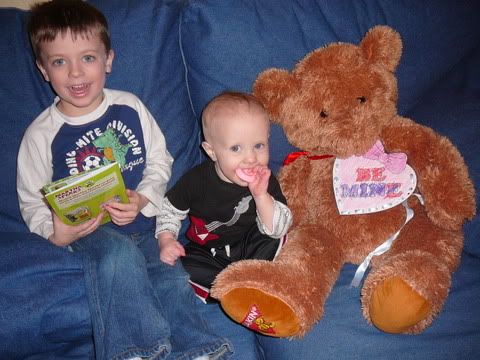 Best shot I could get. Haha.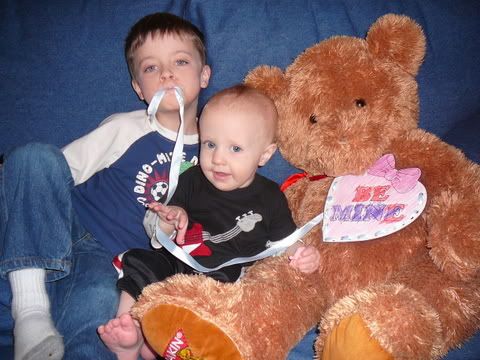 Oh, they're so silly.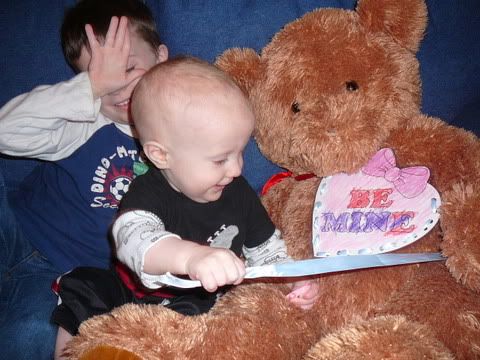 I lost control of 'em quick.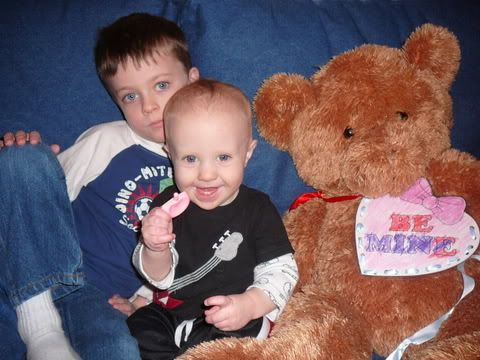 Ok, one more cute one.
And just to compare, this is Preston on Valentine's Day 2007, he was 14 months old: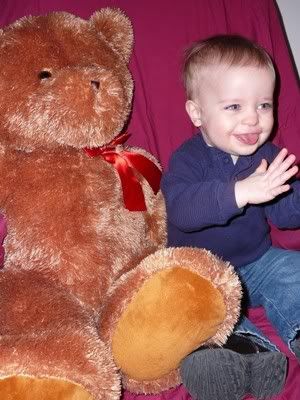 That bear has been a constant friend!
Grandma Jill came by earlier with some gifts and cards for the boys. They received cards in the mail from their Great Grandma Syers. And when Daddy got home, just a few minutes ago, we all exchanged cards with each other. Then Preston and Michael rushed off in the direction of the dentist's office. Praying for my brave little buddy, hoping everything goes smoothly for him!
"Part Two" to follow...