This week's activities were centered around Spring since Sunday was the first day of Spring! And, boy, has it felt just like Spring around here! I'm already wishing for Fall. Is that bad or what? We also decided on taking a vacation with my parents towards the end of April, so we've been pretty excited about making plans for that. Can't wait for our Spring Break!
Monday:
-
Daily devo
and Godly Character Trait: "Forgiving"
- Read
A New Beginning
, a book about the ways Spring is celebrated all over the world (old traditions and new).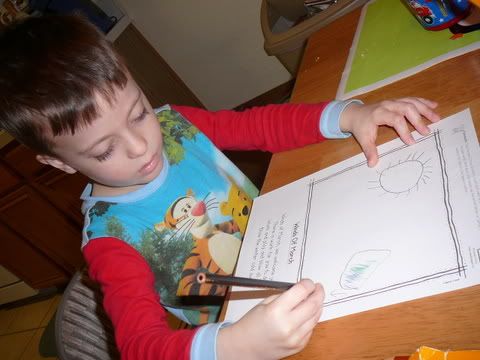 The Spring sun is melting Winter's snow
- A few leaf mazes. The tree in our front yard doesn't lose it's leaves in Fall, it waits until the Spring buds PUSH the old leaves off.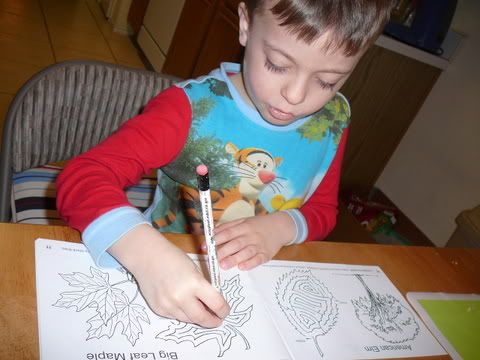 He's really good at mazes!
- Read
Wake Up, It's Spring!
Tuesday:
- Daily devo and Godly Character Trait: "Peacemaker"
- Read
In The Spring
, which is about animals on a farm having their babies in the Spring.
- We talked about different kinds of animals, wild and tame, how to take care of pets and how wild animals take care of their babies. Information from
What Your Kindergartener Needs to Know
.
- Went over to say some animals in Spanish from our Spanish workbook.
- Read a poem called "Little Blue Bird."
Wednesday:
- We read
Hurray For Spring
- Daily devo and Godly Character Trait: "Courageous"
- Read about Plants and Flowers in WYKNTK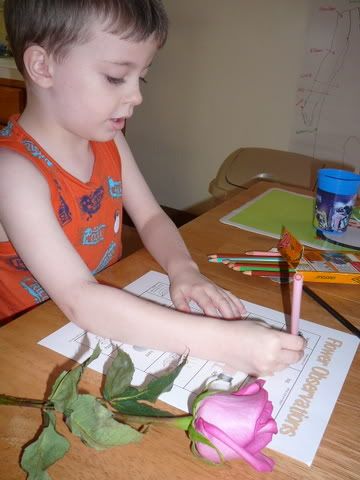 Observations using the 5 senses.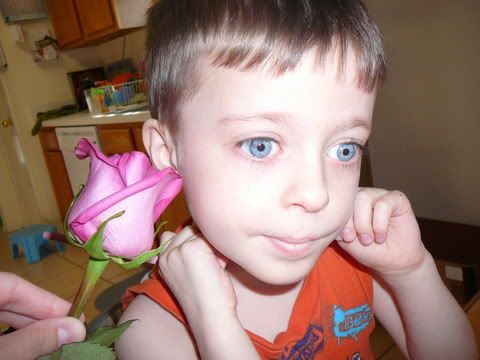 It doesn't make a sound.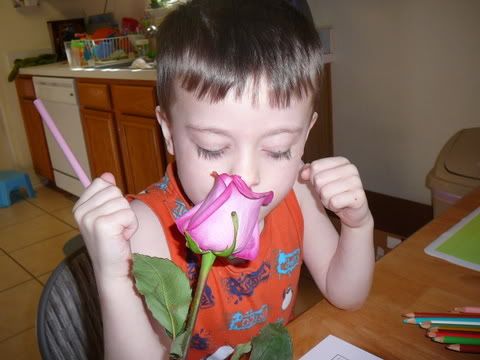 It smells good!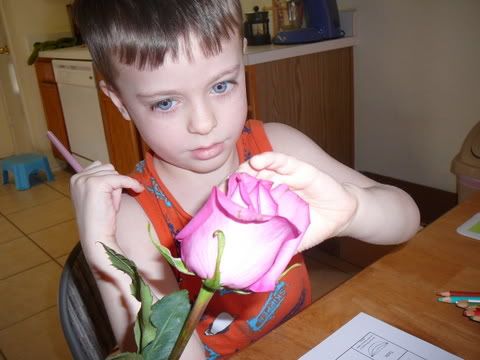 It feels soft.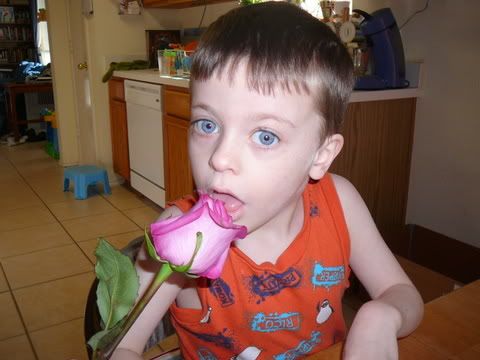 No, he didn't really taste it... he's pretending!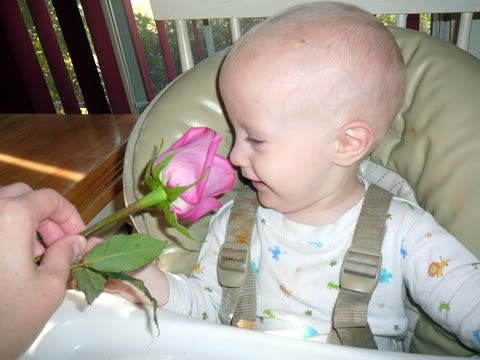 Callen wants to smell!
- Shape Flower worksheet (from the same unit as above)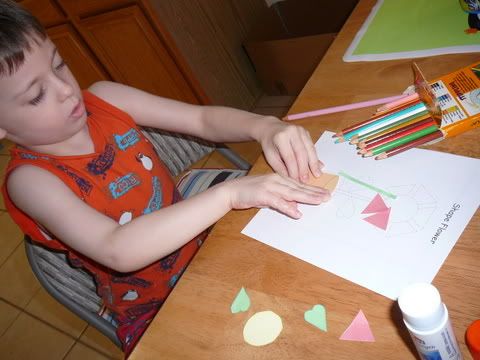 Using shapes to build a flower.
Thursday:
- Daily devo and Godly Character Trait: "Discerning"
- Today we discussed flower parts: roots, stem, leaves, flower and did two more worksheets from the Flower Unit from
2 Teaching Mommies
. I can't tell you how much I love that blog. A lot of it is geared towards pre-schoolers but not all... they have fun ideas, crafts, printables and more! Definitely worth checking out even if your kids are beyond PreK or K. We also sang a "Flower parts" song to the tune of "The Wheels on the Bus." Haha!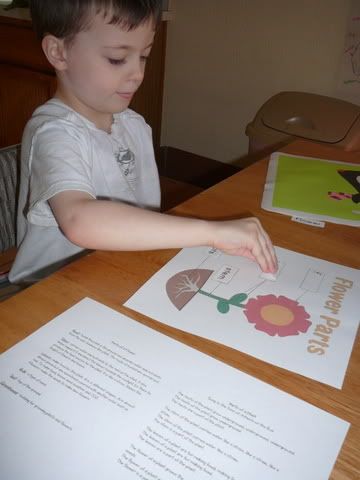 Naming the parts of a flower.
- I read some information on plants that we eat from the WYKNTK book. Preston was surprised to learn that we eat seeds (like corn, peas, etc), the stems (celery), the leaves (lettuce) and flowers (fruit) of so many different plants!
Friday:
- Read
Splish, Splash, Spring
.
- Daily devo and illustration of something he learned (Preston drew me with Jesus in my heart and a caption saying "Be Joyful.: Today's Godly Character Trait was "Content."
- We read a poem about Seasons and Preston illustrated "Spring." He drew a picture of himself riding his 4-wheeler in the sunshine.
- I had Preston work on writing some letters in flour because he was really struggling with backwards letters today, even writing words in the wrong direction (ie. wrote the word "be" as eb - but both letters were backwards too). I think he mostly wasn't focusing, but writing in the flour was fun for a few minutes and we worked on b's, d's, j's, q's and a few others.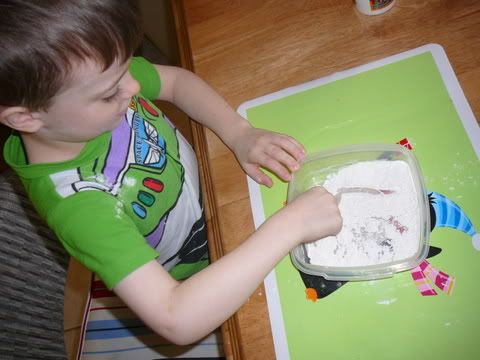 Books we borrowed from the library for this week...