An experience that made you who you are today.
This was a tough one. How do you pinpoint just one moment or experience that made the difference? One that made you who you are? Pretty impossible, to tell you the truth. So, I'm going this route:
On March 28th, 2000, this happened...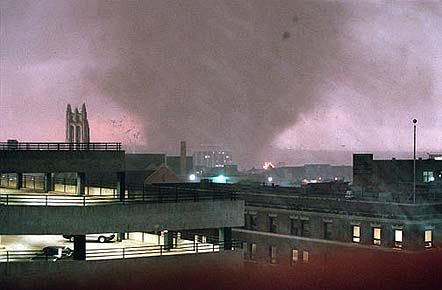 Tornado hits Downtown Fort Worth
I've
posted about it many times
, usually around the anniversary (last year was 10 years!). I was in the Cash America building when this monster hit that very building. It made for a VERY interesting nite, that's for sure. But what does it have to do with making me who I am today? Well, it's more like it has to do with getting me WHERE I am today. I was working at the call center, making lots of money for a college kid still living at home with mom and dad. I liked my job and had made my way up through several positions, but I knew it wasn't what I was gonna do for the rest of my life. I wasn't sure how to go about getting a job in my field. I hadn't even started my Radio-Television-Film courses at school yet. So, the tornado hit, and though the company quickly moved into a new building, the business never really fully recovered and we were eventually laid off. I found myself out of a job after having worked there for four years! It was at this point I called up the radio station and asked for a job, and to my surprise... got one! And at that job, I met Michael (and some of my dearest friends!)... and the rest is history! Michael and I joke about how grateful we are to that tornado for running smack dab into my building! So, yeah, it definitely helped me get where I am today. A former radio DJ, and currently a wife and mother! I wouldn't trade that exciting nite in Downtown Fort Worth for anything!