Sunday morning my boys awoke to find a couple of Easter baskets waiting for them.
Easter baskets!
Preston got candy and a tiny Cars Kite. Callen got Gerber Puffs and a couple of books and baby food (heehee).
Daddy helping check things out!
The Easter box we made got opened!
We met our parents (and Michael's brother) up at church for Easter Service. I had volunteered to watch babies, and my mom joined me in there. After the service, the church held an Easter Egg hunt. I wasn't sure what Callen would do, but after placing him down in the middle of a bunch of eggs... he grabbed 'em and stuffed 'em in his basket. The kid was a natural egg hunter! And, of course, Preston held his own in the midst of all the other kids around his age (he got out of the crowd so he could get at more eggs)!
Collecting eggs!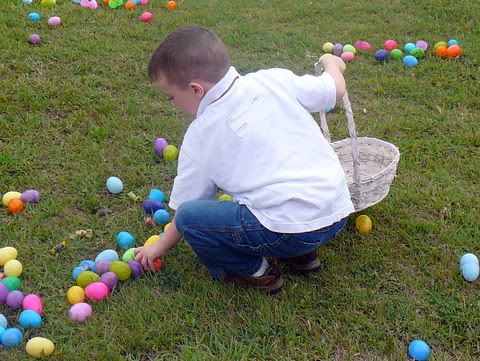 Collecting eggs too!
Taken by Angela Walker
After the hunt we went to Michael's parents' house for Easter lunch/dinner. The boys played games with their Uncle Daniel. We watched the Rangers game and had a delicious meal of Jill's homemade Mac'n'Cheese and Spiral Cut Ham. It was tooooo good!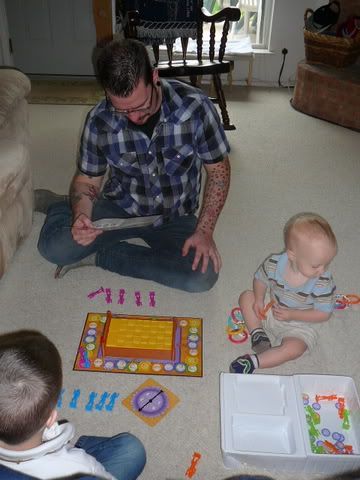 Monkeys on the Bed game w/Uncle!
The boys ended up with lots of candy, but had a lot of fun as well!