Our much needed vacation has come and gone already. Can't believe it!
My parents picked us up on Tuesday morning. We loaded the Explorer inside and out, and off we went... headed South! Our first stop was Round Rock Donuts. We had to try the Texas-Sized Donut, of course.
He did try to eat it all himself!
Preston made a pretty good attempt at eating the whole thing himself, but Michael and I helped (oh, and Callen had some too!). We didn't manage to eat it all even between all of us. We made it to San Antonio before check-in time at our hotel, but they let us into one of the rooms anyway. So we unloaded and headed towards The Riverwalk for food. We ate at Fuddruckers, 'cause we weren't really sure where everything was and that happened to be right in front of us. After that, we checked out The Alamo.
We made it to The Alamo!
We went back to the hotel to get settled in our second room. After resting for a bit, we met up with Dannell in front of The Alamo. We took the Riverboat tour just as it was getting dark and enjoyed the sights. Afterwards we were ready for dinner. We first tried a BBQ place on The Riverwalk, but after sitting outside in the steamy heat with no breeze, looking over the ridiculously expensive menu and the since the waiter never came back... we got up and left to look for something else. We found a little Italian place that was inside with A/C and that was able to sit us right away. It was delicious! Exactly what we were wanting. After that we walked Dannell to her car (after getting turned around a bit) and finally back to our hotel. I dunno how many miles we walked that day, but it was enough to wear us out!
The next day, we took the Trolly Tour so we wouldn't have to walk as much. Our first stop was Hemisfair Park and the Tower of the Americas.
It's way up there!
We went up to the top and checked out the view. We also did a 4-D ride about Texas, which neither of the boys liked very much at all! After that we got back on the trolly and saw a couple of the missions (we didn't get out), and then stopped at Market Square. Right when we stepped off, there was a Mexican restaurant, Mi Tierra, and it ended up being really great! We walked around the shops till it was time to be picked up again. We decided the boys had probably had enough (they were not cooperating as well as they should, meaning... nap time!) and needed a rest, so we stayed on the trolly the rest of the way back to where we started. We took a break (no naps, unfortunately), then took the car back up to San Fernando Cathedral. The bones and ashes of the great heroes of the Alamo are kept there, and it was a really beautiful place!
Beautiful old cathedral
We went to the Rivercenter Mall (ok, mostly just the Disney Store in there) and then ended up back down at the Riverwalk for dinner at the Hard Rock Cafe. We swam back at the hotel for a bit before turning in.
Day three was designated "Sea World Day!" Apparently everyone from Mexico designated it that day as well... soo crowded, and ALL of the cars in the parking lot had Mexico plates. We got there about 10:45am and didn't head out till about 5:45pm - that made for a full day! We saw three different shows... one with sea lions, one with dolphins and beluga whales and, of course, Shamu! Callen was a little nervous about the giant KILLER WHALES that came up out of the water pretty dang close to us.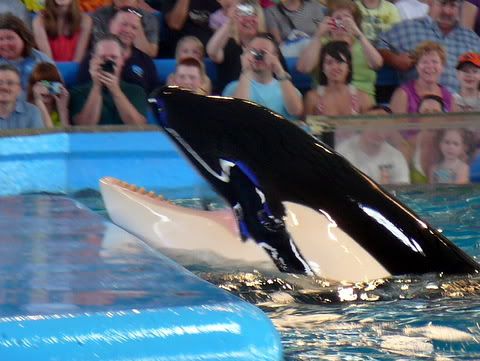 Up close and personal!
Then he was pretty unhappy about getting splashed and soaked. I tried to keep him covered, but putting him behind me and taking the brunt of the big splash, but it was cold water and I kinda gasped, which scared him and made him freak out a bit. Haha, oh well.
Callen isn't scared of Shamu... yet.
Preston got ride a whole bunch of little rides (and a big one, the splash falls one with grandma and Michael). We saw penguins and alligators, and walked our butts off again. I got a pretty nice sunburn on the top of my shoulders at this point. We were hot and tired and tried the Bill Miller BBQ place right outside of Sea World (though they have locations allll over the place in S.A). It wasn't that great, but it was food. We came back to the hotel and swam some more.
Friday morning we had breakfast and then went back to The Alamo for just a little bit. Then we prepared to head out. We traveled just a little and stopped at Natural Bridge Caverns.
Preston rides a dinosaur!
We had already walked so much all over downtown San Antonio, not sure we needed the extra up and down walking you have to do in these caves. But, it was pretty cool. Callen, however, was not interested. He was pretty tired and fussed quite a bit no matter who held him or which way (we tried the back/front carrier). Thankfully he fell asleep after a while, though Michael then carried him in that pack - breaking his back all the way up that incline! I remember going there when I was younger, but most of it was unfamiliar. It was pretty neat!
It's a "natural bridge."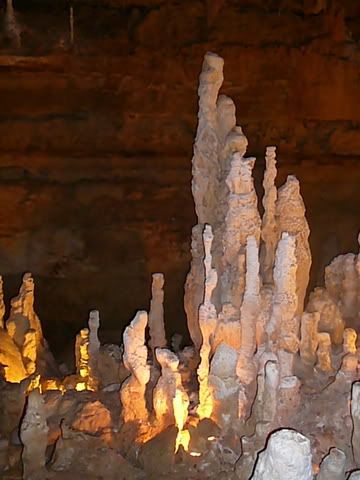 Stalagmites!
After that, we were ready for lunch... so we took a little side trip off of the freeway, and found Frank's Bait & Taco. Michael and I saw this place featured on the Texas Country Reporter or something, and wanted to give it a try. It was so cool! The walls and ceilings are completely covered with... stuff.
Behind the bar at Frank's Bait & Taco
And Eddie (his name isn't Frank, but he'll answer to it!) told us about his place and where some of the stuff in it came from... the food was really good too! And from there, with full bellies, we headed home!
We had a great time... despite the steamy heat (thankfully it stayed overcast the entire time and there were strong breezes so it wasn't completely unbearable) and despite a certain 5-yr-old that didn't want to do ANYTHING (EVERY SINGLE TIME we sat down to eat he declared he wasn't hungry and cried that he didn't want anything and just wanted to go back to the hotel, however, he ate EVERYTHING he was given and had a great time doing everything... sigh). Callen did exceptionally better than I thought he would and he finally started taking more steps while we were at the hotel. On the way home, he got a little fussy about the ride, but all of the rest of the time, he was just a super happy baby! And speaking of the hotel, it wasn't bad, but they were doing remodeling, so it was a bit of a mess and noisy sometimes. We slept great the 2nd and 3rd nite - probably because we were so worn out! And even though we ended up walking so much, sweating like mad and running into crowds everywhere, oh and nearly running completely out of gas at one point with no gas station ANYWHERE!, I'd say... it was a great vacation! It wasn't a relaxing vacation by any means, but it was a lot of fun.
Thanks, Mom & Dad!!!

(I've got some video, but I'll have to wait to post those... this took long enough!)