Ok, there are six weeks left of our first year attempting this homeschool adventure. Six weeks left of Kindergarten. That completely Blows.My.Mind! Here's the part where I second guess myself... am I covering what I need to be covering? Are we doing too much? Or too little? Did I miss anything important? Or super fun? Did I make the right decision? Should I have gone with a boxed curriculum to make sure we're on track? What if...? Why didn't... How about...?
Anyway, we did Eastery things this week because next week will be our Spring Break and we are going on vacation. Hooray! Once I got started gathering all the Easter activities I wanted to do this week, I realized it might be overload. There were just so many great things coming out of all the blogs I read... and I wanted to do them allllll! But... we can't. So I had to tell myself to chill. I tried to keep it simple and not over-work the boy...
- Daily devo and Godly Character Trait: Compassionate (once we established what "compassion" meant, Preston spent the whole rest of the day doting on Callen. "Oh, baby, did you bump your head? I'm so sorry you bumped your head. Let me rub your head, you poor baby." He normally helps protect and comfort his brother, but today was just a little over the top. Haha! He's sweet.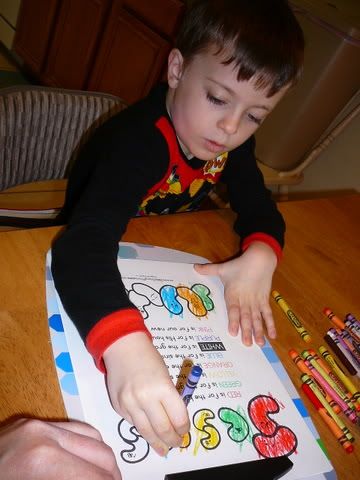 Coloring the beans.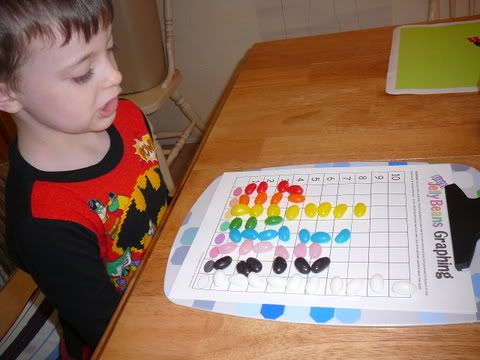 White wins!
- The other was the Jelly Bean Observation, where he used his 5 senses to observe the candy. His favorite part was tasting them, of course. Especially since we had been using them all morning, but he hadn't been allowed to eat them till now!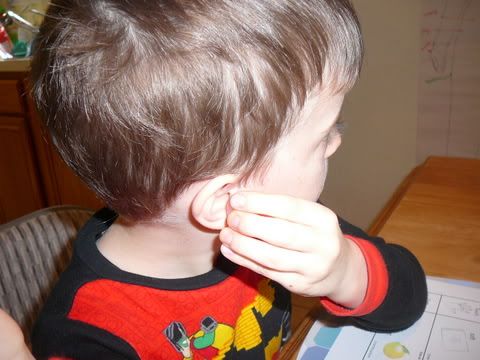 Listening to the beans!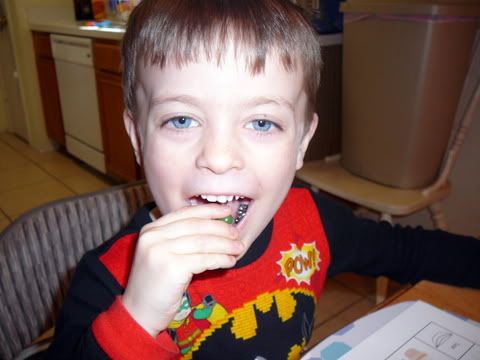 Tasting the beans, yay!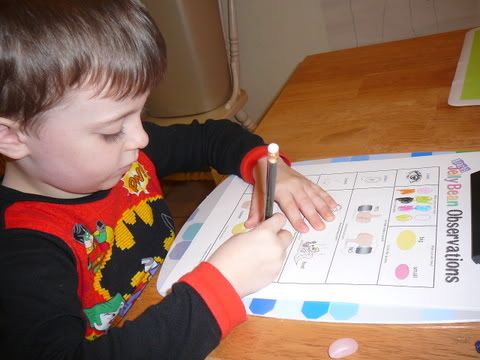 Recording his findings.
- Preston and I both colored an Easter graphic (can't track the link down now, just Googled around till I found one I liked). Not sure what we're going to do with those, if anything, but they were pretty... and I felt like joining in on the coloring! While we were coloring, we talked about what Easter is really about.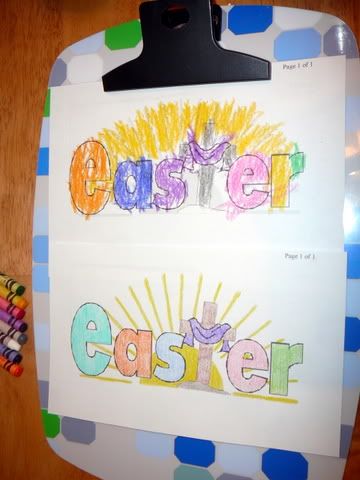 Pretty!
- We checked on our grass and watered it. It's definitely sprouting!!!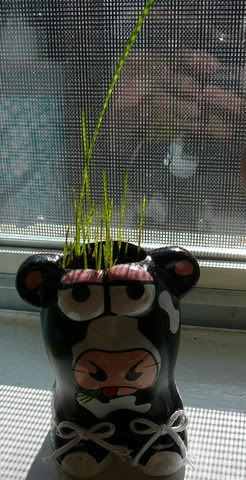 One long piece of grass!
- Our apples seeds in the fridge are also starting to sprout. And we're keeping an eye on the Snow Peas that Preston planted in a pot with Grandpa Steve last week!
- Preston borrowed my camera and took this awesome pictures of the jelly beans inside of the cup: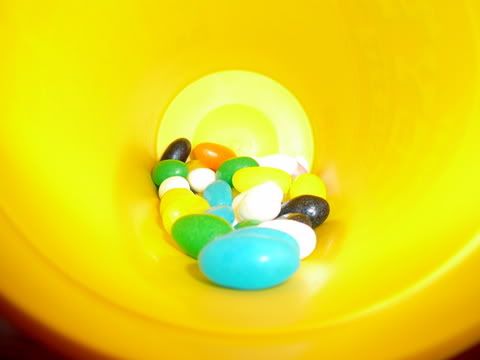 Good job, Preston!
- We started out the morning with a Breakfast Picnic! I had Preston listen to the sounds of nature...we heard birds singing and the bugs (of some sort!) making their noises in the creek behind our fence. Of course, we also heard jets and little airplanes flying 'round and 'round... the joy of living next to a municipal airport! Haha.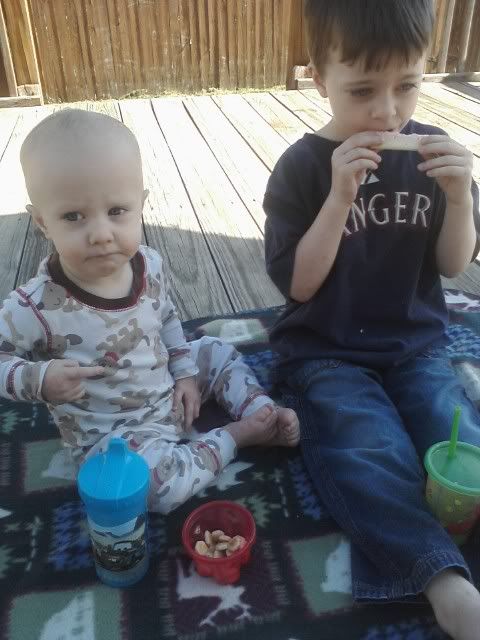 Breakfast picnic.
- Daily devo and Godly Character Trait: Kind
- Preston's little friend Bolt joined us for class this morning: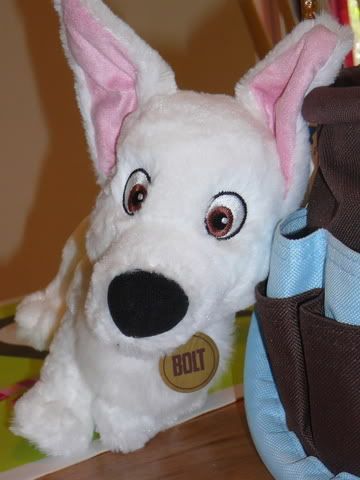 Howdy, Bolt!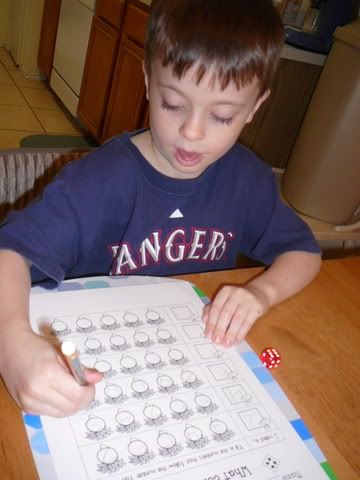 Writing his numbers.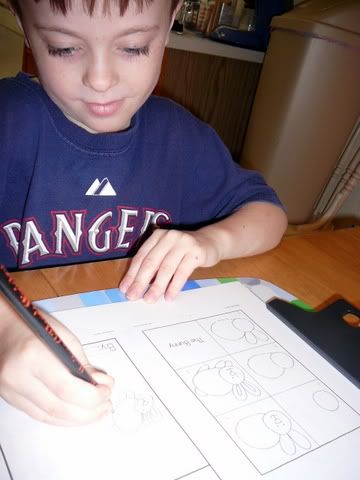 Drawing bunnies!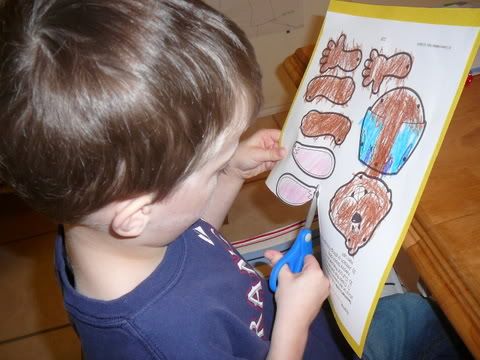 Cutting out his 'Jacket' Rabbit.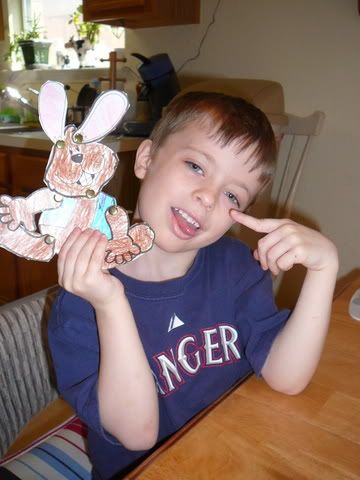 There he is!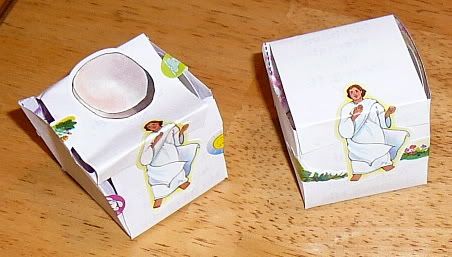 Neat project!
- Daily devo and Godly Character Trait: Patient (whoo, boy!)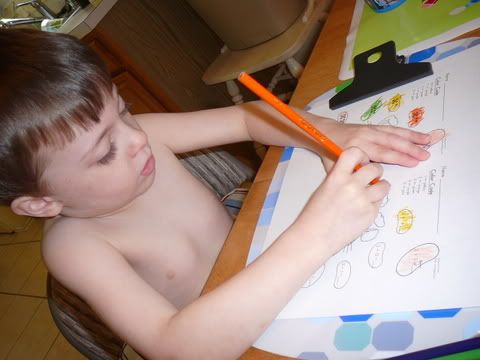 Adding and coloring jelly beans.
- I had Preston read the book It's Easter, Pooh! to Callen. So cute!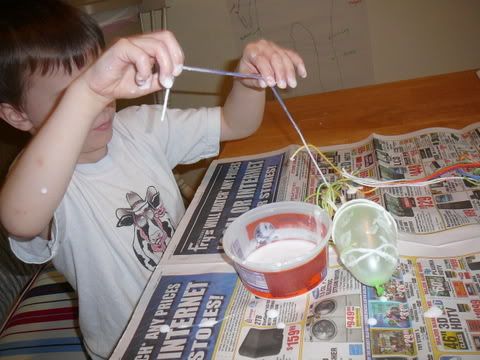 Messy!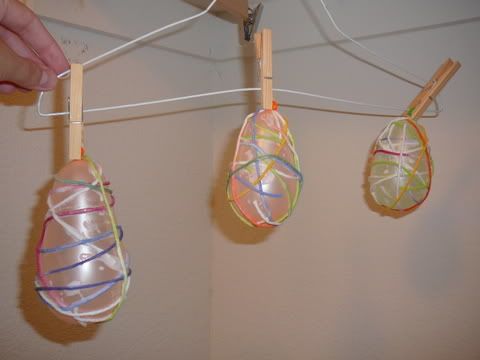 Letting them dry over nite.
- Daily devo and Godly Character Trait: Diligent
- We did another of the Jelly Bean color code addition worksheets.
Tearing tissue paper.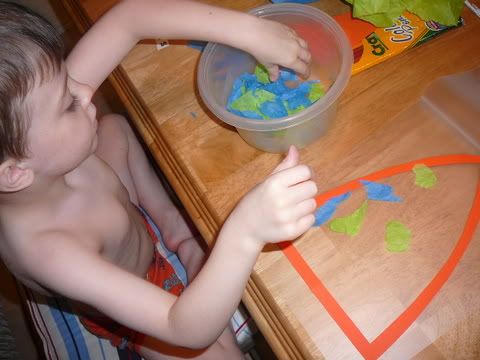 Starting to decorate.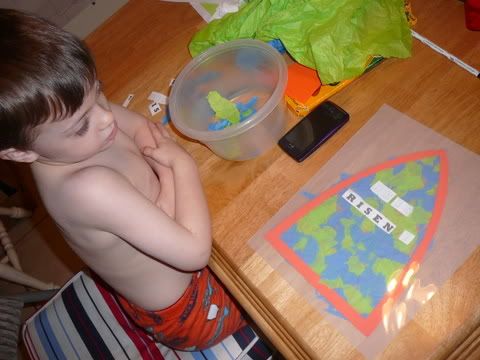 All ready for the laminator (it's doom!)
- Since that got destroyed, we tried something different... we use the torn tissue paper glued to the construction paper and turned it into the empty tomb. That actually came out really cute, so I guess we made up for it!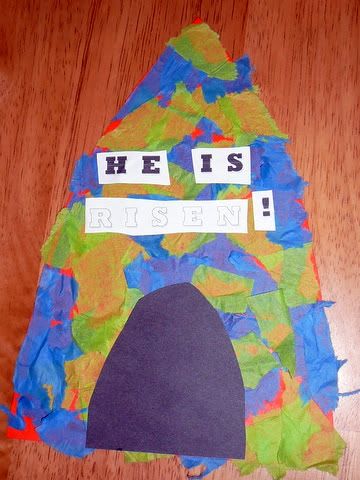 Jesus' tomb was empty!
- We popped the balloons we used in yesterday's Yarn Eggs to see if the eggs would stand on their own. They did! They weren't extremely sturdy, but they stayed together. I looked some string through them and have them hanging above our kitchen table! They make really nice decorations!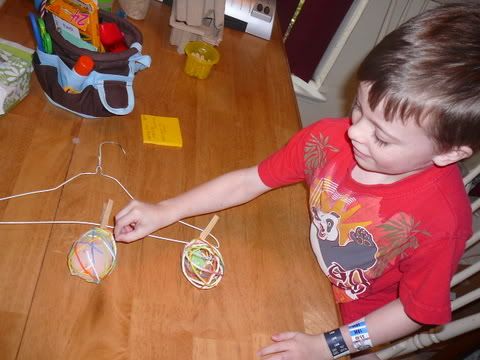 Popping the balloons!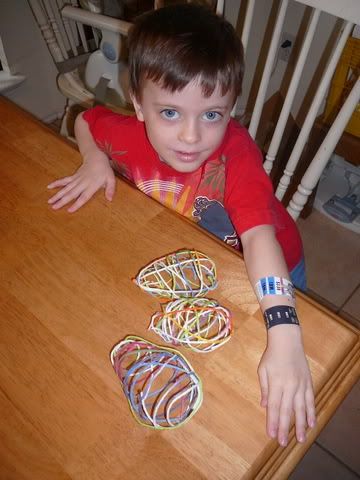 Cool yarn eggs!
- We figured it was about time to do something with our cow's grass hair. It was getting super long! First we put a bow in it (or the best I could do with a twist-tie!, then Preston wanted us to cut it, so I let him loose with the scissors!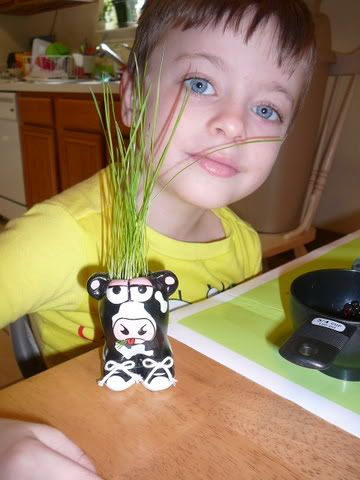 Our long haired cow!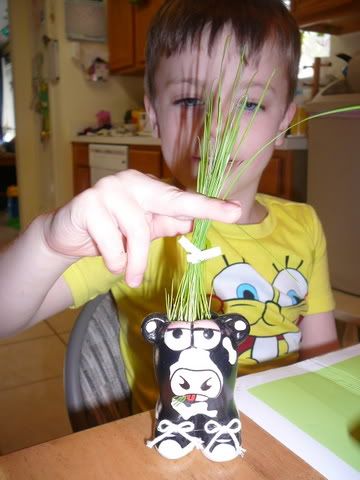 Let's cut here!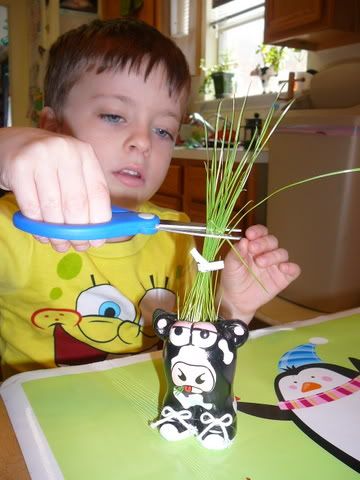 Very carefully!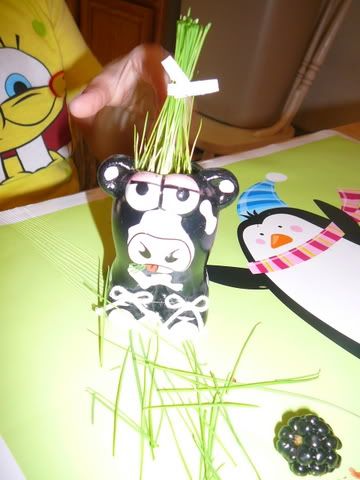 Tada!
- Daily devo and Godly Character Trait: Faithful (the last of that series!)
- Finished up the Color Code Jelly Beans addition sheet.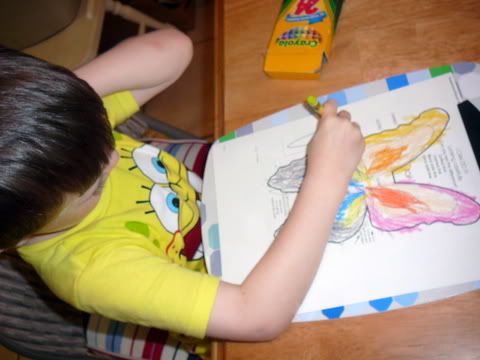 Coloring butterfly!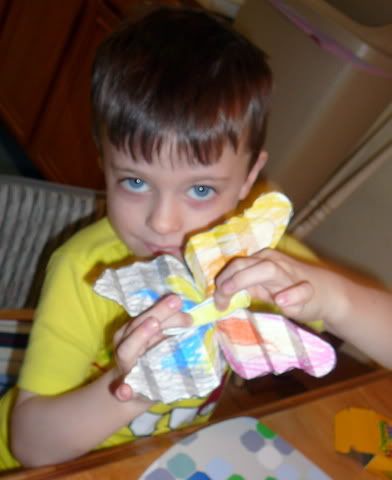 All done (and blurry).
One thing I am glad I did this week is that I added another place for us to show off Preston's work. We were filling up the pantry door, but that could only display a few things (and if I went any lower, Callen would destroy it). So, I used some thumbtacks and string to make a display above the doorway of the kitchen (to the living room). I love it! I dunno why I didn't think of it sooner, so simple! It's a great way to display the work and be out of our way at the same time!

Our new display area! Yay!