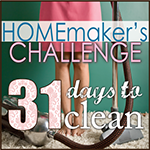 I started on Sunday, May 1st, even though the blog challenge didn't officially start till the 2nd. They are taking weekends off, and I don't plan to at this point. I guess I'll see how that works out with our schedule anyway, and if I need a breather I won't get too off schedule. I will be posting a day-by-day recap every week on Thursday. It'll include ... well, whatever I want it to include, as well as tweets I've posted as I go.

Day 1 - I went over my reasons as to WHY I want a clean house. Y'know, other than I don't want to live in complete filth. My mission statement (was a lot less inspired than most of the other ones I read from other participants... I'm never good at those things!) had to do with having a clean, safe, inviting home. I skimmed through the Martha Challenges and made a mental note of what kind of cleaning supplies I might need (and what's going to be coming up this month!). Thankfully, I think I have everything I need. We'll see.
Day 2 - Cleaned my fridge and freezer... inside and out, top and bottom. Took me allll day (in spurts, of course, between crying kids, phone calls to yell at AT&T, crying kids again, feeding the kids, etc). It looks amazing, and I really don't even want anyone to touch it! Haha. I definitely felt a sense of accomplishment after that. It certainly didn't seem like a big task, but once I got started and realized how many nooks and crannies there are in that beast, woo boy! I feel like I really did a good job, so the first person that spills something in there... dies!
Day 2 of #31daystoclean: I was thinking "no big deal!" Took me ALL day! But I did it, it looks great... I feel good!
Day 3 -
I realized I'm very bad at using life-giving words. I tend to be more of the "no" "don't" "never" type mom. I need to be more encouraging... and relax!!! In order to do Martha's Challenge on this day I had to pretty much de-clutter, find new homes and re-arrange the things piling up on top of all of the horizontal surfaces in my kitchen.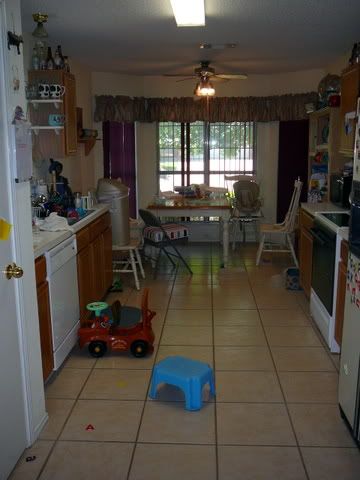 Before de-cluttering
That took a while. After about two hours, I had only finished one-half of the room! Again, a seemingly small task ended up being intense. Then I realized why it was intense... because I haven't done this stuff in a very, very long time... if ever! Had I been more on top of it, scrubbing the outsides of the cabinets would not have been such a big, stinkin' deal! Note to self: Be very glad you are doing this, it needs to be done!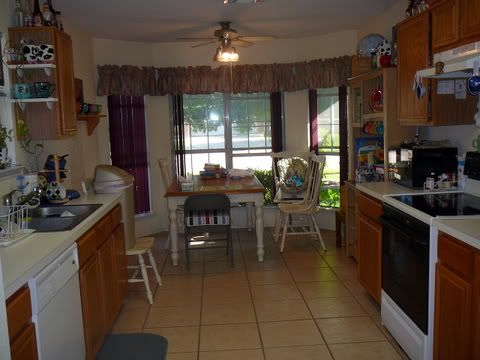 After de-cluttering and cleaning
Clean surfaces!
A place for everything.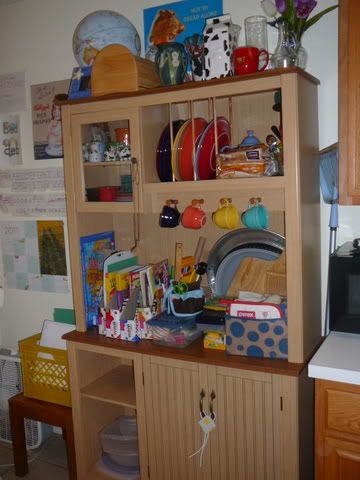 Completely rearranged this stuff!
Day 4 -
As far as the Mary Challenge goes for this day, I'm pretty sure our house appears lived-in enough to be comfortable, just need to work on the inviting part... making it look inviting and not scary. I divided the Martha Challenge into two parts, finishing up the microwave quickly as the kids had breakfast... then got after the over when Callen went down for a nap. I have discovered my nemesis... it's name is "nooks and crannies." Seriously, they're killing me. I can clean just fine, then I discover an area that is just impossible to get at... drives me crazy! I feel like I fail because I can't get that area clean - because there's no way to GET IN THERE! Oh well, gotta let it go... while I don't want to have the attitude of "good enough" anymore, there are just some things I can't manage.
The sunshine streaming in reminds me that my computer screen needs dusting! That's not on the agenda today though! Oh no! =) #31daystoclean
Finished the first part of Day 4 Martha Challenge, leaving the harder part for nap time! #31daystoclean

Day 4 of #31daystoclean complete! All this kitchen cleaning makes me not want to cook. I need a separate challenge for that I guess!

I think my hubby approves of what I've done so far for #31daystoclean, he suggested @ChickfilA for dinner. I love that man!
Looking up info on how to clean my window treatment for #31daystoclean. I've never really been able to get 'em clean, but determined now!
Helpers!
Day 5 - Priorities...hmm. After reading the priorities that Sarah Mae (the author of 31 Days to Clean) wrote, all I can say is DITTO! I love exactly what she wrote, they completely apply to me and I'm stealing them! Um... hope she doesn't mind! The Martha Challenge was kitchen windows. I recently cleaned the inside of my windows, but did it again.... but what really needs to be done is the OUTSIDE, because they're still mucky to look through (will attempt that later this afternoon, I need a rest now!). I also cleaned the ceiling fan above the dining table, washed and vacuumed the window treatments. I got a little O.C.D. about the dirt/mud in the window sill and worked on that for a long time. Clean now! Woo hoo!
Is it weird that I woke up looking forward to getting personal with my windows this morning? What are you doing to me #31daystoclean?
Back from the park, kids in their bed (though not napping, sigh)... ready to tackle the rest of the windows! #31daystoclean
#31daystoclean Day 5 complete, I love the feeling of getting stuff done! I hope this becomes the norm for me!
I love the feeling of having a deep cleaned kitchen. I actually woke up this morning eager to get started on my task. Is that weird or what? Who wakes up excited about cleaning? Not me, not usually. I am definitely enjoying this challenge, even though it's incredibly hard work. But, again, it's only hard because I have neglected this stuff for so long. Hopefully, once these 31-days are up, it won't be so difficult to keep it maintained! I am excited about that possibility!
It's not too late to start, if you are interested in the 31 Days To Clean Challenge. The blog info is
here
and the 3
1 Days To Clean: Having a Martha House the Mary Way
e-book can be found
here
. You can start anytime, do it any way you want to, there aren't rigid rules... don't be intimidated. There's also a helpful and encouraging forum, as well as twitter friends at the #31daystoclean hashtag!