Monday:
- Daily devo
- Reader Rabbit pages, having to do with reading comprehension. At one point, Preston had to answer the question "What animals would you like to see?" His response: "Lions, Dinos, P.B.J-saurus." I had to help him with the last part, he had alrady written "P.B.J" and I was confused as to where he was going with that, then he asked me how to spell "saurus." Lol! Silly guy!
- I had Preston create a chart based on our apple seeds. He drew a picture of an apple, the seeds, the seeds sprouting, and the sprouts in the jar. Since that's all we've gotten to so far, I had him imagine what the next two steps would be. He drew the tree growing after being planted in our yard. And the last one was apples being picked by me! Super cute!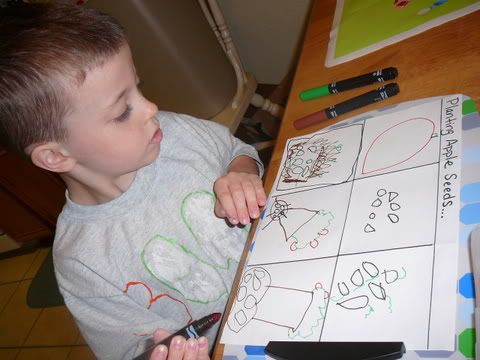 Drawing apple seeds and trees!
Our apple seeds' progress
- We went over rhombus/diamond shapes in the Shape workbook.
- Going back over the proper way to write his upper and lower case letters in the LED workbook. He did NOT like the idea of that, of course. But he still needs work on some of his letters (and following directions!).
Tuesday:
- Daily devo
- RR reading comprehension. He wanted to write what a parrot says, he decided it's spelled "MRAK!"... makes sense to me!
- Review on telling time, had him play a Time Match type game I downloaded free from
here
. He also filled in the worksheet with the correct times.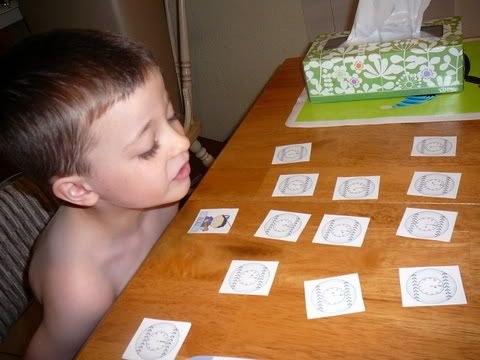 Matching times.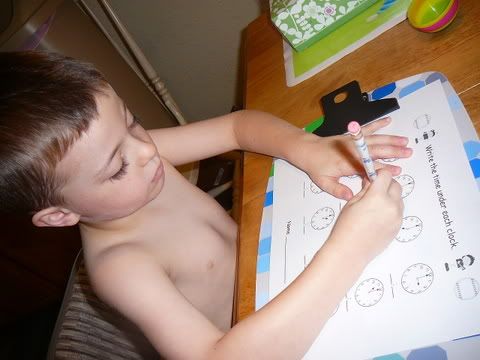 Writing times.
- Shapes workbook: hearts. He's pretty good at those, draws 'em all the time!
- LED, letters G-K. He didn't even fight me on these today and drew beautiful letters, hooray!
- We worked on a Mother's Day art project for the grandmas. Got Preston and Callen covered in ink. Haha, they had a blast, of course!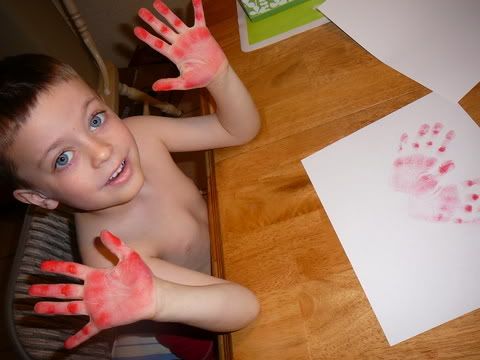 Caught you red handed!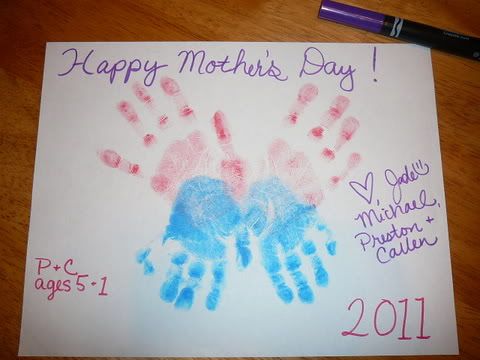 Hand print butterfly (Preston & Callen's hands)
Wednesday:
- Daily devo
- RR reading comprehension
- Worked in the Addition math workbook, learning to add when the problem shows the numbers on top of each other instead of side by side. At this point, Callen was a mess (I wasn't paying him enough attention) and Preston was frustrated after the reading stuff... just complete meltdown on all sides. I got Callen to nap, took some time having a talk with Preston and trying to get him a better mood as he suddenly just wanted to go back to bed. Got him to sit and work on the problems, and he did great with them.
- LED, letters L-Q. He just insists on doing the letters his way, which means the letters don't look like they're supposed to at all. So, we worked on that a bit longer than I hoped we would.
- Shapes workbook: oval. Nothing exciting there. Ha.
- Art project, making a colorful fan from paint sample cards. I got the idea from this book called
Busy Book for Preschoolers
. We've had a stack of the paintchips for a while and Preston has been begging me to use them for something, so I figured we should go back over rainbow colors, plus talk again about hot and cold colors. He enjoyed this.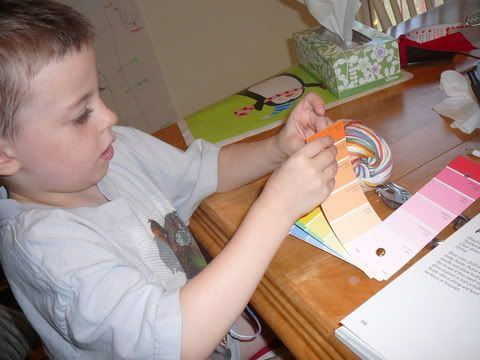 Threading yard through the cards.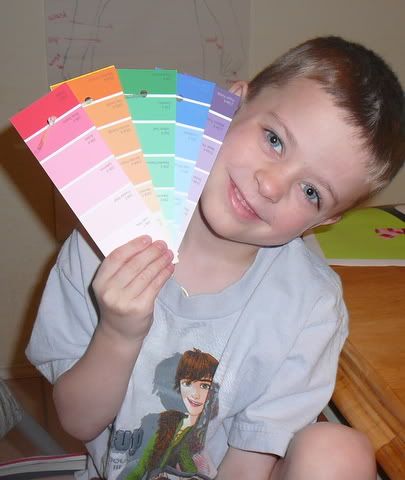 Rainbow fan!
Thursday:
- Daily devo
- LED pages, understanding and following instructions, reviewing site words.
- LED, letters R-V
- Addition workbook
- Shapes workbook: finding the hidden shapes on several pages.
- We had a playdate with some friends at the park down the street, that made for a nice break!
Friday:
- Daily devo and notebook recap illustration. He chose to illustrate a passage about whispering "Jesus" when we need help or a reminder to trust him. He drew a picture of himself being approached by a guy (named "Tim" for some reason) who wanted him to work on a farm, and since Preston didn't want to work on the farm, he whispered "Jesus" to help him get out of it. Not exactly what the passage meant, but pretty creative just the same. He also drew a door that he is about to escape out of! Lol!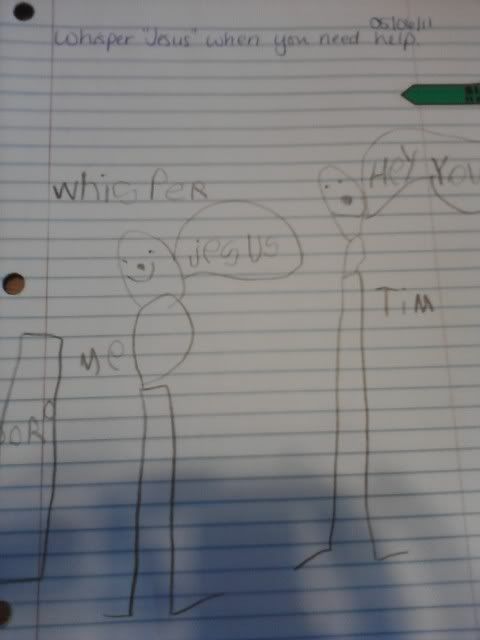 Beware of farmers named Tim!
- Finished up the LED work, letters W-Z and the site words exercises. All that's left of that book is a few super easy pages!
- Finished up the Shapes workbook... he had to write out the names of the shapes and then draw them. The star is a bit tricky!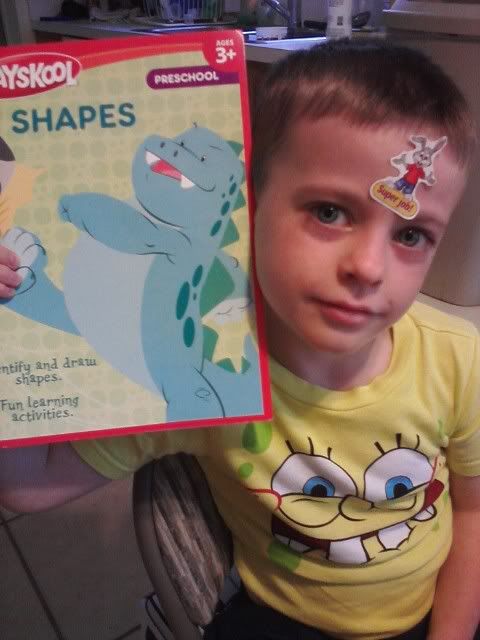 All done! (He got a sticker!)
- This morning as I was getting Preston's breakfast, he saw the other side of the page in his Addition workbook and asked about it. It was adding two-digit numbers. Since he was interested, I explained it to him. Then when we sat to do the page together, he did it so well! He still has trouble writing numbers in the wrong direction (and sometimes reading them in the wrong way - saying 13 instead of 31, for example), but he can add two digit numbers. Haha!
Go math man!
At some point in the week, Preston posted this on our pantry door...
Interesting posting.
It's a printout from something he did on Lego.com, but then he added the post-it notes that say "I love you but no touchy ples Callen." Heehee!
On Saturday, Michael and I left the boys with Jill and spent several hours at the
Homeschool Bookfair
. Two years ago, I attempted visiting this event with a 3-yr-old Preston in tow, by myself. It was terrifying - because it was so big, there were so many booths, Preston was all over the place and I had NO idea what I was doing or even looking for. This time, sans kids and plus a husband who was homeschooled his whole life and was a seasoned vet of the Homeschool Bookfairs, and going in having a clue as to what I was looking for and doing... I had a MUCH better experience! We sat in on the
My Father's World
workshop and it was exactly what I needed to hear, answered my questions and gave Michael an idea of what it was like. This was the curriculum I was pretty much set on already, so I was glad to know that we're on the same page AND it was nice to thumb through the books in person! We plunked down the money, and we have a First Grade curriculum headed our way (should see it within 7-10 days). I'm so excited and ready to go... but uh... we gotta finish Kindergarten first. Haha.