On Monday, Preston had no interest in starting school... ever. I told him to remember how excited he was about the new First Grade curriculum that would be coming in the mail. He said, "Ok, then let's start the fun stuff of First Grade!" That's kind of how I feel too... so excited about the new curriculum, I wanna just go ahead and move on. But we have to finish Kindergarten first! Just a few more weeks, c'mon! And I know he'll appreciate the summer break (even if I still sneak in some review/lessons/activities, muwahahah!).
Monday:
- Daily devo
-
Reader Rabbit workbook
, we are on the last section of this! We talked about character and setting of a story. Preston had to draw and write about his favorite characters...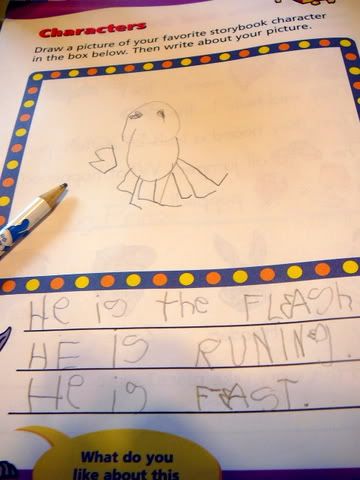 It says "He is the Flash. He is runing. He is fast." The 'a' in Flash and Fast and the 'g' in Runing have little wings on them because "that's his logo!" So cute!
- Addition workbook, second-to-last page of addition problems.
- A review on the World Continents using this fun foam puzzle. He still forgets Africa, but has the rest of 'em down pretty good!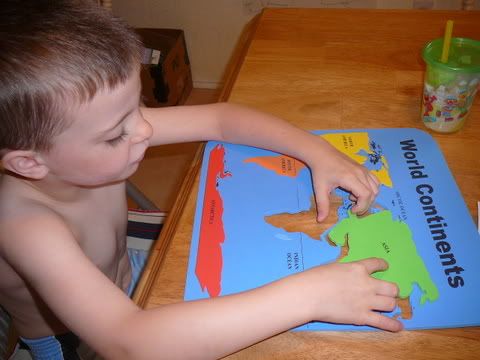 The big one is Asia!
- This week, to get Preston more excited about the last few weeks of school, I'm letting him pick something for us to do each day. Today he wanted to know who first invented ice cream. So, we hit up
Wikipedia
!
Tuesday:
- Daily devo
- RR, working on beginning, middle and end of a story. He got to come up with his own story, which was all about his day - what he does at the beginning, middle and end, of course!
- Finished the last page of the Addition Workbook! Then I showed Preston that it was actually a "First Grade" addition workbook. He was shocked! Haha.
- We did a review on the Seasons and Weather. We talked about what each season is like, and then I had him draw a tree to show what it would be like in each season.
Wednesday:
- Daily devo
- RR, discussing how to make predictions based on what you already know of the story.
- We read a few short Aesop's Fables that I realized we had skipped previously, got 'em from
this book
.
- Talked a little about treating the Earth right. This should have been done around Earth Day, of course, but we went on vacation and I let it slip between the cracks. Just trying to make sure I got all the stuff I planned on doing in... our last day of school, May 27th, is right around the corner!
Thursday:
- Daily devo
- We finished the Reader Rabbit Kindergarten book with some pages on key events in stories.
- Had practice to the front side of our subtraction mat! He did so well with it!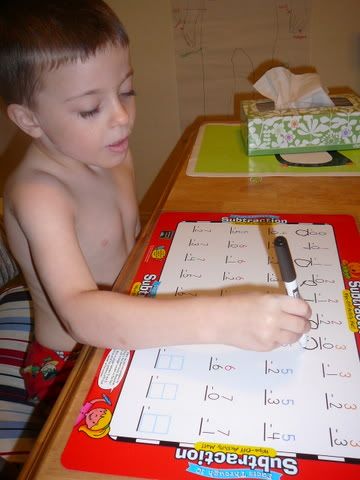 OH, this is easy!
- We reviewed the Five Senses and some of the body parts and info we learned previously.
- I spent some time going over the "
If-Then
" and "
Blessing
" charts we got at the Homeschool Bookfair. These charts are supposed to help us (the parents) be consistent so that Preston learns not to do naughty things. For example, IF you are defiant or say 'no' to us, THEN your punishment is getting something taken away. And the Blessing Chart goes over things for when he is really good when it's hard to be good, then he gets a reward. He didn't like either chart and wanted me to throw them away. Lol! I hope it works, and that we are able to stick to it too! We have been so inconsistent with our discipline, no wonder the kid's a mess sometimes!
Friday:
- Daily devo and notebook illustration.
- Other side of the subtraction mat.
- Reviewed physical characteristics by sorting some of his bugs... by color, by type, by ones with wings and ones without, etc.
- We created a
"crown of obedience"
to use along with the
Blessing Chart
(if he's obedient when it's difficult to be obedient, he gets the honor of wearing the crown!). I knew I wanted to make a crown, but didn't really have any fun ideas. Then he received a package from the
Junior Texas Rangers
in the mail, and when the cardboard fell out of the hat, I knew exactly what it was good for! The rest of the cardboard came from a Dr Pepper box, which, y'know, is completely appropriate. At least Preston thought so! That made the crown super easy to make! I let him paint it, then cover it with "way to go!" type stickers.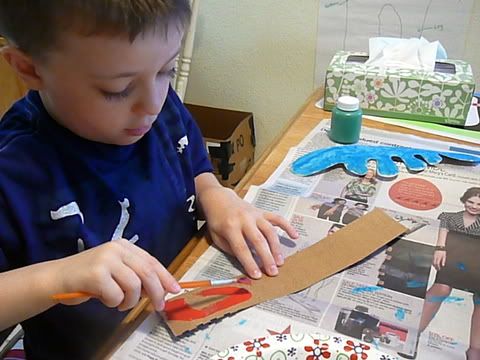 Painting the crown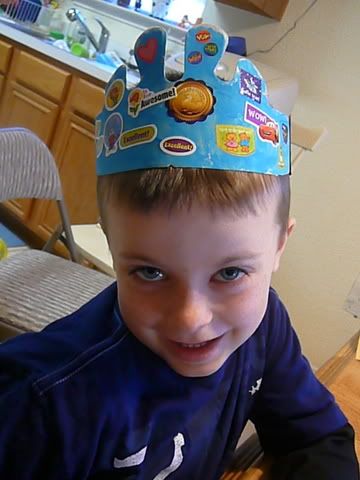 Modeling the front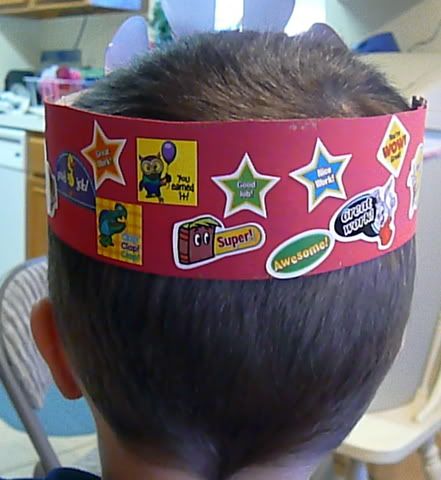 Showing off the back
We received our box of First Grade Curriculum from
My Father's World
on Tuesday. It was packed SO well, there was a ton of packing paper in the box so that nothing could move at all. It was rather humorous pulling out so much paper. Then I let the boys go crazy with it!
Linked up with: