This week and next... and we're done with Kindergarten. In fact, I don't really have much for us to do other than review some of things we did this year. I can't believe it's almost over! I mean, of course homeschooling for us is just beginning, but THIS YEAR IS ALMOST OVER!
Monday:
- Daily devo
- Letter writing practice. Preston still struggles with most lower case letters, especially where to put them on the lines. He's got the capital letters practically perfect. So, I had him do his alphabet in lower case, capital, and then had him practice writing his full name correctly (not all capital, not some lower case but mostly capital, correctly!). This took a while.
- Reviewed money, how much each coin is worth, etc.
- Reviewed Presidents Washington, Lincoln and Obama... and what a president does.
- Used
My Giant Flip Book
(the one I got at Borders a while back for 75cents, yay!) and went over "Good Habits" and "Safety"... been meaning to do that for a while, but just now getting to it. He was sad to see "get plenty of rest" and "brush your teeth after eating" on the list for good habits, 'cause he hates taking naps and brushing his teeth, haha.
- I had him to do some pages in the
Learn Every Day
book that we have yet to finish. It was simple tasks, but I left him 5 pages to do, told him to just read and follow the instructions, then I went and put Callen down for a nap. When I came back, he was finishing up and had done everything perfectly. Yay! He got to wear the "Crown of Obedience" we created last week for a little while.
- He wanted to do a science experiment he saw somewhere, so we filled a plastic bottle with hot water, poured it out and stuck it in ice water. The bottle collapsed. We talked about air pressure a little. A bit over his head, of course, but he liked seeing the bottle collapse into itself. Hehe.
Tuesday:
- Daily devo
- We reviewed even and odd numbers. I used
this set
to do addition problems and put them in the even or odd category. Then we made a graph showing how man evens and how many odds he had.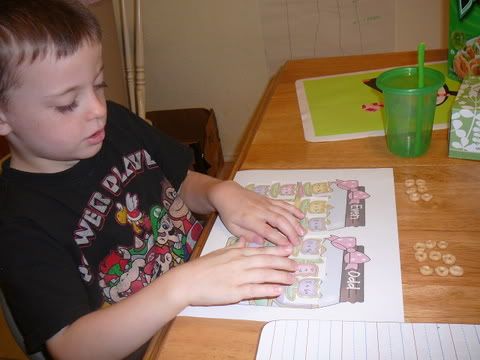 Even or Odd?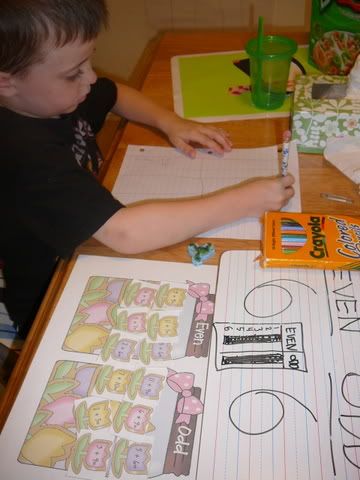 Making a graph
- I had him do a little Spring first-sounds activity,
from here
, while I took a quick shower. He had to come up with and draw a picture of something that started with each of the letters in the word "spring."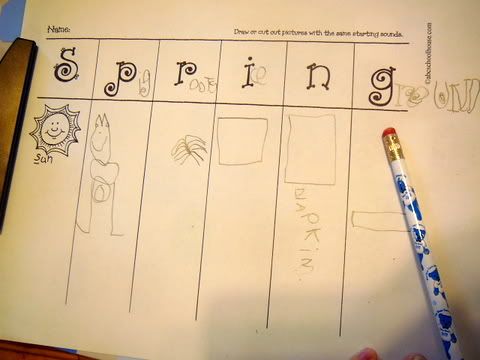 Very interesting ideas, Preston!
- We reviewed living v. non-living things.
- Finished up the LED book! Yay, all done with that!
Wednesday:
- Daily devo
- Reviewed pilgrims/indians
- Reviewed measurements (time, rules, thermometer, etc)
- Read
A Is For Angry: An Animal and Adjective Alphabet
and worked some
How To Train Your Dragon Mad Libs
- Did a blooming message daisy activity, also from
here
. I cut out some daisies, Preston and I each wrote a message in the middle and folded up the petals. Then, we set them on top of a bowl of water and watched the flowers bloom to reveal the message. So fun!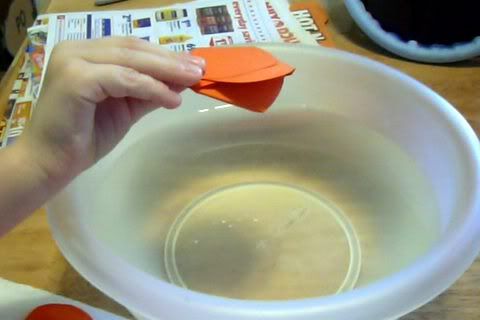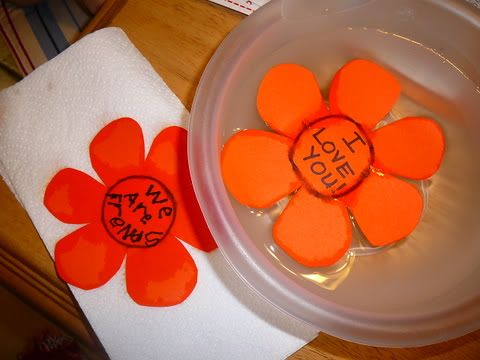 Thursday:
- Daily devo
- Reviewed the earth and solar system.
- Reviewed time on the clock and made sure he remembered how to count by 2's, 5's and 10's.
- While I was working on cleaning, Preston made me two amazing cards! He folded a piece of paper up and on each fold he wrote something funny like "This card is going to be great" then "Keep opening to see" and "Oh boy are you excited?" On the inside, he wrote "Ok that's enuff." Haha, silly boy! He came up with the idea on his own and the first card he did without ANY help from me (including spelling). The second one, he asked me how to spell things like "quite" and "excited." He does some of the best work and writing when he's just coming up with his own stuff... love it!
- When we went out for the mail, Preston noticed a little tree was starting to sprout up right under our big tree. He gave it a bit of a tug and it came right up, roots and all! You could see the acorn it sprouted from... made a nice little science lesson to review plants!
The acorn doesn't fall far from the tree!
Friday:
- Daily devo and notebook. Preston illustrated how God sees the big picture while we only see pieces like a puzzle. That's all we did for the day, because we went out with my mom for the day and then on to a wedding rehearsal - Preston was ring bearer in our friend, Dannell's, wedding.
This post linked up with: