We really didn't have much to do this week, but I had planned for us to go 35-weeks... so I dragged things out. It's so hard to believe that we're done with Kindergarten! I remember getting started and being soooo nervous about doing things right, just like it was yesterday. Now we have a year of homeschool under our belt. Yay!
Monday:
- I also had Preston go through several end-of-year worksheets (I downloaded for free
here
) to describe what he liked, didn't like, remembered, and some of his favorite things in general. I have a feeling I'll treasure this information for a long time.
I wrote what he told me to!
- We spent time going through his folders of work and seeing what we wanted to keep as good examples of what he did this year, putting it in a Kindergarten Binder. We'll also be using that to show off at a Homeschool Party we're going to next week... kind of a Kindergarten graduation for him and awards ceremony for some other homeschool kids we know.
- Preston spent a good chunk of the day writing up, hiding and figuring out scavenger-hunt type clues. He would hide something, make up clues and hide them and I would search. Then I'd do the same for him. He had so much fun doing this!
Tuesday:
- Daily devo
- Another end-of-year worksheet about what he learned this year. Apparently, nothing... according to him. I love how when you ask him an open-ended question, he completely goes blank. Ok, yes, I'm being sarcastic, it typically makes me feel like I've taught him absolutely nothing this year. But, he knows stuff... he's shown me. He's just not that great at pop-quizzes! Haha. One of the sections simply said "My Teacher..." and he was to finish the statement. He wrote "makes me breakfast." Lol! That cracked me up. That is something that wouldn't happen at "regular" school, I'm sure.
- I went through his math folder and picked out stuff for the binder.
Wednesday:
- Daily devo
- The worksheet this time was about his favorite things... tv show, song, movie, toy, etc. He drew cute little pictures for the answers and I labeled 'em for him.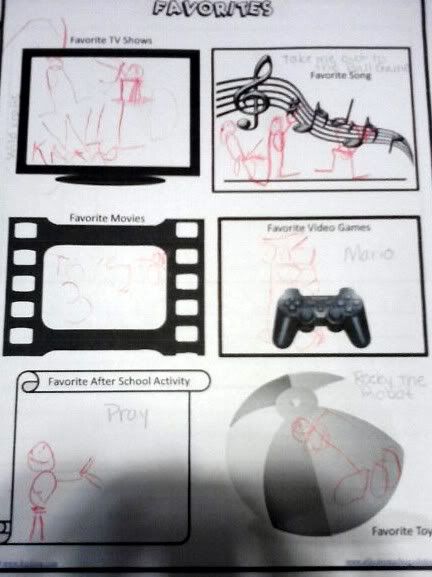 Love his drawings!
- I went through his science and social studies folder with him to pick out stuff for the binder. I... need a bigger binder to showcase the best of his work (or the stuff I want to keep anyway). Haha, oops. There's just so many good, fun things that I would like to keep to remember Kindergarten!
Thursday:
- Daily devo
- Today's worksheet was entitled "My Best Day Ever" and it had a square to draw a picture and lines to write a story. Preston was all "I can't think of one!" I told him he could make up one or try to remember one, and threw out a few examples. He picked something that happened just a few days ago. His Daddy took him to
Legoland
and they had a great time together... it wasn't a whole day, but it was a great afternoon and evening together for them (it was his reward for doing such a great job as ring-bearer in the wedding last weekend). He wrote "Legoland was fun. I loved it."
Daddy & P looking at a Lego Man.
Friday: