I saw
this fun (and much-needed!) idea
from
The Happy Housewife
come across my facebook feed yesterday and jumped on it! Since we're taking a break from school, and don't have much planned or structured for our days, I don't want Preston to just sit and veg in front of the tv or computer the entire day. Though, that certainly is what I want to do! I figured this activity would keep us BOTH from being bumps on a log since I'll most likely have to do whatever the activity is with him.
I had just cleaned and dried an empty mayonnaise jar and was gonna stash it away for future use, but realized it would be perfect for the activity jar. I printed out the activity cards (free, yay!), weeded out the 'girly' ones or ones that didn't pertain to us, and cut 'em out. Then I went through them with Preston, reading each one so he'd have any idea of what activities were available. I highlighted the back of them with orange for outside activities (ride bike, water balloons, baseball, etc) and yellow for inside (build a fort, read, puzzle, etc). The reason I did that wasn't for rainy days as Toni suggests, but rather because I don't want him choosing "play soccer" in the middle of a 105-degree day. No way, not gonna happen. So, sometimes the orange ones won't be an option. Preston and I folded them and placed them in the jar, and I labeled the jar "Preston's To-Do Jar."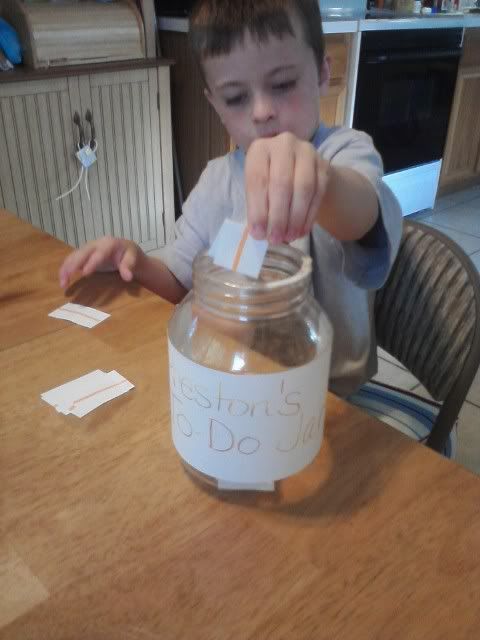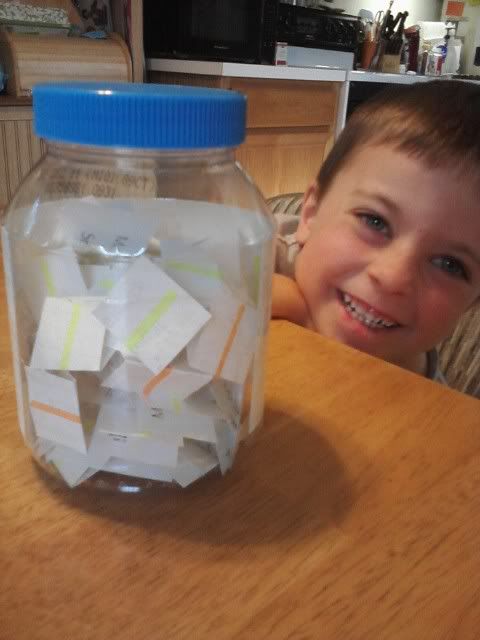 He's pretty excited about being bored now!
Ok, we already had to do one... lol. We made the phone with cups and string. The boys love it!