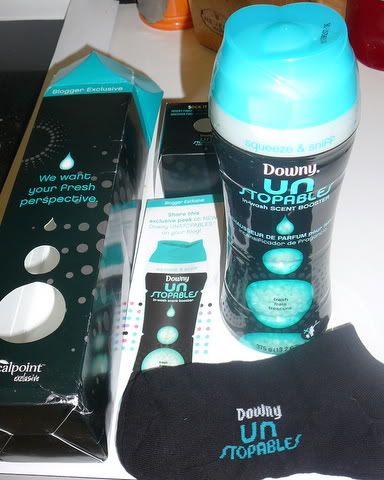 A few weeks ago I received a full-sized bottle of Downy's new product, Unstopable In-wash Scent Booster, and a pair of socks (lol!) from VocalPoint. I was happy to try it out because we normally use unscented detergent and don't use fabric softener because of my children's sensitive skin, and I miss having a scent on my fresh, clean laundry.
The product comes in a what they call and a "squeeze and sniff" bottle, which means that you get a nice whiff of the scent when you take off the cap. You pour your desired amount of the little gel capsule thingees (for lack of a better term!) into your washing machine, add clothes and detergent, wash as normal. Straight out of the washer, they smell great... but the scent really does last!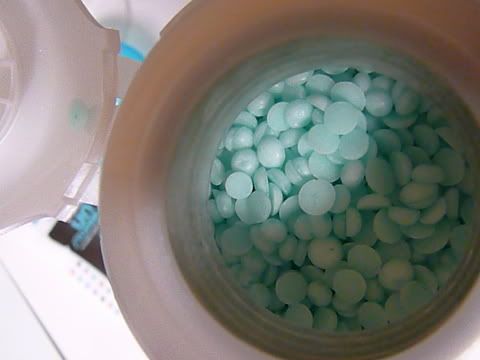 Last week I was just out of the shower when I got a whiff of something I couldn't quite put my finger on. It was clean, fresh, gentle scent. I sniffed around my vanity to see if it was coming off of any of my skin or hair products, nope. Then, after literally standing there for about 3 minutes, I realized... it was my towel! It smelled so good! Hooray for the Unstopables!
The only thing that bugs me, is that they spelled unstoppable incorrectly, and I don't exactly know why. Hmm. Anyway, thanks VocalPoint!
If you'd like to receive free products or coupons,
you can join VocalPoint too
! They'll be doing another Dowyn Unstopable campaign soon, maybe you'll snatch a free bottle of this stuff and be as fresh as me!
[I received a free product to try out, but the opinions stated above are my own, honest thoughts.]