The Homeschool Post
does a Homeschool Swap every couple of months. It's a pretty simple idea, send a fellow homeschool mom some goodies, she sends some to you and in the mean time you get to know each a little better, send each other encouraging emails or whatever. You get paired up based on a survey you fill out, and the peeps over at The Post try to match you up as best they can. They did a swell job this time around, as my partner
Becky
and I had a lot in common! I was excited as I read over her answers and compared them to my own. Now, there were many differences, as in ... she lives in Canada, I'm in Texas; she has 7 kids, I have 2. But, the commonalities were great: we're both going to be using MFW curriculum this year with our kids, we both love cows, we both are mainly t-shirt and jeans girls, and we both love Jesus!
I had a blast picking out things for Becky and her crew. I really hope she likes them! Here's a picture of what I sent her: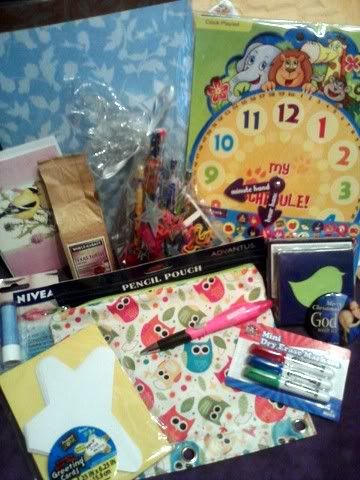 It included: an adorable owl pencil pouch, mini dry-earse makers, notepads, Texas Turtle Coffee, lip balm and some little goodies for her kiddos.
I received my package from Canada and got all giddy just opening it. Haha. Ok, well, you know how much
I love receiving stuff in the mail
already! Here's what she sent me!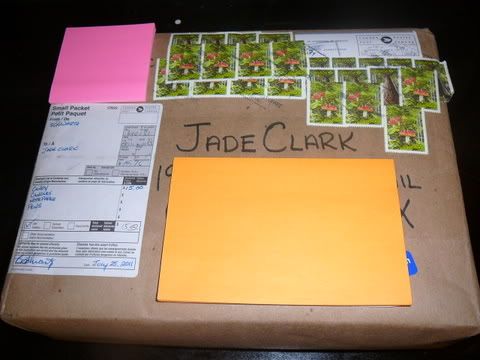 Love all the stamps on there!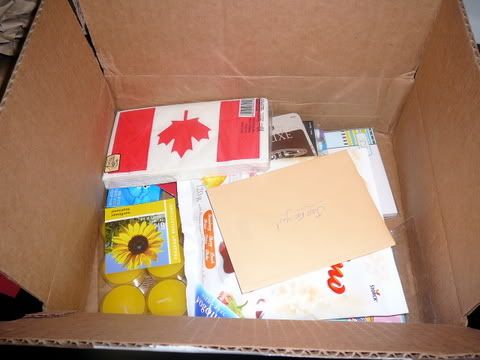 Oooh, what's in here?!?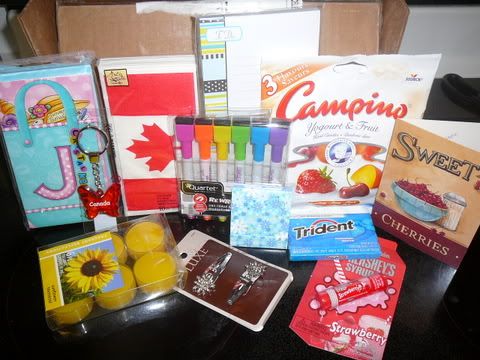 It included: candles, lip balm, candy, gum, hair clips, mini dry-erase markers, Canada napkins and a keychain, notecards and tiny nailfiles. So fun!!!
Thank you, Becky, for the wonderful goodies!!! Everything was just perfect. It's been a pleasure getting to know you, and I can't wait to compare notes on our MFW experiences!!!
Looking forward to the next Homeschool Swap, coming up in September!