We aren't starting our "school year" until September, so our "school room" isn't completely finished yet. I have to admit that I look at pictures of other people's actual homeschool classrooms and I get so jealous. I wish I had the extra space. I wish I had the extra money to outfit that extra space. I wish. I wish. But, God has blessed me with the opportunity to be home with my children, and the calling to homeschool them. And so I'm going to make the best of what we DO have! A homeschool classroom is really your home, your backyard, your trip to the grocery store - it doesn't matter what the area you work in looks like, children can learn anywhere if they are properly guided! Yes, I'm just going to keep telling myself that as I gaze longingly at all the other blog posts in this linkup. Lol!
We do the majority of our school work at our kitchen table.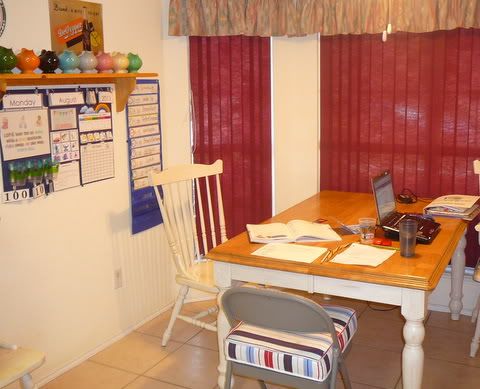 It is usually a cluttered mess when we're in the midst of our school day, but I *try* to get it cleared off so we can eat our meals there or conduct other business in the area.
To the left of the table, I have our Morning Board and Pocket Chart, which currently has our daily schedule on it.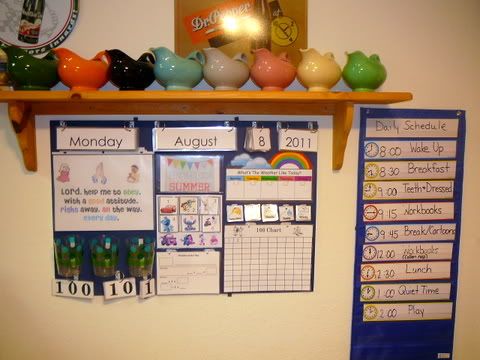 My Morning Board inspiration came from
Mama Jenn
,
Confessions of a Homeschooler
and
Homeschool Creations
, along with a few items that came with our MFW curriculum. And I'm excited to get to do multiple things with the Pocket Chart, especially now that
1+1+1=1
has created some special printables for it!
To the right of the table, I have a kitchen hutch that houses my dishes, some collectibles and a lot of our school stuff. My mom has some little organizer drawers that she is going to give me that are going to be great for stashing our supplies, and will hopefully keep my littlest out of the markers! They are going to fit perfectly there in the middle area of the hutch so it will be much tidier! We have some of our books and other bigger supplies in the cabinet below... along with our table cloths and some kitchen gadgets. The two bottom shelves there are kind of unusable at this point, because my toddler is... well, a toddler. So, toys and bowls and all kinds of random stuff just ends up there at any given time.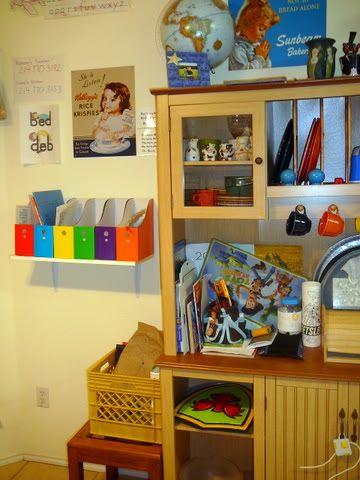 I have a yellow milk crate that I keep books, drawing and writing paper and workbooks in so that they're nearby when I need to grab 'em.
I'm considering getting a small bookshelf for right there, though. If I can find one in my price range (ahem, free?).
Above that is our little shelf of workboxes. They are
magazine storage boxes
, but they work well for what we need to have in our workboxes this year so far (and are much sturdier than the cereal boxes I turned into our workboxes last year)! Plus, they're brightly colored and pretty! Above that shelf, I have some posters and helpful hints.
I have school supplies that we don't use on a daily basis stashed in several other places around the house, including my closet, Preston's closet and his bookshelf.
Like I said, I'd like to get a small bookshelf to put in the kitchen that would hold some of those books so that they are at least in one place together. But, we'll see.
Someday I would love to live in a house with extra space so that I could have a designated play room/homeschool room. Oh yes, someday! But for now, again, we will lovingly work with what we have while we have it!
Visit more "
School Room Week
" posts from the
Not Back to School Blog Hop
, hosted by
Heart Of the Matter Online
.
****
I had a major brain storm after I originally posted this, so I need to update already! Lol. I thought about it and realized that the cabinet I had beside my bed that I really just used as a nightstand would be a great addition to our "classroom" and would hold a lot of stuff! So, I emptied it out, dragged it into the kitchen and it's a perfect fit.
The color of the wood doesn't really go and it's ooold, but it definitely serves the purpose I need it to! By the way, my dad actually MADE this little cabinet when he was in high school... in shop or something. My parents put it in a garage sale once but considering my dad made it, I decided to keep it for myself. It has had many uses over the years, but I think this one is probably the BEST one yet! I'm all excited because I was able to put the stuff that was being stored in my closet and Preston's in this cabinet and it's now where we need it when we need it. Hooray! I was able to clear off the top of the hutch so there is a place for the drawers my mom has for me. Everything is suddenly clicking into place. :::giddy dance::: (Of course, my husband hasn't seen this yet... hope he's ok with it! Lol!)
****
Ok, another update! I have added the organizer drawers, brought out our curriculum and everything is in it's place. For now. Lol. I'm sure once we actually start school, I'll need to tweak a few things. But here's what it looks like now...
I was able to get all of our little supplies into those drawers, use those two open shelves in the hutch for Callen stuff (since he'd be into it all anyway) like books and blocks, and get everything else into my dad's cabinet. I was even able to clear out all of the school stuff from the bottom hutch cabinets so I can use those for kitchen items again. Hooray! All of the organizing today made me downright giddy. AND I won a
classroom pack
from
Mabel's Labels
this afternoon that are going to work wonderfully with those clear organizer drawers. Woo hoo!!! It's definitely all coming together now!