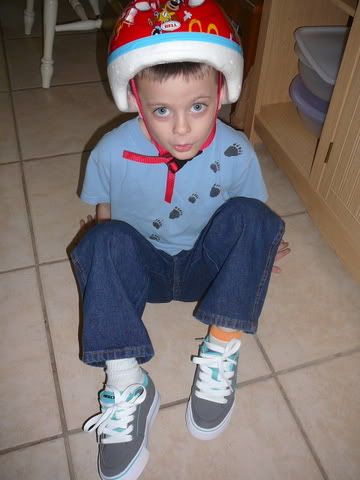 Safety first!
My son and I were so excited to pick out a pair of
Heelys
for review! I let him look at his options and make the decision, and he chose this pair in dark gray and teal called "
Wave
." Ordering online was quick and easy, and they arrived within just a few days! I opened the box, took 'em out and put in the wheels while he disappeared. The shoes come with a plug so that you can wear them like regular shoes. You also get a tool which helps you remove the plug so you can insert the wheels. The wheels easily snap in and stay put! When Preston returned, he had found his old bike helmet!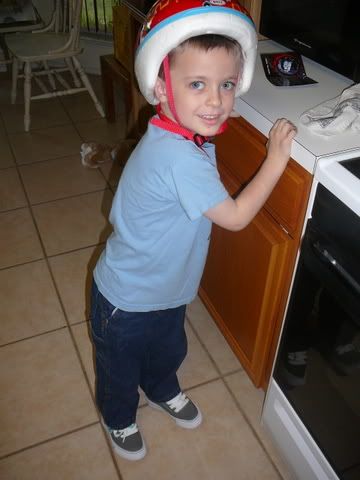 Getting the hang of it!
I read over the card that comes with the shoes, explaining how to use them, and then he tried to stand up! When you stand up with your feet flat on the ground, you don't go anywhere. It's when you lift your toes a bit and try to balance on the wheels in your heel, that you start moving. My son is 5 1/2 years old, let's just say that balance is not his strongest skill at this point. The boy falls down just standing still sometimes. But, with the counter or me holding onto him, he was able to feel how the shoes work.
The silly boy was sorely disappointed to realize that this was something he is going to have to work at. He assumed he would just put on the shoes and be skating around instantly! He has been a bit less than enthusiastic about practicing on his Heelys every day. He wants to do it and is excited about knowing that once he gets it down, he'll have a blast with these shoes. He just doesn't like the idea of having to work for it. Lol. He does get a little more confident and stable each time we practice though, so I'm sure it won't be long before he's got it!


I was hoping that by the time we posted this review, he would have a better grasp on it and be able to show his skills in a video. But, he still needs a lot of work. Take a look:
Quite honestly, Heelys are probably not the wisest choice for a child as young as my Preston. He's not quite coordinated enough to pull it off. I know he will be soon, so I'm hoping that happens before he outgrows this pair! I guess we'll see! I found out that there are another type of Heelys available that are probably better for a younger child. They are called the
HX2
and have two wheels in each shoe! I should have requested those to review and my son would probably be skating like a pro by now! Oh well, maybe I can take advantage of Heely's current sale (see below for details on that!).
I really like the way these Heely's look, they make great every day shoes without the wheels, so that's a plus. They are sturdy and sure to last... hopefully we'll be able to pass 'em down to Little Brother in a few years! Preston enjoys showing off that the wheels are teal!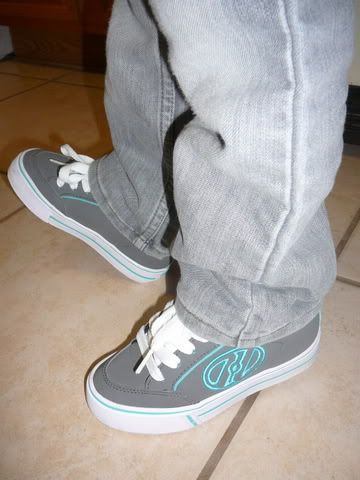 Looking good!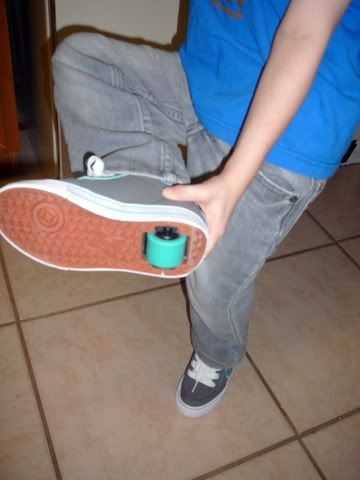 Teal wheels!
Heelys is throwing a Back-To-School and Labor Day special! Between Sept 2nd and Sept 5th: Buy one pair of Heelys, get the second pair for only $30! AND, as an added bonus for bloggers (or those reading blogs!), Heelys is throwing in FREE SHIPPING! Use discount code: HeelysLovesBloggers. All you have to do is go to the
Heelys Store
, put two pairs of Heelys in your cart, and at the top of the cart page you will see a place to enter a discount code, make sure to hit apply to make it work! So, if you can't decide whether to get your kid a pair or yourself, now you can easily get both! Happy Heely-ing!
[I was provided with a free pair of
Heelys
through a
Business2Blogger
campaign. The statements above are my own words and opinions.]