In my life this week...
Another week completely flew by. We had to take the Chevy Traverse back on Wednesday, and let me know tell you... that thing spoiled me! Being car-less again sucks! Other than that, we've been enjoying watching our Texas Rangers play in the World Series. So glad that they pulled out a win last nite, wheeewwww! Now they can bring it home and win the Series!!! This weekend, I have a multi-vendor open house with a friend from high school. Should be a lot of fun! I am excited about my
Usborne
business this month, things have been going smoothly. Praise God!
What's not working for us...
Me being lazy. I allowed us to sleep in this whole week, which threw us all off. I had been trying to get up when Michael leaves, around 6:15... that way I get time to myself, shower, etcl, before I get the boys up (or they wake up by themselves). I got up, but went back to bed every day this week, and slept til after 8 or even 9 today! Then I'm not one step ahead of the boys, they end up watching cartoons while I'm trying to get myself together and their attitudes are off for the rest of the day. TV in the morning is not usually a good idea around here - it gets Preston rowdy and then he doesn't want to do anything else.
I'm cooking...
Michael helped me make pumpkin pancakes this week for dinner, and they were delicious! It made a huge batch, so the boys and I had it for dinner another nite too and they were good reheated as well! I also made the boys and I some pumpkin pie shakes, which came out great. And on Sunday I'll be making some pumpkin muffins. 'Tis the season for PUMPKIN!!!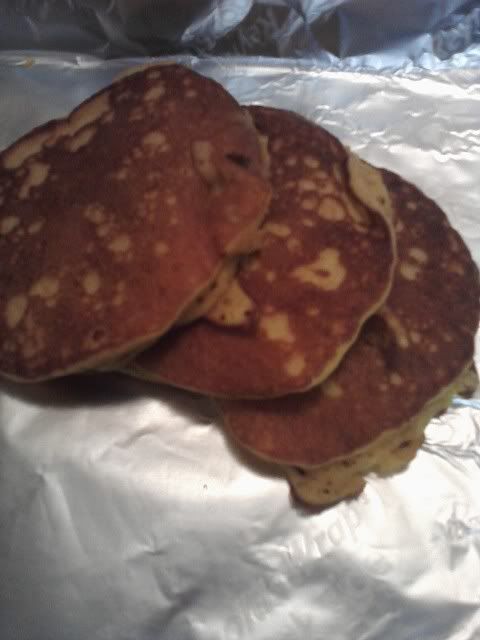 My favorite thing this week...
I got to have a date nite with my husband! Woo hoo! We had a Living Social coupon for this place Italian place in Arlington, got Grandma Jill to watch the boys and got to just enjoy a few hours of time together. It was nice... and missed! Oh, and the weather was absolutely perfect this week!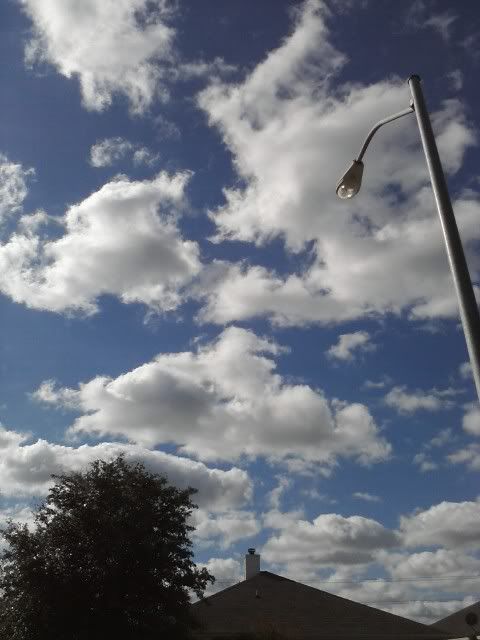 In our homeschool this week...
Tot school: Callen learned to climb out of his playpen. D'oh! So much for keeping him contained at times!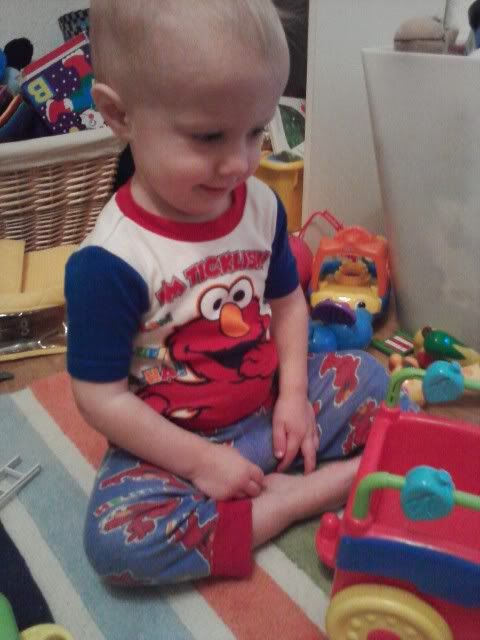 Playing in his room
Bible: Our weekly scripture was Proverbs 29:11 "A fool gives full vent to his anger, but a wise man keeps himself under control." Preston is doing a great job remembering this verses... better than me, that's for sure! Yikes! We also drew a Bible Lands Map and talked about that area.
Reading/Writing: Worked on 'oo,' 'th,' 'ar,' and 'or.' Preston read a Toot & Puddle book on his own. We are doing the Braums Book Buddy, Book It! and the Six Flags Read to Succeed Program, so he's excited about reading on his own again to win prizes. Whatever it takes!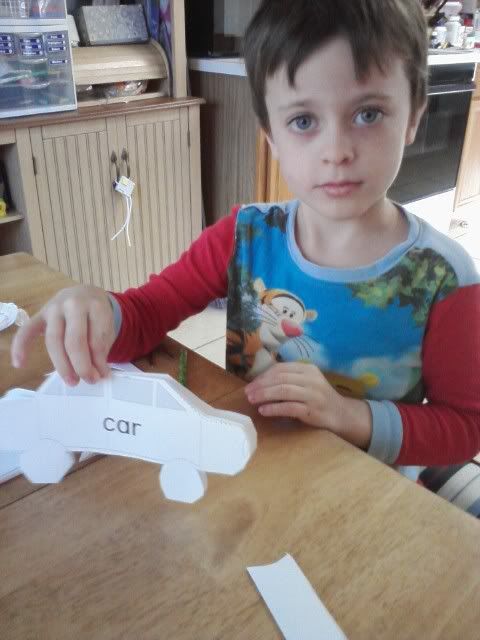 'ar' as in car
Math: Shapes were the theme this week. Preston looked at me like I was crazy, this is stuff he's known since he was 2. But, whatever. We read some fun books from the library showing us shapes in nature and in every day scenes. Used our pattern blocks and peg board to create shapes of all kinds. We also had fun shouting out shapes we saw as we drove around the first part of this week. Lol.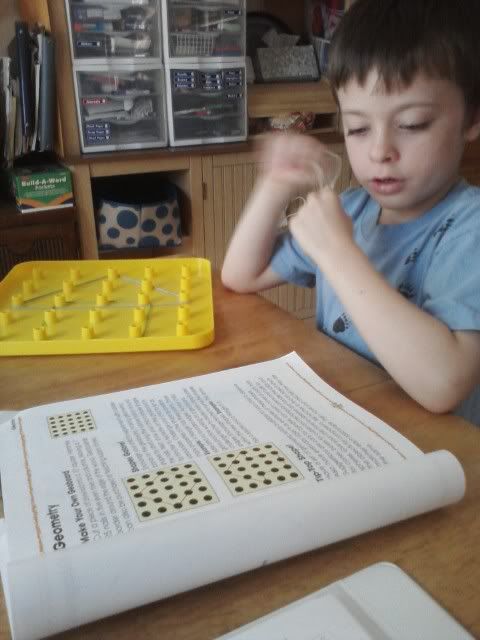 peg board fun
Science: The theme this week was "thunder and lightning," and God totally provided us with a thunderstorm earlier this week too. Was nice to have that as a reference before we started talking about electricity build up and all that. Read several books on weather - including ones with Clifford and Franklin!
Art/Music:
We started a new hymn this week from
Hymns for a Kid's Heart
, "A Mighty Fortress Is Our God." Listened to it, talked about it's author. We also listened to music from an oboe. We looked at a landscape painting of The Oregon Trail. And using
Drawing With Children
, Preston drew some little figures and a bird!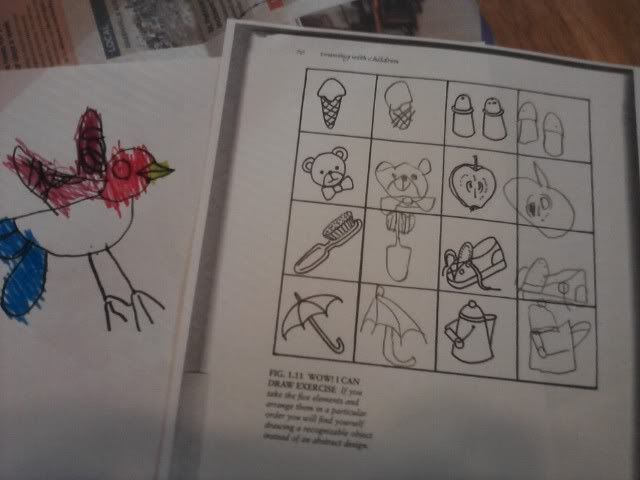 bird and drawings
Spanish: Still working on colors. He's got 'em down pretty well now!
Some of the books we used this week in addition to our curriculum...
We are using My Father's World First Grade. See our curriculum
here
.
Blog Hoppin' with: