Quick side note:
Preston is in the
Kid to Kid Model Search contest
, you can vote once through Nov 20th. Please take a few minutes and vote for him! Thanks!
Click here to vote
(works through facebook).
Quick side note #2:
Don't forget to enter the giveaway over on my
Usborne Books Blog
for an Advent Calendar to Color. Contest ends 11/16.
In my life this week...
I re-started
31 Days to Clean
at the beginning of the month and have been sadly unmotivated at it this time around. I've done most of the Martha Challenges thus far, but half-heartedly at best. Oh well, better than nothing, I suppose! I am having a Shutterfly House Party this evening and really looking forward to having some ladies over! Perhaps this afternoon I will get into cleaning mode since I have the added motivation of knowing people are coming over and will SEE this place! I have a busy
Usborne
weekend ahead, too. An all-day booth in Waxahachie tomorrow and then a home party on Sunday evening. Hoping for some good business!
My favorite thing this week...

Michael and I took Preston and his friend, Ephraim, to Medieval Times on Wednesday evening. There was
already a post
on this yesterday, but I can tell you right now that we all had a wonderful time, were well fed and highly entertained! And last weekend we went to the Dr Pepper Museum in Dublin, Texas... that was a blast as well.
In our homeschool this week...
Tot School:
Callen enjoyed more time with his little Autumn Fun book and wipe-off markers. He was using his left hand a lot to do the "writing." Could he be a lefty? Or was it just the hand he happened to grab the pen in? We'll have to wait and see, I guess! We've also been trying to teach him to say "please," "thank you," and "I'm sorry." Since he always tells us "No!" when we tell him to say those things, I decided to try to get him to sign them... and he does, most of the time. He caught on to the signs really quickly, so that's awesome.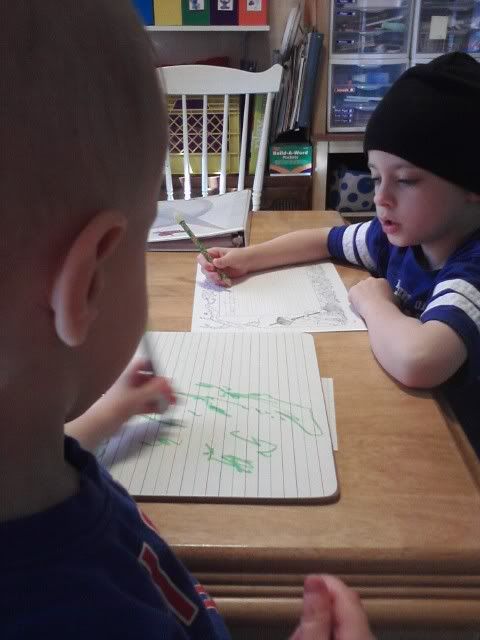 Bible:
Our scripture this week was Proverbs 12:22 "The Lord detest lying lips, but He delights in men who are truthful." We started our MFW Bible Reader, Notebook and Timeline this week. So that's pretty exciting. Preston got to read a very short part of the Creation story, I read more details and he illustrated the difference between light and darkness in the Notebook. Getting the Timeline up on the kitchen wall was interesting. I actually did it last week when we were off so I could spend some time figuring it out. I used thumb tacks, yarn and have clothespins up there for adding the different items as we go. I believe that will work. Lol. Right now it only has the Beginning (written in Hebrew!), 2000 (with a picture of Preston nearby to represent his birth and now) and then "The New Heaven & The New Earth" at the end with a question mark, since we obviously don't know when that'll come. Pretty exciting!
Reading/Writing: Did some more in the workbook on various grammar rules, like "igh" and "y" at the end of a word sound like "i." We're supposed be learning some "sight words" and certain words that we'll run across in the Bible Reader, but so far...it's nothing that he hasn't read before, so no sweat. In fact, he looked at me crazy when I wrote the words on his white board and asked hi to read them. "Too easy, Mom!" Lol. Preston also did a lot of independent reading of some new books he received.
Math:
Adding & subtracting more this week. More work in the Complete Book of Math, plus some hands-on activities with dice, candy and flashcards. We found some old funky spinning flashcards in my mother-in-law's stash... they're pretty sweet. Preston likes 'em 'cause they're robots and spaceships! When he's focused, he does really well with adding and subtracting. Then he'll blank on easy ones at times, so... he's still learning and getting the concept down that when I ask him 2+3, it's the same as 3+2, or that 5-3 is connected to 3+2. We're getting there, though!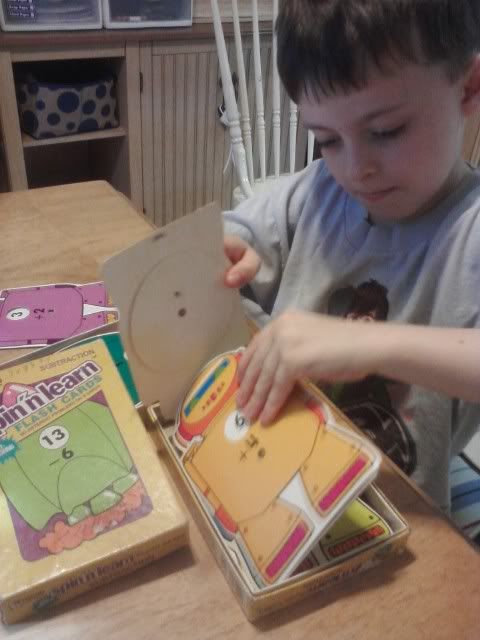 Science:
Seashore, the beach and waves were the themes this week. Lots of ocean and beach books for us! We also created an ocean diorama, like
this
. And did a little Shell Fact Book from
here
. Talked about waves and used a rope to make our own.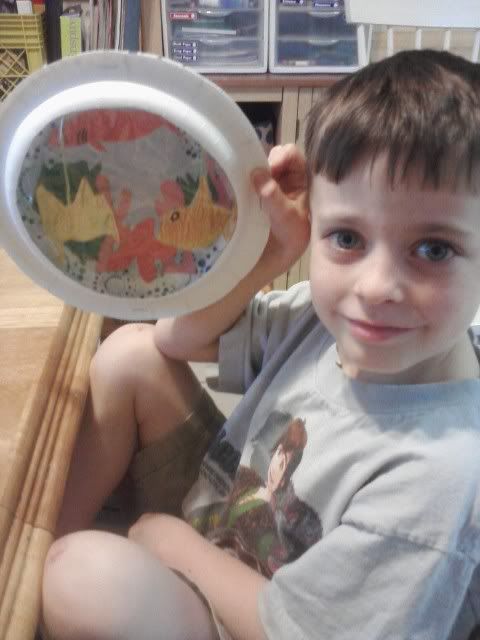 Music/Art:
Our new hymn was "This Is My Father's World." We also talked about snare drums and cymbals - watching youtube videos of the instruments. We drew "Leo the Lion" from the Drawing with Children book. And looked at Starry Night from Van Gogh in our Landscape book. One of my faves!
Spanish:
We are still working on food words, adding more to our vocabulary. Preston surprised me by remembering ALL the previous food words we learned (two week ago!) without any prompting! Yay! We have been trying to use them in regular conversation, and he's doing well!
Thanksgiving/Seasonal activity
: Here's what our Thankful Tree looks like after 11 days of thankfulness! Preston listed 24 things he was thankful, I wrote them on paper leaves and we add one each day to our branch.
Books we used in addition to our curriculum this week...
We are using My Father's World First Grade. See our curriculum
here
.
Blog Hoppin' with: