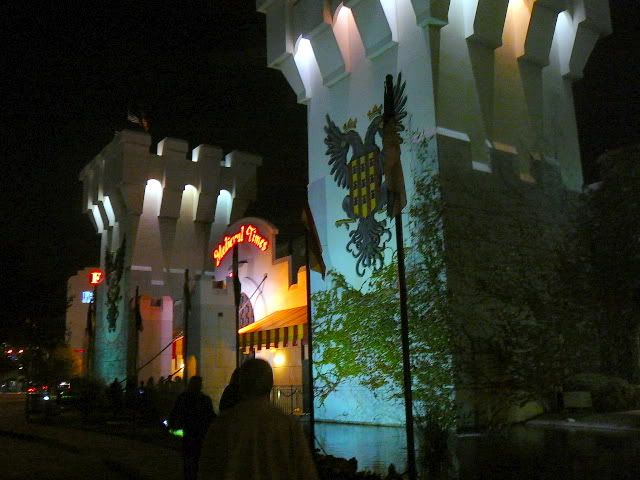 Last night my husband and I took our son, Preston, and his friend, Ephraim, to do something that none of us had ever done before. We stepped back into the 11th century and enjoyed an evening of feast and festivities. We went to the brand new show at
Medieval Times in Dallas
!
Now, since none of us had ever been to Medieval Times before, it was ALL new to us. But this new show they've put together touts an all new story, including all new costumes, music, and expanded menu! I can't really comment on whether it's better than the previous show, because I didn't see it... but this one was wonderful! It was fun, thrilling and all-around quite enjoyable! Not only did the kids have fun... but my husband and I must admit that we did too!
The moment you step through the castle doors you are greeted as "my Lord" or "my Lady," and you are given a crown and a banner to wave in the appropriate color of your seating section. We had our photo taken with the Falconer, and I got to sit on a throne! There was also an opportunity to dress up and get our photo taken on a green screen. We chose to be photographed in front of a dragon, but then ultimately chose not to purchase the photo as it was a tad on the expensive side. From there we entered the Grand Hall featuring several different gift shop kiosks, views into the stable to see the horses, a Museum of Torture (we did NOT go in there with our young children!) and a chance to get some photos with a few of the royal characters.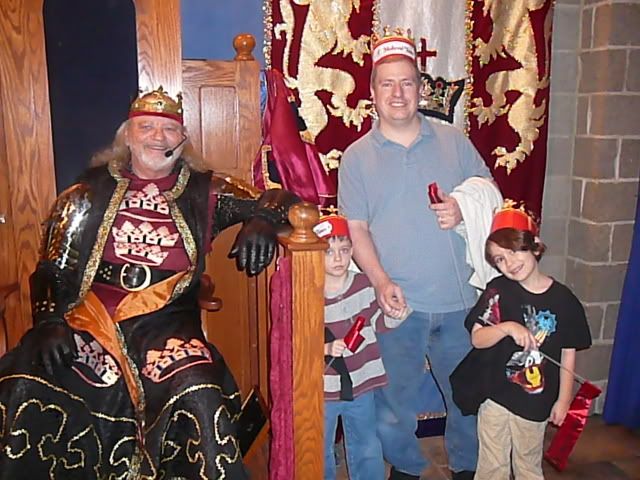 About 15 minutes before show time, we were addressed and tutored in how things would work once we entered the arena. Then the doors opened, and we were allowed entrance. We sat in the red section, and with our Royalty upgrade, in the front row even! That put us very close to the action as we cheered for the Red Knight!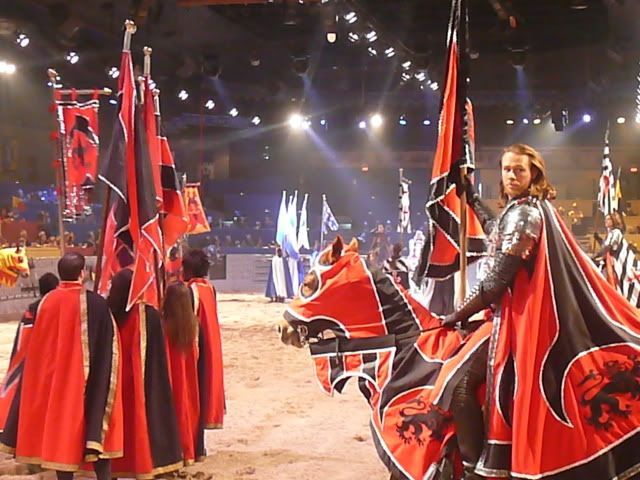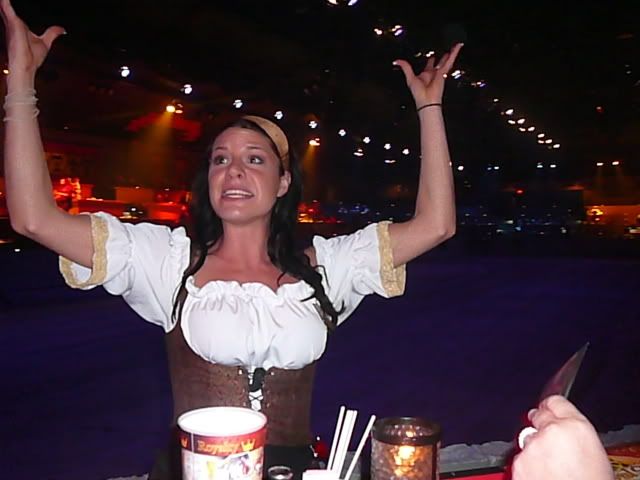 Our "serving wench" explained to our section how the food would be served, raising her hands, wiggling her fingers and announcing that "These are your utensils!" The boys were a bit shocked that there would be no forks or spoons, lol! We were offered unsweetened tea or Pepsi to drink, poured into our Medieval times souvenir cups (again, part of the Royalty upgrade). We were then brought out "Dragon Scales" flat bread and "Dragon Blood Soup" tomato bisque. It was delicious! Ephraim and I ordered the vegetarian dish which consisted of a red bell pepper stuffed with rice and beans of some sort, a roasted vegetable kabob and hummus with chips (by the way, if you order the vegetarian dish, you get a fork and knife!). Michael and Preston opted for the regular fare and their plate consisted of a "Baby Dragon" (nearly half a chicken), "Dragon Toes" (roasted potatoes) and a slice of prime rib (I didn't catch the Dragon name of this). Our dessert was... ahem... "Dragon Droppings" or a braided apple pastry.
While the feasting is going on, so is the show! We were introduced to our knights along with our king and princess. There were some beautiful horses that did some pretty amazing tricks, the Falconer showed of his bird's hunting skills and the knights take turns competing in spear throwing, relay racing and using their lances. As they "win" their competitions, they are given flowers by the princess, and then then throw them out to spectators in the crowd. And then the real thrilling entertainment starts: the battles! The knights joust, sword fight, use ball and chains and battle axes. It was all very well choreographed and pretty convincing. The sound of the ball and chain hitting the shields makes you wonder if they ever accidentally miss, yikes! All the while, the crowd cheers for their corresponding knights - some win, some lose. Once the final knight is standing, he is ultimately chosen to go up against a "bad guy" from another kingdom trying to win the Princesses hand. Battle of good and bad, I'll let you guess how it turns out - either way, it's a rather exciting show of swordplay and gymnastics.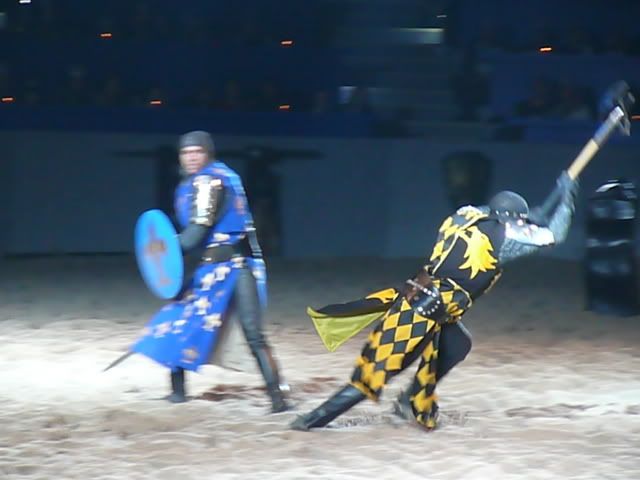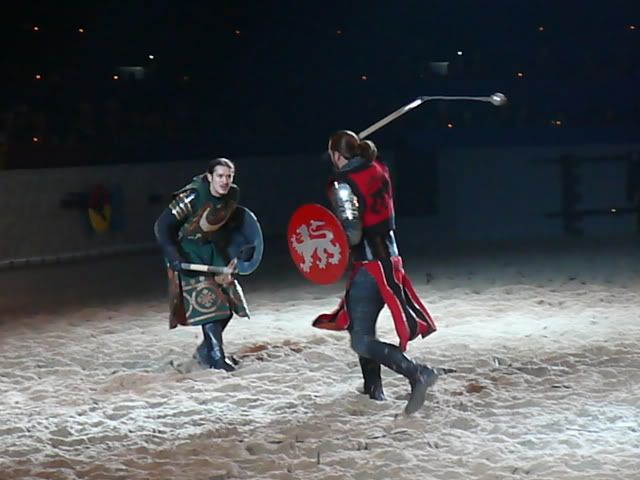 Again, we all had a great time! Thoroughly enjoyed the entire evening. I know the two little boys we took with us spent the majority of today wielding swords and talking about kings and knights! I imagine they're not the only ones!
If you have never been to Medieval Times, or haven't been in a while, it's time to go! This new show is entertaining for everyone - especially kids! And the location in Dallas, Texas is the first of the 9 castles to roll it out!