Seriously lacking motivation in the 31 Days to Clean department, however I got into the boys' rooms and tidied up, rearranged, etc... that counts for something, right? Meh. I had a successful and busy
Usborne
weekend last weekend, it was a lot of fun! I could certainly use more like that (maybe more successful, less busy... is that possible? Lol.). This coming weekend we'll be having two Thanksgiving gathers! One with my dad's side of the family, we haven't visited in WAY too long. And then with our church family. Mmm, turkey!!!
A quote to share...
Preston: "Genesis, Exodus.... Hey, look! :::walks out of the kitchen::: I have exodused the kitchen!"
My favorite thing this week...
I
already posted about it
, but it deserves another mention. Receiving an awesome package in the mail from my amazing friend, Regina. Seriously made my... month! Lol. We enjoyed some Mocha Cappuccino Hot Cocoa with Pumpkin Spice Marshmallows! Yum!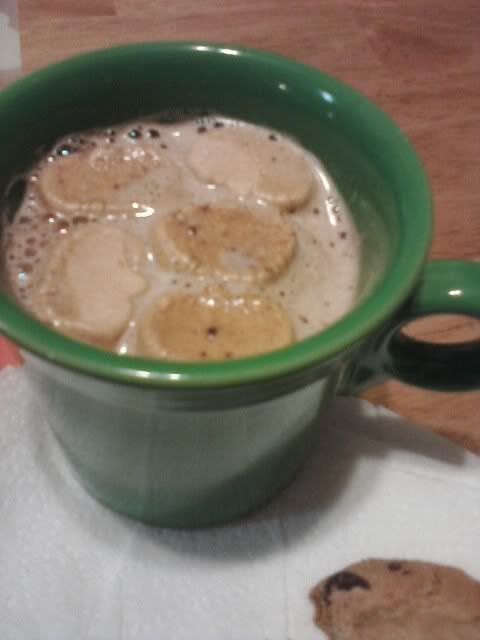 I'm cooking...
Thanksgiving is next week! Eep! And yes, we're having two Thanksgiving dinners THIS weekend. I'll be doing green bean casserole, a veggie tray and desserts this weekend. Aren't desserts the most exciting part? It's not just me, right? I just finished up a batch of
Pumpkin Dump Cake
, and it smells divine. Sad that we can't eat it till tomorrow evening. Boo! Tomorrow or Sunday I'll be making some little pies that have a crazy long name, but sounds absolutely breathtaking,
see here
.
In our homeschool this week...
Tot School:
Callen did a lot this week. He was just really interested in coloring with crayons, markers and colored pencils. He still ends up throwing them a lot, but he is creating some beautiful works of art as well. =) He's also using blocks, figured out Preston's TAG Reader pen, and just generally playing well. Yay!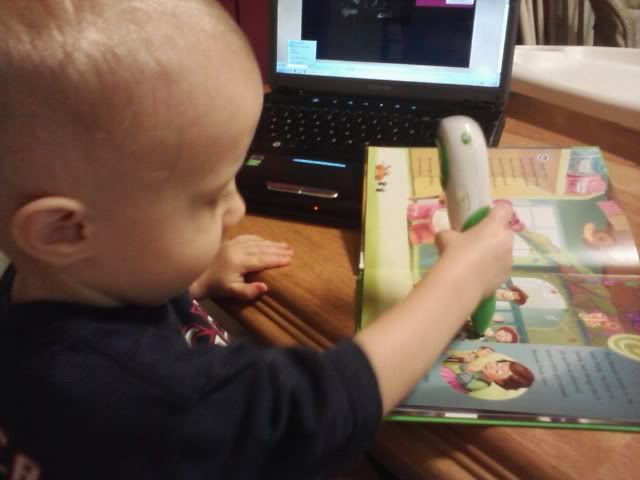 He does tend to STAB at the book, but good enough.
Bible:
Our scripture this week was Proverbs13:1, "A wise son heeds his father's instruction, but a mocker does not listen to rebuke." This was a tough one because it contained several unfamiliar words. Preston gets it, though. And boy could I work this one in to our normal conversation. Many, many times a day. Grr. Preston read from his Bible Reader and we continued illustrating Creation with Day 2 and Day 3. We're also starting to learn the names of the Books of the Bible in order. We've done the first 5 - the Pentateuch!
Reading/Writing: Worked on "y" sounds like "ee" and the "ch" sound.
Math: Adding & subtracting more this week. Preston is getting quicker at this, at least when he focuses. Worked on 'fact families' and how they work together.


Science:
Last week was seashore, breach and waves, and this week was under the sea. Read lots of great stories of under sea animals and information. Do not, I repeat DO NOT read
Waiting For the Whales
as suggested in the MFW book list, holy heck...I couldn't finish the last page because my voice was breaking from the tears that built up. I wouldn't recommend that for a kid, or at least not for an emotional Mommy, geez. The rest were neat. We read
Down, Down, Down
from Steve Jenkins... VERY cool book and helps get a grasp on how deep the ocean is and what sea life is located where! Preston painted an under water scene with watercolors and we did a water pressure experiment with a plastic bottle. The boys also spent some time with dad looking at interesting creatures that were recently discovered in Papua New Guinea.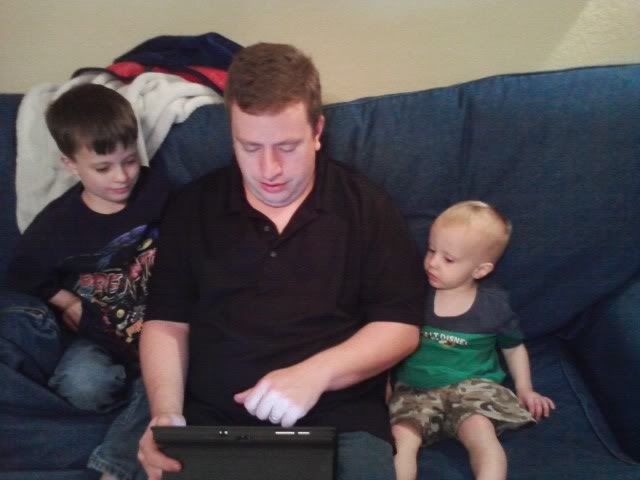 So cute together!!!
Music/Art:
Still working on "This Is My Father's World." He has the first verse of this one down pretty well. It's definitely one of my faves so far. I find myself humming it absentmindedly. Which I don't mind at all! We talked about the tambourine and triangle. Looked at a portrait in our art book. And used
Drawing with Children
to draw a tropical bird! Preston said the bird has an extra-extendable robotic arm. Lol!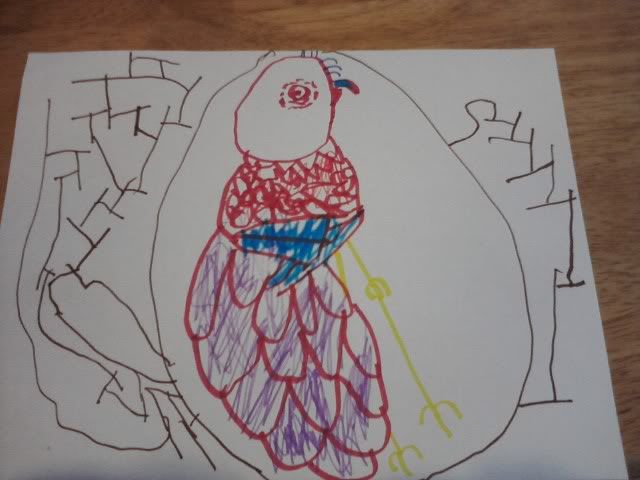 Squawk!! Squawk!!!
Spanish:
Worked on Spanish words for animals.This has been more difficult than any of the others and I'm not sure why... just not focusing, I guess? I even read him an "under the sea" book in Spanish called
Nadarin
. Actually, I wanted the English book, but it was checked out and when I saw that they had it in Spanish, decided to use it both ways! I had to translate a bit of it, but he recognized a lot of the words and used the pictures to figure out the story. Fun!
Thanksgiving/Seasonal activity
: We've been reading a neat, old book called The Harvest Feast... it's a collection of stories about Thanksgiving... from the pilgrims to "modern" tales... It was originally published in 1938, so modern is relative. We've really enjoyed it so far! And here's what our Thankful Tree looks like after 18 days of thankfulness! Preston listed 24 things he was thankful, I wrote them on paper leaves and we add one each day to our branch.
Books we used in addition to our curriculum this week...
We are using My Father's World First Grade. See our curriculum
here
.
Blog Hoppin' with: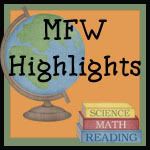 [This post does contain affiliate links. If you purchase a product through a link clicked here, I do receive a small compensation, and I want you to know I greatly appreciate it!]