In my life this week...
I had my mom's car again this week, and so we stayed pretty busy! We went to a kid's Christmas play, visited the Homeschool Bookstore one last time before they close their doors for good, ran around doing errands... and I even had a little break all to myself to do some Christmas shopping thanks to "Grandma Jill" taking the boys off my hands. That was certainly a nice treat! I am also getting ready for Preston's birthday party on Saturday. He wanted an All-Disney Character Party Theme. That was harder than I thought it'd be, because really the only easily-available party-wear is Toy Story, Cars and Mickey Mouse Clubhouse. So that's what I went with. Initially, I figured I could make whatever we wanted for decor, favors, etc... but I ran out of time, and motivation... sorry, kid! He'll be 6 on Sunday, yikes!
Handsome young man!
Oh, and we had Thanksgiving since the last Homeschool Recap, here are a few pix: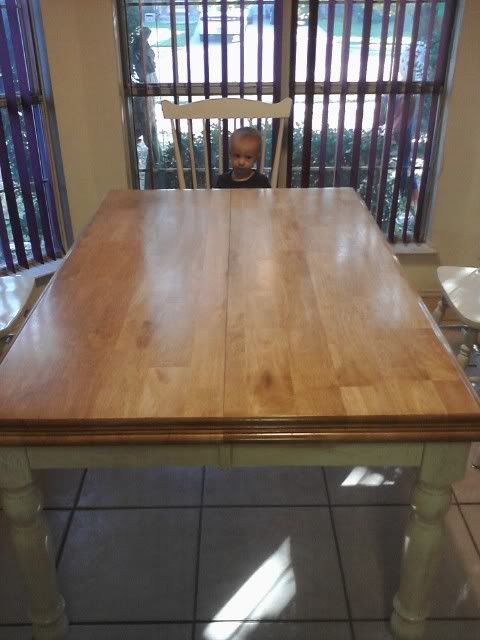 Callen asks, "Where's my feast?"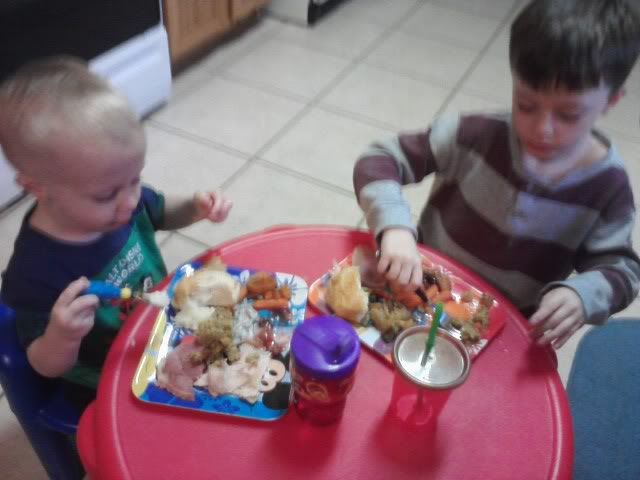 Yay, it's dinner time!
A picture to share...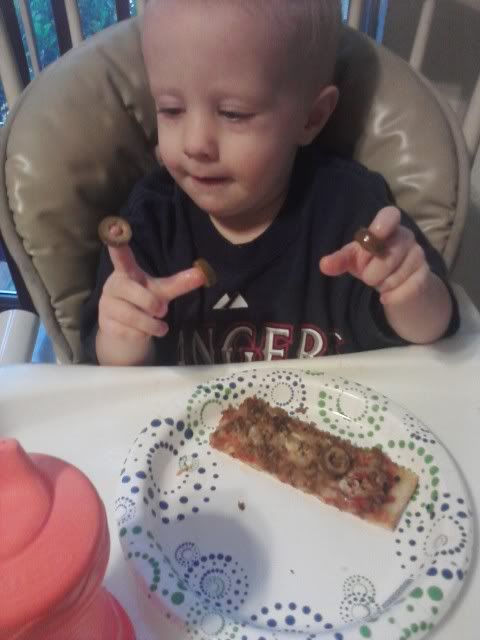 Olive Fingers!
Favorite thing this week...
Michael received free tickets to Disney On Ice last week, and we got to take the boys to it on Saturday morning. We all had the best time! We ended up with super-close seats. And frozen toes! But, both Preston and Callen were enthralled with it the entire time. It was so much fun! I'm totally kicking myself for not taking my camera... none of the pictures of the action came out with my phone. But here's a cute one of the boys watching the show: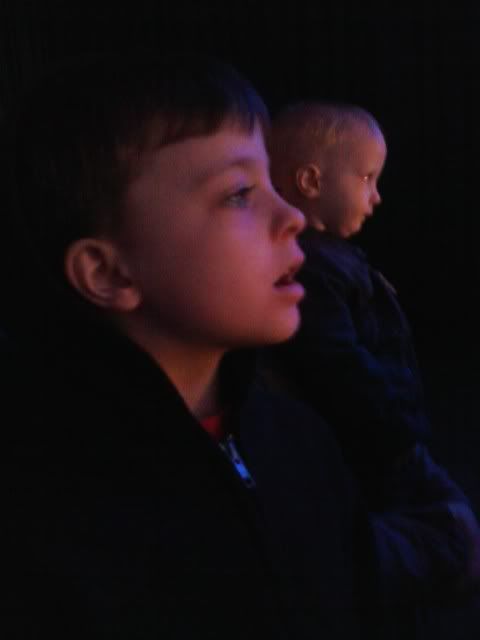 Watching Mickey on Ice!
In our homeschool this week...
Tot School:
Callen is slightly obsessed with coloring lately. He loves using the crayons and ColorWonder markers, and sometimes even the dry-erase markers. In fact, he's had a scribble of green dry-erase marker on his head for the past three weeks. For some reason, I can't wash it off for anything no matter how many times I scrub it. =/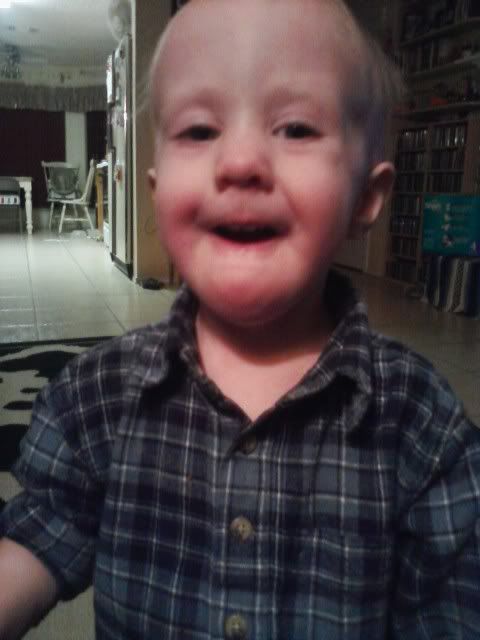 I call him "Old Man Baby!"
Bible:
Proverbs 19:17, "He who is kind to the poor lends to the Lord, and He will reward him for what he has done." This one was tricky for Preston to understand and memorize because of all times it says "he." Got kinda confusing. We also learned more books of the Bible, so far he has the first 12 down! Good job, Preston! And we finished up the days of Creation, and started onto the Garden of Eden.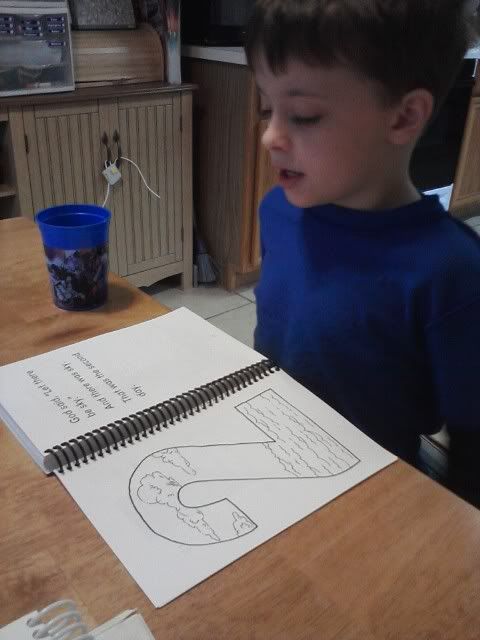 Reading the Days of Creation
Reading/Writing: Worked on the "ng" and "ea" sounds. Nothing too exciting there. And, of course, he's doing tons of independent reading. The boy certainly has no shortage of books at his disposal. Lol!
Math:
This week's theme was Place Value. Since we have the place value elements on our Morning Board, this subject was pretty easy!
Science:
This week we talked about Volcanoes and read lots of fact books about them. Kaboom! I was planning on finding a video for Preston to watch of an erupting volcano, but never got around to it. I will try to do that before this day is over, though! We used a few lapbook elements from
here
to add to his Science Notebook. Oh, and on our Exploration Day on Wednesday, we did two volcano experiments. We did the 'ole baking soda and vinegar trick to make the "lava" boil over. We also used a tube of tooth paste, squeezed it up into the bottom of a cup full of dirt to show how magma builds up pressure and then pushes the Earth's crust up to form a volcano. That was pretty fun. I took a video, but it didn't come out very good so... oops!

Music/Art: Our new hymn this week was "O For A Thousand Tongues to Sing" from Charles Wesley. We also learned about the claves and tim-toms. And for art we looked at a landscape (uh... I already forgot which one, bad Mommy!).
Spanish:
La Ropa! Clothes words this week.
Advent/Seasonal activity
: We started our Advent/Christmas Countdown activities on Thursday. We are doing the Names of Jesus Countdown Chain from
Spell Out Loud
. Each day we take off a chain link, learn about that particular name for Jesus, color an ornament from
here
and put it up on our tree branch. Preston is also doing the Advent Calendar to Color from
Usborne
each day as well.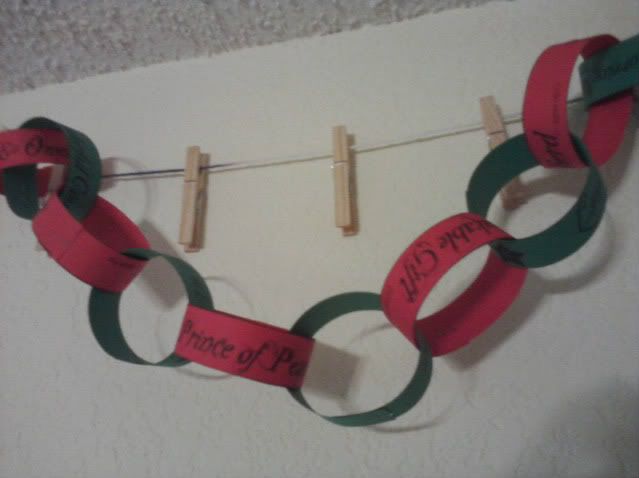 Names of Jesus Countdown Chain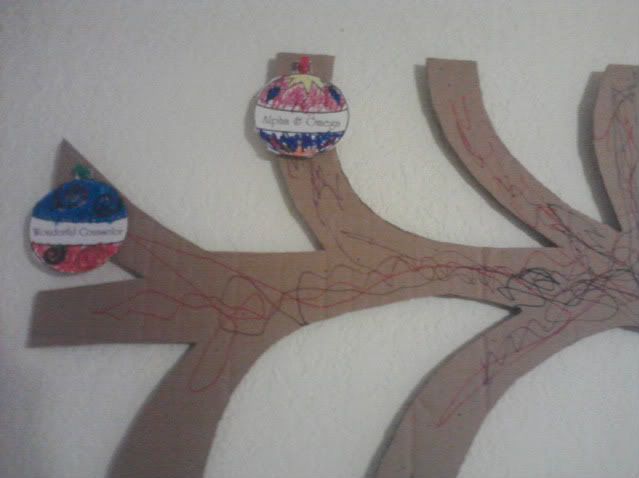 Names of Jesus Ornaments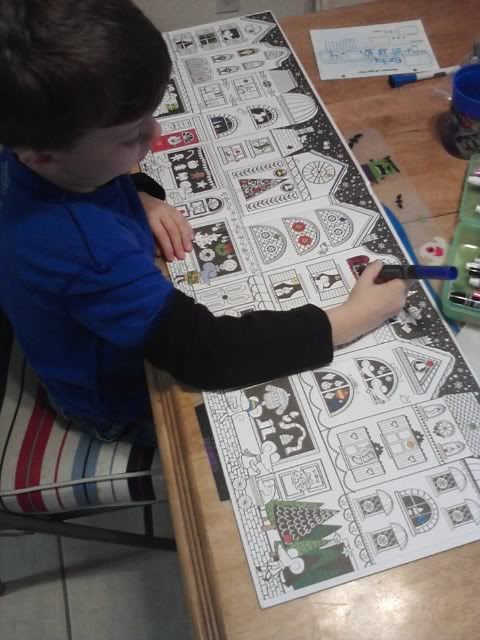 Coloring in the Advent Book
We are using My Father's World First Grade. See our curriculum
here
.
Blog Hoppin' with: