In my life this week...
We are on the hunt for a new/new-to-us car. We need to replace the Rav4, as we just don't want to put any more money into and with our plans to expand our family, we need something slightly bigger anyway. Just a little, really. We don't want any mammoth vehicle, but it needs to fit three carseats across or have a third row. And be good on gas mileage, preferably not already have too many miles on it... and be in our price range. Which is low. Haha, yeah... it's gonna be an interesting ride. We put our Rav4 up on Craigslist yesterday, so hopefully it'll sell quickly. Then we can turn around and get ourselves into something. We test drove a Kia Soul (we love everything except that it doesn't have much cargo space in back at all, like... my stroller won't fit back there, I don't think) and a Subaru Forester (which, I really liked, but is not quite big enough). Also looking at Hyundai Santa Fe, Honda Pilot, Toyota Highlander. We are kind of all over the place, not really sure WHAT we want. Truth is, we need two cars. Replacing the Rav4 doesn't really solve our one-car family problem... need a BOGO car deal, please! Lol.

Places we're going and people we're seeing...
This past Saturday, I had an Open House Bazaar and it was so much fun! I had my Usborne stuff out, my mom brought her chain mail jewelry, her best friend Mel brought her handmade photography greeting cards, we had Scentsy, Pampered Chef (Kelli, whom I haven't seen in like 12 years came! Yay!) and my friend Ginger's Delightful Decor. Having that mix of people was fun, but also the people that came to hang out/shop was such a neat thing. At one point I looked around and was just overwhelmed at how cool it was to have such a random mix of people from all areas of my life in one room, getting along so well! I loved it! This afternoon, the boys and I are going to eat lunch with our homeschool group. Hooray for a sweet lady who is going to come pick us up and bring us home so we can attend! Thank you, Kathryn! I really enjoying hanging out with those families... hoping we can make it a more regular occurance! And later today I have an Usborne booth at a lady's event... pretty excited about that!
Praying for...
Obviously wisdom and guidance on the car thing. It's scary to buy a car, new or used... for different reasons. I just pray we make a good decision and don't jump into anything we will regret. And that we can get a good price on our current car so we can pay our property taxes (eep, due Jan 31st!) and have money to put down on whatever we decide to get. Also, on a less selfish note, praying for friends who are also struggling with finances, job issues and a need for clear guidance!
A recipe and photo to share:
I tried a
Mini-Pineapple Upside Down Cake
recipe from Pinterest. And it was soooo good, and really easy! Not good for our diet though (I dunno how many WW points these are, but they're worth it!). Yum!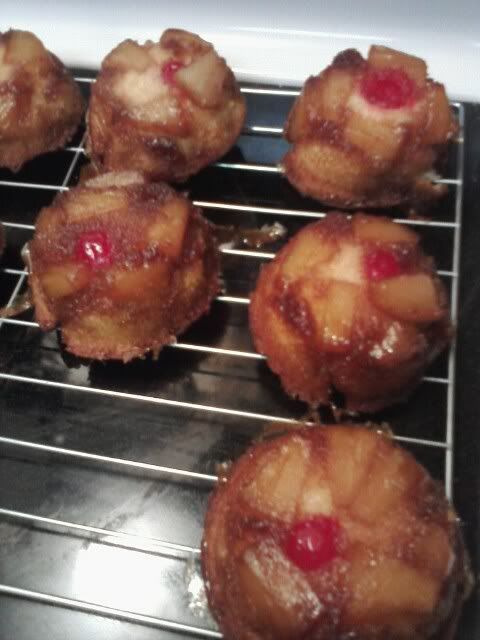 They LOOK good and TASTE good!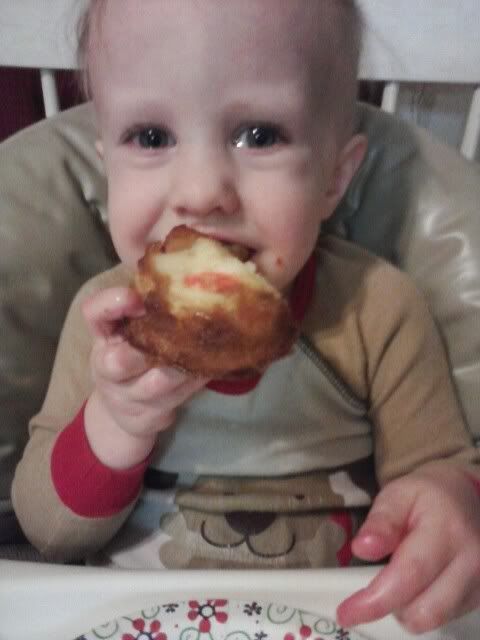 Callen loved it, for sure!
In our Homeschool this week...
Tot School:
Oh my goodness, the closer we get to two-years-old, the more of a handful Callen becomes! But, he's also getting smarter and saying a lot more words lately... so, it comes with the territory, I suppose! The other day, he got hold of his washcloth and laid down in the floor and started "cleaning" it... I guess seeing me do it after every meal is rubbing off on him. He is one messy baby! It's about time he start cleaning up after himself! Lol!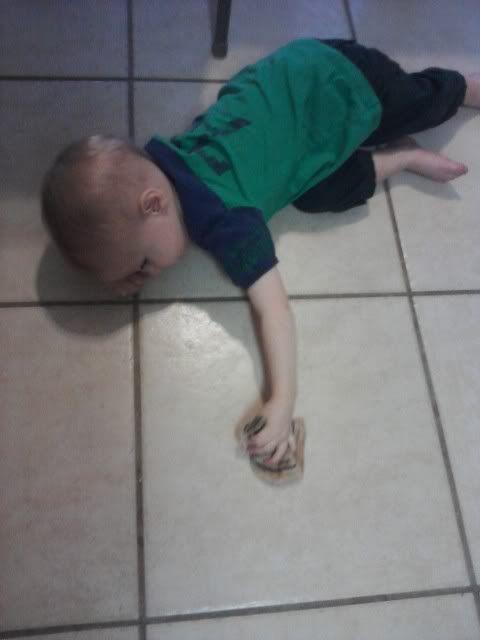 I put him to work cleaning the floor!
Bible:
Proverbs 3:5, "Trust in the Lord your God with all your heart, and lean not on your own understanding." Oh, how this verse will serve as constant reminder for year and years to come! We went through books of the Bible Micah through Zephaniah. Talked more about Moses, the burning bush, the 10 plagues and passover. Is it bad that Preston giggled the entire way through the description of the plagues? I mean, he's 6 and the idea of frogs hopping all over the place could be amusing to a boy. To me, it's complete nightmare... eeeep!
Reading/Writing:
Went over the sound |n| spelled "gn" and "kn," and the use of "ough."At bedtime, we've been reading a book that I'll be reviewing soon called TJ & The Time Stumblers. Yes, he actually let me pause our Hank The Cowdog series! Anyway, it's ... interesting so far.
Math:
This week was pretty much a review of shapes/geometry. Though we did talk more in depth about different kinds of triangles, polygons and quadrilaterals. He got to play with his food a bit!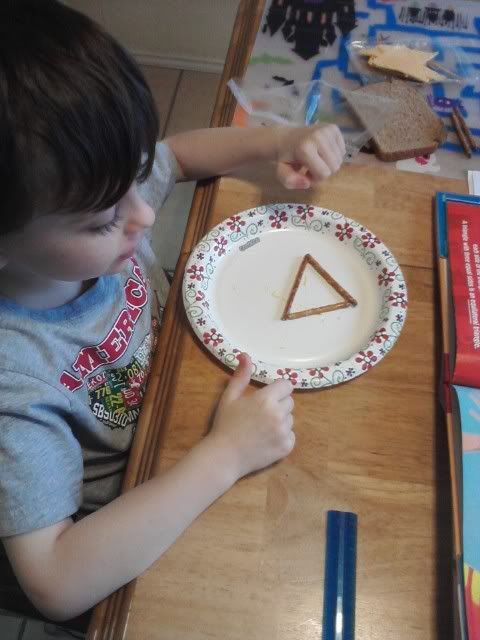 Pretzel triangles!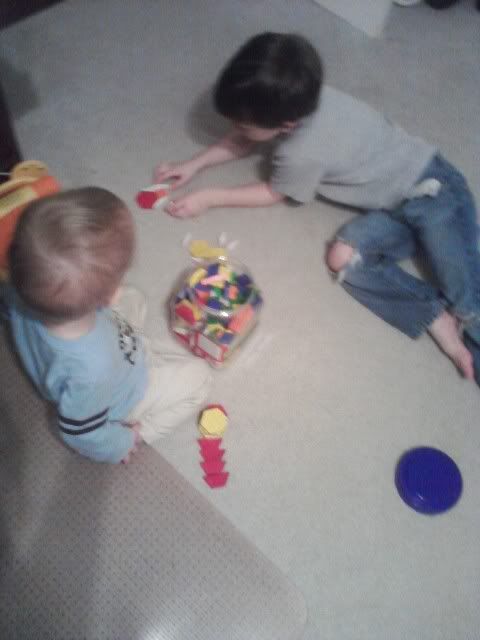 Coming up with designs together!
Science:
The subject from
Science with Water
this week was sinking and floating. Using some other fun books from the library, we did some fun experiments like creating an iceberg and seeing how it floats, making a floating rainbow and just throwing a bunch of stuff in water and guessing if it would sink or float.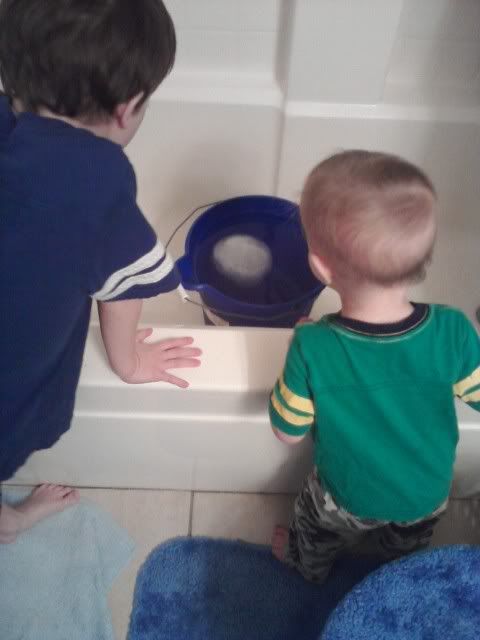 Does the iceberg sink or float, guys?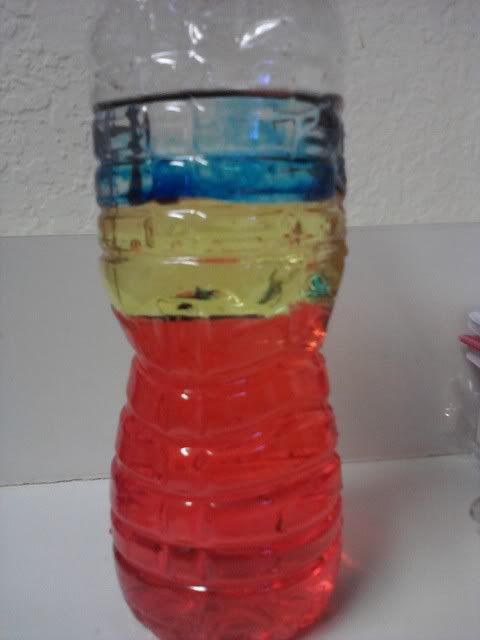 Water, oil & alcohol!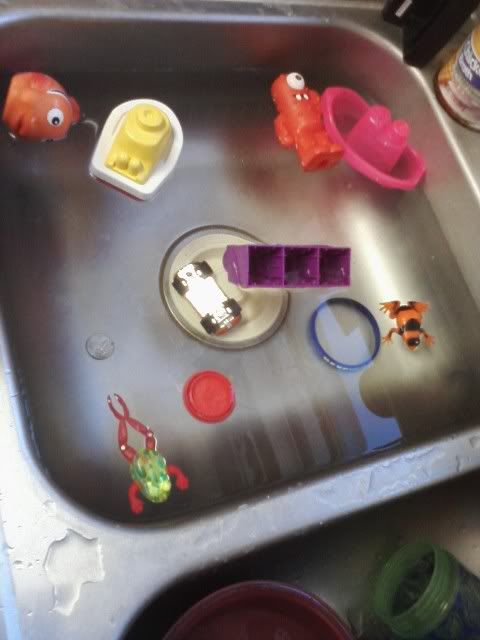 Why do some things float or sink?
Music/Art:
This week's hymn was "The Lord's My Shepherd, I'll Not Want." After reading through it, Preston declared that kind of stuff should be in the Bible. Lol! Yes, dear... it is pretty much STRAIGHT from the Bible, so good call! We also talked about tenor and baritone saxophones and watched some youtube videos of those instruments to hear the differences. For art, we looked at an abstract work of a city and I introduced Preston to pastels (oh, what a mess!).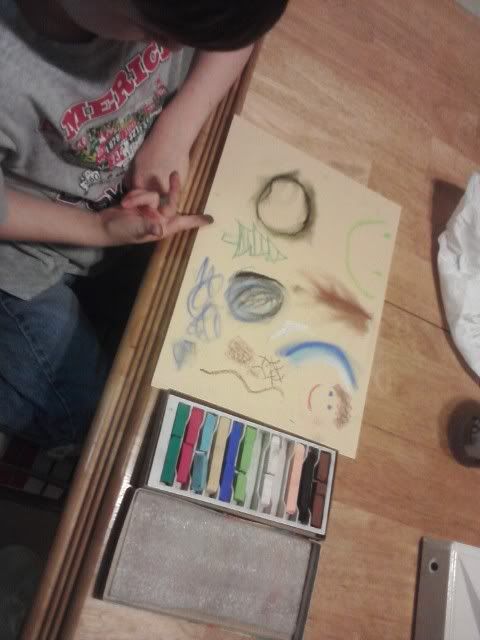 It's smudgy!
Spanish: This week we continued talking about words having to do with family. We checked out some bilingual books from the library from Carmen Lomas Garza about her family. These are neat because they have a painting of a scene, and she describes it in English and Spanish. I'm reading the Spanish, and letting Preston tell me what words he recognizes, then reading the English so he understands what was said. Also, last weekend, while we were at the library, Preston picked up a bilingual book and spent the whole time reading it out loud in Spanish. He really enjoyed it!
We are using My Father's World First Grade. See our curriculum
here
.
Blog Hoppin' with: