In my life this week...
Wow, so I'm a few days late getting our our Homeschool Recap. The reason: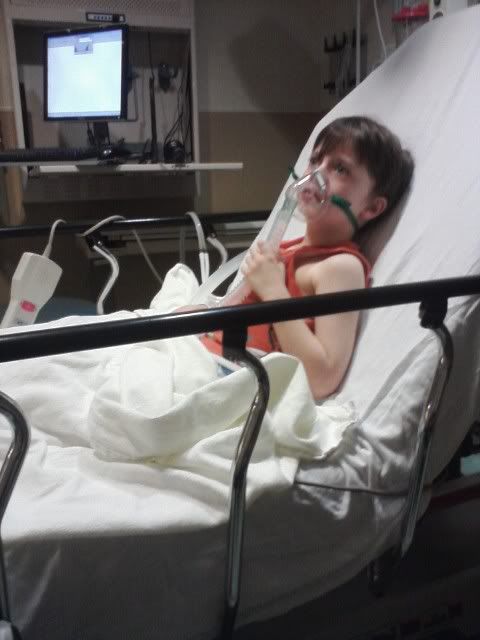 Breathing easier.
Preston has had a cough every so often, especially at nite, for a week or two. We thought it had to do with his asthma. But on Thursday night, around 1am, he woke up coughing hard, sounded like a barking seal, and couldn't get himself under control. He was crying and barking and we tried to calm him down to see what was going on, but he just couldn't. So, we rushed him to the ER, thinking it was an asthma attack. The whole way there he was having such a hard time breathing and he just sounded so awful, it was really scary. As soon as I got up to the front desk with him, he had stopped making the horrible barking/honking noise, though. I guess he was so scared of the ER that he was able to calm himself down from the coughing fit. But, they could tell right away that it was Croup. We had never experienced that before, so it was new to us. They gave him a Popsicle, a breathing treatment and cool mist mask for a while and we were sent home. We spent Friday taking it easy and sleeping a lot.
Then, Friday evening, Michael and I went to see Remedy Drive in Arlington. Love that band! They were soooo good. It was definitely a date night that was needed. We honestly couldn't remember the last time we had gone to a concert, especially sans kids.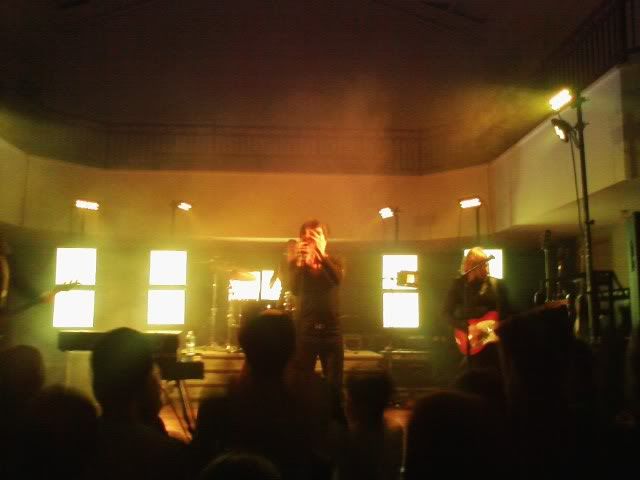 Hold on, Daylight is Coming!!!
A picture and story to share...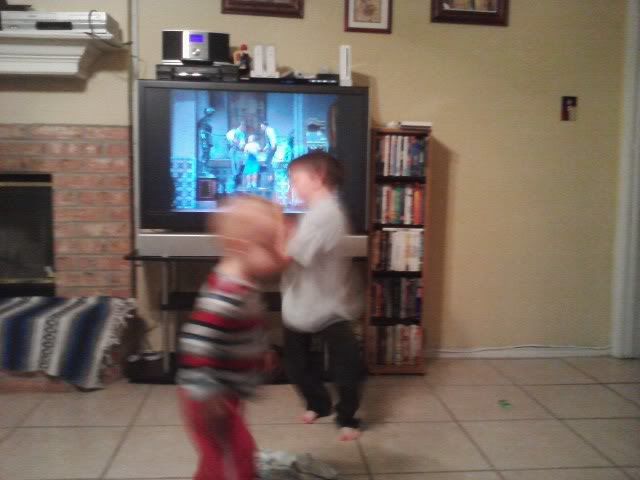 Singin' and Dancin' in the Rain!
It rained all day Saturday, so I introduced the boys to one of my all-time favorite movies, Singin' In the Rain. They LOVED it! In this picture they dancing along to "Good Morning." I've always sang this to them when waking them up, but NOW they know where it's from. Haha!
Praying for...
Preston to continue getting better. We had to miss church today because he is still coughing a lot... don't wanna contaminate the other kids there. And for my
business
. I have 10 days to meet my sales goal for February to stay in the running for the iPad2, and I had a party cancel on me for this Saturday. It was the one party I had this month, and I was really hoping it'd help me make my goal. Now, I'm not sure I can do it...but I'm sure gonna do my best to try! Hoping that more people will take advantage of our
Cards for a Cause fundraiser
, that would certainly help! We were going to go door-to-door in our neighborhood on Saturday, but it rained and Preston still wasn't feeling up to it anyway. So, we'll see!
In our Homeschool this week...
Tot School:
Callen did a lot of coloring... he really likes that. My mom and dad came over to watch the boys on Friday night. They bought the boys a big paper roll and they made some awesome pictures! Callen also still really enjoys our Peg Board from
Discovery Toys
. If you haven't checked out DT, you really should. They have fantastic stuff!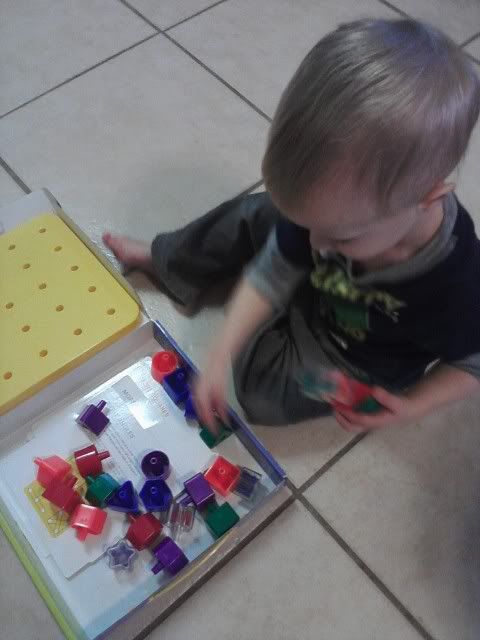 Stacking the "pegs."
Bible:
Proverbs 25:28, "Like a city whose walls have broken down, is a man who lacks self-control." We talked about New Testaments books of the Bible, Romans through Galatians, the Battle of Jericho, Israel & Judges and Samuel.
Reading/Writing:
Continuing through the phonics lessons, e/ie and |oo| sound using multiple spellings. Preston continued reading a lot of books on his own for our library reading program. And we finished up Hank The Cowdog #10 "Every Dog Has His Day."
Math: Worked on adding and subtracting more... were kinda sporadic with really doing math this week 'cause we just got so busy.

Science: The subject this week was "Vanishing Water." We put a bowl of water up on the window ledge, and checked on it daily to see how it had evaporated. We also put some ice in a jar and watched the condensation gather on the outside.

Music/Art: This week's hymn was still "Rejoice, Ye Pure In Heart." We also talked about the the bugle and trumpet, the differences and similarities and watched some youtube videos of those instruments to hear the differences. Michael helped with that because he was home early from jury duty on Wednesday. For art, we looked at a portrait from Renoir of two girls playing a piano.
Spanish:
We continued with words having to do with our community or neighborhood.
Oh, and this week was Valentine's Day, huh? I almost forgot, seems like forever ago already. We went to a homeschool group party, and the boys had a blast playing with the other kids! I also made them a special Valentine's dinner: Breakfast! Haha. Pumpkin pancakes, sausage and yogurt-covered strawberries! Here's what the Valentine's they gave out to the kids in our group looked like:
Callen scribbled and I clarified, haha!
We are using My Father's World First Grade. See our curriculum
here
.
Blog Hoppin' with: