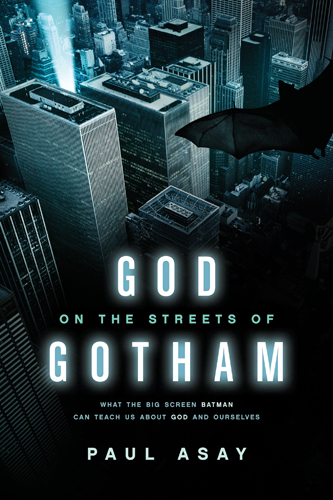 The title of this book, God on the Streets of Gotham: What The Big Screen Batman Can Teach Us About God and Ourselves, instantly caught my eye. "What in the world is going to be written in a book relating Batman and God?" is what I asked myself... and knew I had to find out. I have liked Batman for a long time, ok... it was mostly Michael Keaton as Batman that I liked. But the character was always so interesting to me as a whole. Paul Asay, associate editor of Focus on the Family's PluggedIn.com, is the author and he honestly does a fantastic job of delving into the many different facets of who we know as Batman (and there are SO many different Batmans to cover!) and showing us how he does, in fact, relate to God and Jesus.
I appreciate the fact that Asay doesn't try to force Christianity onto Bruce Wayne/Batman. No, he readily admits he doesn't know if the Caped Crusader is a believer or not and yet easily gives detailed examples of how Batman, though dark and often deadly, shadows the Christian faith. Is his "higher calling" and moral code merely an outstanding sense right and wrong... or is it living for something more? We can only speculate and use Batman's examples to better ourselves in our walk with Christ.
The author mostly uses the Christopher Nolan films to gleam from, but certainly does not leave the comic books, TV show, animated cartoons and previous movies untouched. We run down the list of Batman's attire, comparing it to the spiritual armor we, as Christians, should wear described in Ephesians 6:14-17. Asay relates the Dark Knight's nemeses, quite accurately, to the struggles we often fight in our daily lives. And, though Batman is, essentially, a loner, he is not without his partners who help to keep him in check, provide encouragement and assist when needed.
I quite enjoyed reading this book, delving into the deeper levels of Batman and his Gotham. As far-fetched as the concept may seem, Asay does a great job tying Batman and faith in God together with enough detail, wit and insight to make for a wonderful read.
Disclosure of Material Connection: I received this book free from the publisher through the Tyndale Blog Network. I was not required to write a positive review. The opinions I have expressed are my own. I am disclosing this in accordance with the Federal Trade Commission's 16 CFR, Part 255 : "Guides Concerning the Use of Endorsements and Testimonials in Advertising."